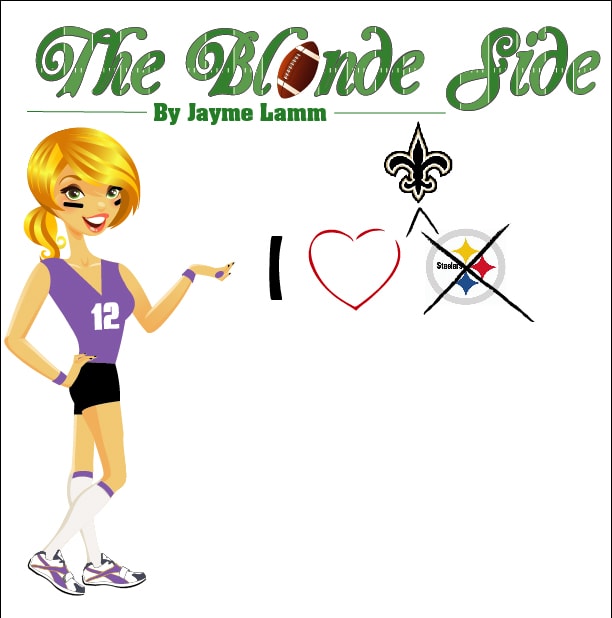 Let's get this out of the way – I'm a girl AND I love sports. If you're a girl you're probably feeling the urge to call me a traitor and if you're a guy you're more than likely seemingly amused thinking, "what the hell does a chick know about sports?"
Probably more than you think.
But in all honesty, I don't claim to know it all nor do I want to. When it comes to sports, I have one thing most girls lack…interest. My interest doesn't stem from trying to impress guys or from a super inflated tomboyish obsession gone awry. To aid in my sports proficiency (and I say this in jest) I've got one of those television thingys to actually watch games (I'm a chick with an HDTV without the HD service, don't judge), the Internet to keep up with trending topics, and my good ole boys at 1560 The Game as I see fit.
Not only do I love sports, but I know sports. Not in a Pam 'I may actually be a man' Ward kind of way, but in a Jayme 'I grew up playing and watching sports and my dad really wanted a son' Lamm kind of way. I know I don't owe you my sports resume, but in case you doubt my dexterity to write on such a topic let me plead my case. I played softball in college (save the standard stereotypical lesbian jokes for another day). I know how to throw a perfect spiral (remember, by dad always wanted a boy). I've worked for the Miami Dolphins, for an advertising agency handling a number of professional sports teams, and relocated to Houston to do marketing for the Astros.  So I know sports.  How to play.  How to watch.  And most importantly how to comment and judge when things don't go my way.
Right here, each and every month I'm going to talk sports the way I see them, even if it's through a pair of Chanel sunglasses. After all, I'm still a girl and I don't plan to forego my ovarian roots for the sake of this column. My favorite magazines are ESPN and Maxim, I love import beer and boxed wine, and I'm a serial shopaholic with a recent online addiction thanks to insomnia. It's not uncommon to walk into my apartment and find SportsCenter muted with closed captioning and me dancing and belting out lyrics to Britney Spears or Tina Turner. I'm competitive to a fault, which makes me an ideal candidate for rivalry week and a problematic pick for a friendly game of dodge ball.
"Tito Puente's gonna be dead one day, and you're gonna say, 'Oh, I've been listening to him for years, and I think he's fabulous.'" – Bill Murray in "Stripes"
Now, on the bandwagons…
Congrats to the New Orleans Saints, all of NOLA, and their hardcore fans. There is no doubt the '09 season started out with far less Saints fans than today's shenanigans might indicate. I find the Super Bowl bittersweet in that I love watching the game and hype that comes with it, but it also marks the end of the football season which is tragic. The worst part are the quintessential bandwagon fans that inevitably come out of the woodwork or nearest dumpster. These "fans" only show playoff interest, don't know a single fact about the team and can be spotted rushing to Academy to buy a jersey the day after the big win as evidence of their devotion.
A few weeks ago I was talking with seasoned sports prodigy Sean Pendergast about this nonsense that plagues the celebratory afterglow immediately following a playoff win. The mere image of these fools basking in the glory of a hard fought game/season is a simple comicality we all must swallow even if these fools think "Coach Payton" refers to Peyton Manning rather than Sean Payton, the coach of their new favorite team. Just because we accept this feat in no way means we agree with it. It would be an amazing and novel concept to have a government agency to claim fan loyalty and be able to walk away with legal proof. That way if you're acting crazy at a sports bar or claiming to be THE biggest so-and-so fan we could all ask to see your "fan loyalty card".  Kind of like your sports passport if you will.
Now don't mishear me. I don't chide those that cheer for different teams during a game as it undeniably makes the game more entertaining. The newbie fans also get a pass as long as they don't pretend to be a perennial follower in their new and unseasoned allegiance. Virgin fans beware. Make sure your jubilance and loud chanting lasts beyond the current season (or postseason) or you will soon be dubbed the crown of the next guilty party to have joined the phenomenon that is bandwagon.
Maybe these demented amateurs have my panties in a bunch because I'm a diehard Eagles fan. We breed the mentality of live or die based on our wins and losses. When our team sucks, we throw snowballs at Santa and boo him along with our entire starting lineup. When our starting QB gets injured again, we call him a pansy and ask to have him traded. So heed my warning bandwagoners: when the time comes, and it will, don't you dare join in on our champagne celebration. The fanfare and swagger are reserved for loyal fans that have endured the painstaking losses and only we can revel in the long awaited Vince Lombardi trophy (which by the way ladies is made by Tiffany & Co).
I know at the end of the day, I'll have haters and fans of this column and I'm OK with that. Just don't be a bandwagon fan… either love me or hate me and I'm a happy camper. Can't please 'em all.
http://theblondeside.com/wp-content/uploads/2010/03/TBS_March10.jpg
618
612
Jayme
http://theblondeside.com/wp-content/uploads/2018/06/1526998321020-300x192.png
Jayme
2010-03-02 19:23:00
2011-05-05 14:58:30
Hello Houston. (and newest class of bandwagon fans)