Tags
Related Posts
Share This
My fantasy…with a football. And Matthew Berry and Lance Zierlein.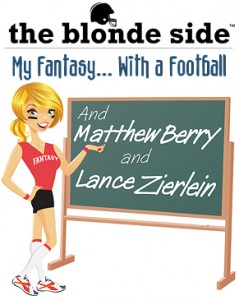 Fantasies come in all shapes and sizes.  Brad Pitt, Angelina Jolie and Jennifer Aniston in one bed for example.  Most chicks don't fantasize about sports unless of course it includes a raunchy affair with a steroid-stiff athlete, but since when I have been most chicks?  Growing up I was never that kid that wanted to be an astronaut or ballerina.  I simply wanted to own my own football team – presumably the Philadelphia Eagles so I could hang out with Randall Cunningham everyday.
Right now my current fantasy lies with the nationally esteemed M.O.F.F. (man of fantasy football), Matthew Berry, and Lance Zierlein, one of the most respected fantasy football experts in Houston. I picked their brains on sleepers, trade secrets, and why on earth fantasy football has become a bigger trend than a professional athlete dating a Kardashian.
Matthew Berry, THE Matthew Berry, is an ESPN sports analyst, espn.com columnist and critically acclaimed fantasy genius.  He's lucky enough to have the internal resources at ESPN to help aid in his fantasy picks, but has enough experience to rely on his own two eyes and his gut.  Berry is also a big fan of rotopass.com, which gives you every possible need in the fantasy world.  He currently holds a free fantasy podcast at espn.com, seasonably titled "Fantasy Focus Football" (along side Nate Ravitz) which is holding strong as one of the Top 10 Podcasts on iTunes.
Lance Zierlein is a sports talk show host on the wildly popular KGOW 1560AM in Houston with accolades in the sports realm dating back to middle school.  Zierlein has been involved in fantasy football since 1993 and uses sites like espn.com and cbssportsline.com to refresh himself with the good and bad stats of last year.
A starting lineup typically consists of: 1 QB, 2 RB, 2 WR, 1 TE, 1 K, 1 Defense/special teams.  Berry warns not to become fixated on your defensive pick.  "Statistically the #1and #12 defense is less than a 3 point difference per game," he says.  I'd have to agree – the #1 defense last year was the San Francisco 49ers and I don't know of anyone winning their league off those defensive points.  The same holds true for kickers he adds.  I'm happy to report that the two defenses expected to kick butt and take names this year are none other than the Philadelphia Eagles (woot!) and the New York Jets.
Berry's Tips and Picks:
QB – Kevin Kolb, Eagles – "Andy Reid's history of passing game combined with a gut feeling.  Similar to Aaron Rodgers – you have to cover his ass."
RB – Clinton Portis, Redskins – "People want not part of this guy but he can succeed in a huge way under the Shanahan offense."
WR – Malcolm Floyd, Chargers
Zierlein's Tips and Picks:
QB – Kevin Kolb, Eagles – "I'd draft him, but not as a starter.  If he matures quickly he'll be a good asset."
RB – Jerome Harrison, Browns
WR – Johnny Knox, Bears – "They have a new offensive coordinator who's pass happy and Cutler has a good arm.  Put 2 + 2 together…"
Defense – 49ers – "They've always been good at defense and ahead of the curve.  I think they'll be good because they play in a weak league."
His go-to guy – "Larry Fitzgerald, for the past two years.  He's one of the most consistent players in the NFL (fantasy concerned), and you know what to expect."
Note – he's never drafted Peyton Manning
Both guys quickly talked about the value each player may or may not bring to the fantasy roster.  "Fantasy football is all about value.  It doesn't take a genius to draft Adrian Peterson as a #1 pick," Berry says.  "But you win a league with 6th round picks," he continued. It's more than just knowing Maurice Jones-Drew is a stellar running back, it's knowing how prone he is to injuries and how the coaching staff uses him, if at all.  You can't score points if your players don't get much playtime and if they're not part of any red zone activity.
I thought I was well versed on the subject, but Berry and Zierlein introduced me to auction drafts and the benefits of such over the more typical old school draft.  Both believe the more competitive, expert leagues are auction versus standard drafts.  "This draft takes longer but it's the best way to measure your success as an amateur GM," Zierlein said. "An auction gives you a chance at every player.  In a draft, the first pick gets Chris Johnson, no question.  In an auction everyone has a chance, they just have to pay.  It takes much more skill and strategy," Berry adds. There's a salary cap in an auction league– you spend what you want.  So if you want to be a no-nonsense manager or owner like Bob McNair or Michael McCaskey and sacrifice a potentially winning team because you refuse to spend the money, then it's free game and you lose.  No pun intended.
We all know football is one of the greatest sports around, but I still can't figure out exactly how or when fantasy football became the next big thing.  Right around the year 2000, the game just exploded.  According to a June survey conducted by the Fantasy Trade Association, 27.9 million people now play fantasy sports (74% play football).  Zierlein shed a little light on the phenomenon for me.  "The draft is the best bonding experience you will have all year, especially when you're married.  Expect ball busting and jokes that your buddies were saving from last year," Zierlein said.  You never want to be that guy that drafts Garrison Hearst, who was out for the entire season with an ACL injury, because thanks to your draft buddies, it will haunt you for years.
Everyone has their draft parties and rituals which is by far one of the best parts of the game.  The draft aside, trades are unexpected and tricky and that's where the unbridled rivalry between friends goes into overdrive.  "It's always fun trying to find the one guy in your league (the mark at a poker table, if you will) you can trick into a bad trade," Zierlein boasts.  "I won't say who they are because I want to protect the innocent and have a chance to go after them again this year," he says with a friendly yet cocky grin.
A popular argument for those opposed to fantasy football (perhaps that guy at the water cooler at work that just doesn't get it), is whether or not it has changed fan loyalty.  I'm still on the fence. Too often I see guys cheering for a running back on his team's biggest rival simply because he's on his fantasy team.   Berry brings up a good point that fantasy football has brought many more people, and a diverse group at that, into the sport.  "There are lots of different ways to enjoy sports," Berry says.  "There's strong team loyalty, the social aspect and atmosphere, gambling, and those that enjoy rooting for their fantasy players.  There's no right or wrong way to enjoy sports," he concluded.  Talk about nailing it on the head.
Curiosity getting the best of me, I asked both seasoned experts if they would ever draft a guy they hated (i.e. Michael Vick, where my hatred stems well before his dog fighting conviction).  "It's the opposite," Zierlein points out.  "I had no opinion about Jamal Lewis until he screwed me two straight years in fantasy and it hurt my objectivity because I hated him that much – on fantasy football alone!"  He also adds that if you want to be good at fantasy, you have to take your personal feelings out of it or you'll limit your success.  "Fantasy football is not the place to hold grudges," Zierlein says.  Don't be afraid to draft guys that you hated in college – if you hope to win.
It's no question that work productivity has decreased during fantasy season.  Cubicles all across America are indebted to the game and it most definitely takes priority over actual work deadlines and assignments.  There is a strong correlation between fantasy leagues and decrease in work productivity.  In 2006, Challenger, Gray & Christmas, Inc. reported that fantasy sports owners spend anywhere from 35-60 minutes a day managing their team, costing employers as much as $1.1 billion a week in lost productivity.
Despite these lower productivity levels, fantasy football is not all bad.  Not by any means.  In fact, it has done amazing things for the National Football League.  "It's been a huge part of the success and growth of the NFL over the past decade as it has permeated cubicles, home computers and families.  It increases football viewership.  There is more stake in more games," Zierlein added.  Berry chimed in noting another positive about fantasy football is it gives you an interest in every single game.  The Bucs/Lions game may be the most boring game on the schedule this year, but if you've got a player on either team you're automatically interested in the outcome and you'll probably be watching or keeping tabs.
Companies everywhere are catching on and capitalizing on the success of fantasy, offering more options than Tom Brady.  The NFL Sunday Ticket on DirecTV has a new feature, the "player tracker", to follow up to 18 players each week on your screen which is perfect for fantasy fans.
"The reason people are so obsessed with it (Fantasy Football) is because it's fun.  If you've never tried it, you ought to," Berry says.
For the fantasy virgins out there, try a free league like Yahoo because it's relatively simple and where most experts (like Berry and Zierlein) began their fantasy fame.  ESPN also offers a "Fantasy Football 101".
Follow these guys on twitter @matthewberryTMR and @LanceZierlein.