Tags
Related Posts
Share This
The One Thing Cubs Fans Have to Brag About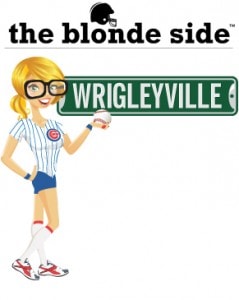 Let's be honest.  If there's one thing worse than Heidi Montag's 19-surgery day, it's the Chicago Cubs.  They are the epitome of the laugh factor inside the MLB and have been since their last championship in 1908.  Yes, 1908 – twenty-two years after Henry Ford invented his first horseless carriage, aka car.  So a long ass time ago.
Rather than dwell on the negativity of all things Cubs, because Lord knows that's been done in overabundance, I've decided to take the high road or positive approach if you will, and talk about the lone admirable part of the franchise – Wrigley Field.  It's not like fans can boast about a recent pennant chase but they can sure as hell boast about their ballpark.  I've been to my fair share of ballparks, but none do I love more than Wrigley.  There's a funny thing about Wrigley – it's all about baseball.  I hate to state the obvious, but not all ballparks are created equal.  Not by any means.  And it seems this one, which spews history off every baseline, was created for the truest of baseball fans.
Earlier this month I was in Chicago for the Astros/Cubs series (Astros won the series 2-1) and sat behind home plate in section 122, row 29, seat 2. I was able to sit back and enjoy the atmosphere and revel in all things baseball.  And not to mention I didn't have a prick of an ex-boyfriend sitting next to me like my last visit to Wrigley.
What started with a seating capacity of 14,000 in 1914, the stadium which is now the 10th smallest actively used ballpark now holds 41,160 and sells out almost on a daily basis drawing more than 3 million fans every year since 2004.  As an ex employee in MLB, I can vouch that hitting 3 million fans a year is a huge feat for any team, but having done it for six consecutive years is outstanding. The history of Wrigley is more impressive than Rollie Finger's porn 'stache from the 70's.  It's amazing to think so much history is packed into such a small ballpark that was built in just six weeks for the nominal fee of $250,000 (which equates to almost $6 million today).  Hall of Fame announcer Harry Caray started everyone's favorite, Take Me Out to the Ball Game when he joined the Cubs in 1978 which is now sung during every 7th inning stretch by a diverse group of "famous people" (Bill Murray, Ozzy Osbroune, Eddie Vedder, Tom Arnold, Jim Belushi and a number of former Cubs to name a few).
Remember famous little Emily Monforto throwing back the foul ball at the Phillies game last year? The history of throwing back homerun balls from the opposing team was reportedly started at Wrigley in 1969 when Ron Grousl of the famous "Bleacher Bums" decided to throw one back on a whim.  Perhaps the act was best described in the old comedic play, Bleacher Bums, when one character said, "If someone hands you garbage, you have to throw it back at them."  There is no event more memorable at Wrigley than Babe Ruth's "called shot" homerun in the 1932 World Series off pitcher Charlie Root.  I'm not Babe Ruth by any means, but I mimic the same move every time I step up to bat, though the ending results are usually a little different.  The park also hosted a scene to one of the best all-time movies, A League of Their Own (where both Madonna and Rosie O'Donnell surprisingly look like they could play ball).  The proverbial outfield scoreboard was changed to read "Harvey Field" for the film.
I often hear critics complain about the aging ballpark stating asinine absurdities like it needs to be updated and renovated.  First of all, I want to punch them in the face for trying to defile such a historic part of baseball, and second I want to inform them in a polite yet professional manner that the park has landmark status from the city which protects it from any major structural changes that these novice fans gripe about.  The men's bathrooms have old school troughs filled with ice, kinda like how guys used to pee in the old days (I know this firsthand, but no need to ask how or why).  Wrigley still has a manually operated scoreboard.  It's kind of funny after the Cubs score a run (which albeit doesn't happen often), all the fans stare at the scoreboard waiting for the operator to change the number.  Fans triumphantly cheer when the run is scored and then again when the change takes place on the scoreboard.
But back to it being all about baseball…Wrigley is one of the few remaining classic venues, and is the 2nd oldest ballpark in the league (two years behind Boston's Fenway Park which opened April 20, 1912).  It seems stadiums today thrive on in-game entertainment and technologically advance knick-knacks, which I get.  There's a need for it and certainly a market for it.  I feel safe in saying we've become accustomed to Tivos and DVRs – if we miss our favorite shows there's no need to get in a tizzy because we can go back at any time and watch them.  Jumbotrons are to ballparks what DVRs have become to our homes – a mainstay.  You can sit at a game, text that guy you met from eHarmony bragging about your kickass seats and as soon as you hear cheers (or jeers if you're a Cubs fan) catch the play in question on the big screen and not miss a beat.  Not at Wrigley.  If you want to see a diving catch or Nyjer Morgan rush the mound, you've got to catch the action as it happens.  Just the way baseball's supposed to be.  If you miss a play you're stuck hearing the distorted version from the fat lady next to you who will probably get it all wrong.  Then that guy from eHarmony will text you about that same play he just saw on WGN and you're left clueless.  It's sad to say we need prodding at a professional baseball game, but at Wrigley you're forced to watch the game.  You're forced to take in all things baseball – the smell, the weather (no matter how hot, cold or windy it may be), the beer, the peanuts, the cracker jacks….you catch my drift.  Getting into the spirit of baseball inevitably makes it a more enjoyable experience win or lose.
Another great thing about Wrigley is the fans come out in full force not just for the game, but for the entire experience.  And the beers.  Before heading into the park I enjoyed a naked Chicago style hot dog (sans sauerkraut, sweet relish, chopped onion, and tomato wedges) and more than a few Sam Adams seasonal brew Oktoberfest.  I carried on pointless yet meaningful conversations with natives and tourists alike and headed to the stadium passing street vendors selling cheap Cubs gear and cops chatting me up.  Thankfully I wasn't in the market for any emergency personnel because even on a Monday afternoon, the town shuts down and gets in Cubbie mode; which any sports buff can appreciate.
The land on which Wrigley sits, and has for almost a decade, was owned by the Chicago Lutheran Theological Seminary, which is ironically fitting.  The Cubs are downright terrible, yet their fans are obsessed and passionate almost as if their fanfare were a religion they've subscribed to since birth.  Their suffering brings them together and on the occasion the team is on a win streak, everyone in the ballpark quickly becomes BFFs.  I witnessed an elderly man (no doubt mid-eighties) chest bump a barely legal Old Style drinker whose pants were well past his waistline.  These tormented age-differing fans had bonded.  Over a Cubs victory and a can of Old Style.  As with any victory, it was quickly followed by the traditional hoisting of the Blue Flag donning a "W", denoting the day's victory.
Wrigley undoubtedly abounds with baseball and Chicagoan history, but it's certainly not the most preferential ballpark when it comes to good luck for the home team.  The Cubs have never won a World Series while at Wrigley (they've lost six attempts since 1918) with their last championship back in 1908 (six years before playing at Wrigley).  While I may not be a Cubs fan, I sure as hell am a Wrigley fan and can't wait for my next visit back to the "Friendly Confines".
At the time this article was written, the Cubs record is an astounding 68-82.