Tags
Related Posts
Share This
If the Cowboys are America's Team, I don't want to be American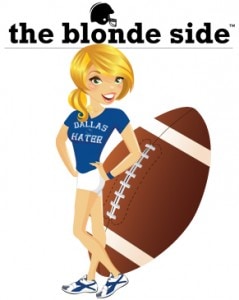 I know exactly when it happened. The day I became a real, big-time Dallas Hater. I was 11 months old, sitting on my mom's lap wearing a onesie that read, "This is your brain [Redskins helmet]. This is your brain on drugs [Cowboys star]." I knew from then on that to get anywhere in life I had to be a Dallas Hater.
I'll be the first to admit I started this season with an uneasy feeling that the Cowboys, unfathomably dubbed America's Team, would be good this year — maybe even Super Bowl-bound. This had nothing to do with their roster or the fact that Tony Romo wears that gay fedora in every single press conference. My suspicion stemmed from the Kardashian Bang Theory, or KBT if you will.
Let's face it — odds are pretty good that when you bang a Kardashian your team will start playing better and winning championships.  Case in point:
Reggie Bush: Long-time banger of Kim Kardashian; 2010 Super Bowl champ w/ the Saints
Lamar Odom: Bangs/marries Khloe Kardashian; back-to-back NBA champ w/ the Lakers
Miles Austin: Current banger of Kim Kardashian; TBD
As soon as reports surfaced that Kim was "dating" Miles Austin I knew we Dallas Haters were in for it. The Cowboys surely had a date with Feb. 6, 2011, on their own field for Super Bowl XLV.
But then the Cowboys went and started the season 0-2, and I had to start searching history books to see if the KBT theory could hopefully be proven wrong. Turns out this is the first time since 2001 the Cowgirls have started the season 0-2; in 1993, they started 0-2 and went on to win the Super Bowl. Only two other teams have pulled off that feat: the Giants in 2007 and the Patriots in 2001. Luckily, it doesn't happen often and odds are not in the Cowboys favor with only 13% of teams starting with such a lousy record actually make it to the playoffs.
Then, last  Sunday the Texans had to go and give up a win.  A big win.  A must win for those damn Cowboys.  As I watched the Cowboys-Texans game at Reliant Stadium, I started thinking about this whole America's Team B.S. Did I miss the election where I, along with every other intelligent American could partake in such a vote? Calling such an arrogant, unlovable team America's Team seems like an injustice of the highest order.
Bob Ryan, a former editor for NFL Films, first coined the phrase America's Team in 1978. "They appear on television so often," Ryan said, "that their faces are as familiar to the public as presidents' and movie stars'. They are the Dallas Cowboys, 'America's Team'." How can they be America's Team when half of the country hates them? I get that they have a rather large fan base, but the number of Americans who hate them is much larger. Meanwhile, the Steelers have won more Super Bowls than any other team (6) and the Packers have over 112,000 owners backing them. Not that either of those teams would welcome such a moniker — they know, like everyone knows, that no team truly deserves it.
I don't know where that Bob Ryan cat is today, but he needs to man up and renounce that heinous statement. Perhaps he can call a press conference and offer a mea culpa with Tony Romo sitting next to him in his fedora crying away his frustrations.
Little did Ryan know such a negligent statement could cause so many astute Americans to head for the border simply to avoid hearing the lamest fans in the NFL continue to boast that they are America's Team.  I firmly believe the Dallas Cowboys are the most hated team in America.
Not only did the Cowboys start the season with two losses, they were embarrassing loses to the say the least. As a Philadelphia Eagles devotee, I can understand how they lost to McNabb and the Redskins, but da bears? That's almost as embarrassing as Kordell "Flash" Stewart getting caught with a tranny or Michael Vick walking through airport security with an illegal substance inside another illegal substance (remember the SNL skit?)  In their Game 2 loss against the Bears, the Cowboys offense only rushed for 36 yards.  A whopping 36 yards.  For a team that has relied heavily on their rush game in years past, they are currently 26th (out of 32 teams) with a total of 240 yards averaging 80 yards/game.  That's what you call America's Team?  Americans can run, apparently the Cowboys can't.
Have you ever seen someone with a lot of money that is a terrible dresser (besides Deion Sanders)?  They look frumpy, wear terribly hideous clothing and aren't kempt?  You wonder how that could happen since they have money.  After all, it's easier to look good with money!  Until Jerry Jones enters the equation.  With the money he spends, the team should look DYNOMITE.  He spends exorbitant on his roster, yet his team is mediocre at best.  They are the monetary equivalent to the Yankees, so what's the deal?  Dallas fans rave about their running backs.  The Cowboys paid the nominal amount of $1.75mil for their three star rushes.  You know, the three guys that got those whopping 240 yards in three whole games?  Felix Jones, Marion Barber and Tashard Choice sure as hell aren't helping the offense and probably won't anytime soon.  But yet those crazed Cowboys fans can't seem to get off the Barber train even if it hasn't gone very far this season.
It's been an NFL mainstay since the eighties that owner Jerry Jones words never seem to match up with his actions.  He is the most confused, ghastly looking individual in the entire league.  In a recent interview he went on to brag about allowing Romo to run the two-minute offense in the first drive against the Texans because of his faith in Romo's play calling ability.  The Cowboys did not score on that drive.  Again we ask you Jerry, just what in the hell are you talking about?
Many Cowboys fans think us haters are jealous of them. Jealous of their victories, their brand new stadium, their previous win streaks. In my sorority we had a shirt that read "jealousy's a sickness…get well soon" (don't mean to brag, but we were kinda the hot girls on campus). Listen up Dallas fans, I'll admit it…I am sick. Sick of hearing you guys talk out of your asses about how good you USED to be. Sick of seeing that damn star everywhere I turn. Sick of your "hardcore" fans that think Troy Aikman is still your starting QB. But jealous, I am not.
Oh and just one more reason you Dallas fans suck.  I was rocking this Dallas Haters shirt from HTXSMACKGEAR last Sunday and your illiterate fans kept high-fiving me.  Apparently you only know how to read the word "Dallas" and were never taught much after that.  Combined, the words DALLAS HATER mean I'M NOT A FAN.  Way to high-five a non-fan you idiots.
Note: I am extremely proud to be American so relax folks.