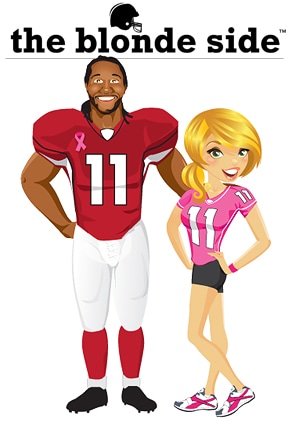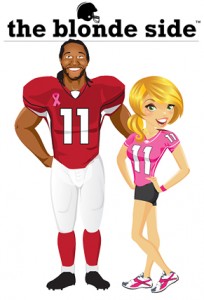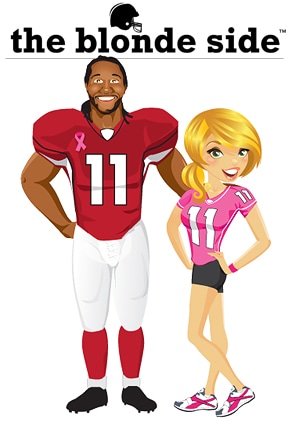 Breast cancer awareness month has officially ended, but the long-standing affects from league efforts are still kicking.
I hate to use the word trendy in relation to breast cancer, but the pink ribbon phenomenon and proceeds from product XYZ benefiting breast cancer charity XYZ are compelling.  So much so, the NFL and a handful of elite players have taken it to another level with the league's campaign, "A Crucial Catch," which ran through the month of October.  A Victoria's Secret-esque tinted campaign no less; "A Crucial Catch" is currently in its second year. The campaign partners with the American Cancer Society and various local team charities.  The NFL has emphatically committed to the cause stating, "This is an issue that has directly touched the lives of so many in the NFL family, and we are committed to helping make a difference in breast-cancer prevention."  Touching the lives of so many in the NFL is a grossly accurate statement.  Just to name a few in recent media:
–Derrick Dockery (Washington Redskins) – his wife Emma lost her mother to cancer four years ago
–Chris Cooley (Washington Redskins) – his mother Nancy is a survivor
–Ryan Denney (Houston Texans) – his wife Sheri is a survivor
–Brett Favre (Minnesota Vikings) – his wife Deanna is a survivor
–Dan Snyder (Owner of Washington Redskins) – his wife Tanya is a survivor and a national spokesperson for A Crucial Catch
While coaches, players and hard-hitting men across the league are sporting the rose color on and off the field, the idea of taking color coded football a step further was pioneered by Carolina Panthers running back, DeAngelo Williams.  Williams proposed pink cleats because of their primacy to players stating, "If you have a great cleat and firm foot in the ground, you can do anything."  This sentence holds true for every single female battling the disease and the friends and family members standing behind them.  Unfortunately not a stranger to the disease, Williams's mother, Mary Ann Critton, is a survivor, but he has lost three aunts to the disease.  He has set up a foundation hoping to put an end to breast cancer.
According to NFL and The Nielsen Company, over 100 million people tune in each week, so what better way to capture the attention on such an important and life saving issue?  The campaign encourages women 40 and over to get an annual mammogram calling that THE crucial catch of a lifetime.  While there are many crucial catches each and every game day, catching breast cancer early can be the difference between life and death.  Not very often can you say that about a game-winning T.O. catch from Carson Palmer.  These athletes clad in football pads are taking a stand for the disease, which affects 1 in 8 women, hopefully encouraging others to as well.
Perhaps Ryan Denney of the Houston Texans said it best, "The NFL is a national stage.  A lot of people will tune into the game, mostly men.  But maybe those are the guys that need to be made aware if they have a wife, a mother, a loved one that they can ask 'Hey mom, have you been checked out lately?'"  Many men feel helpless not knowing how to help their loved ones, which is why Men Against Breast Cancer (MABC) was created – to educate and empower men to be effective caregivers.  MABC recognizes that breast cancer is a family issue that devastates the entire family and everyone is needed for a strong and reliable support system.  The group reminds us that the battle is one that men and women must face together.
Regardless of the current Brett Favre allegations, when his wife Deanna was first diagnosed with breast cancer in 2004, he had to yet again perform under extreme pressure.  When Deanna started chemo, Brett had his teammates shave his head to show his support.  He read up on cancer and helped establish the Deanna Favre Hope Foundation to aid uninsured and underinsured women fighting breast cancer in need of healthcare.   Deanna puts the league's participation into perspective, "Everybody has a mother, most people have sisters, mothers-in-law, close friends.  At some point you're going to know somebody going through breast cancer.  It affects everyone." This is just one of the many reasons the Favre's have taken a personal yet public interest in the disease and reiterates why the NFL has dedicated to the cause.  (Quote taken from Larry Weisman's USA Today piece)
Each Sunday (and Monday and Thursday), the men remind us how crucial an annual mammogram can be at discovering breast cancer early on – upping your chances for survival.  Last year Chad Ochocinco, wide receiver for the Cincinnati Bengals, was mentally preparing himself to be fined for wearing a pink mouth guard while this year, men like Larry Fitzgerald of the Arizona Cardinals are directing attention both on and off the field to breast cancer.
Fitzgerald knows firsthand how dangerous and deadly breast cancer can be having lost his mother, Carol, in 2003.  It's an old adage that pink clashes with red (one of the Arizona Cardinals team colors), but that hasn't stopped Fitzgerald from donning pink cleats and other pink paraphernalia throughout the month of October paired with his red and white uni'.  Along with his choice wardrobe accessories, Fitzgerald has added fundraising to his already impressive resume of football stats and has generously agreed to donate $1,000 for every catch along with $5,000 for every TD in October.  Keep in mind, this is in addition to the work he does year-round for the Carol Memorial Fund in honor of his mother.  Fitzgerald still carries his mother's driver's license in his wallet next to his own as she is his motivation both on and off the field.  It looks like Fitzgerald donated a cool $33,000 for 23 receptions and 2 TDs (both touchdowns coming on the last day in October against the Tampa Bay Buccaneers).  Check out Fitzgerald's intensely personal PSA Larry Fitzgerald PSA for Breast Cancer (via YouTube)
While the awareness of breast cancer has been on the rise along with an abundance of pink ribbons, major strides have been made because of campaigns like that of the NFL.  A study of women treated at the University of Texas M.D. Anderson Cancer Center in Houston, TX has shown the 10-year survival rate among breast cancer patients has increased to 76.5 percent between 1995-2004, which is up from 25 percent between 1944-1955.
If you still don't know how you can help or want to remind your loved ones to get checked annually, remember it could be as easy as a simple text message.  Our friends at Bright Pink have set up "Underwire Alerts" for any size tatas.  Text PINK to 59227 to get your monthly alert reminding you to stop and think about the girls for a little while. Monitoring your breasts overtime is one of the best ways to detect any differences and Bright Pink is bouncing with excitement to remind you. According to the Bright Pink website, when detected and treated early, the five-year survival rate is greater than 92%.  So guys, grab your girl's cell phone RIGHT NOW and set up their monthly reminders.  They'll thank you for it.
(illustration credit to Tony Moles)
http://theblondeside.com/wp-content/uploads/2010/11/BlondeSide_fitzgerald.jpg
427
291
Jayme
http://theblondeside.com/wp-content/uploads/2018/06/1526998321020-300x192.png
Jayme
2010-11-11 14:39:34
2011-10-02 20:40:37
Real Men Wear Pink. And Love Boobs.