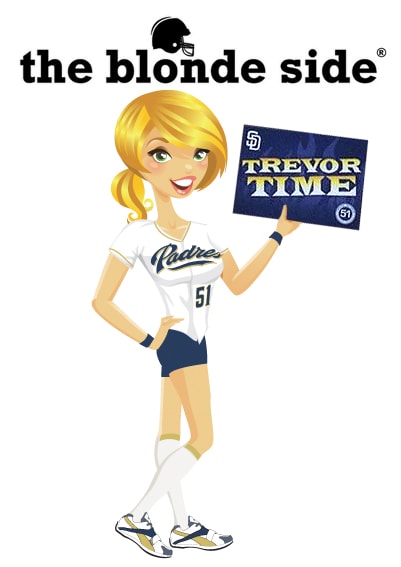 Which is exactly how Trevor Hoffman became a wild sensation not just in San Diego, but in the hearts and gloves of Major Leaguers everywhere. I had the distinct pleasure of witnessing one of baseball's greatest moments this past weekend, at least in my lifetime – the San Diego Padre's retirement ceremony for Trevor Hoffman's #51 jersey.
Approximately seven months and ten days after announcing his retirement, PETCO Park and the City of San Diego were ready to pull out all the stops and honor closer, Trevor Hoffman with a pre-game retirement ceremony chock-full of goose bumps. As with all stadiums, I noticed a ton of "Welcome to PETCO Park" signs, but I had no idea just what kind of warm welcome I was in store for and what kind of instant Padres emotions I'd bear as a visitor.
This is no knock on Houston baseball (for once), but I've had the opportunity to witness some of Houston's most recent baseball history including Craig Biggio's 3000th career hit and Jeff Bagwell's retirement ceremony during my stint in the Houston Astros Front Office. None of it compares to the warm and fuzzies of this piece of baseball magic at PETCO. The staff rolled out the red carpet from homeplate to the pitcher's mound, which served as an 18-year path down memory lane as emcee Ted Leitner introduced coaches and teammates of past and present (I desperately tried to find a fitting reference to Matthew McConaughey's Ghosts of Girlfriends Past simply for namesake but just couldn't follow through).
A big fan of all things pop culture, one of the best parts of the ceremony had to be the video message from none other than Brian Johnson of AC/DC who had a special message for Hoffman. Hoffman had been using the AC/DC famous hit Hell's Bells to mark his entrance dating back to '98 – the same year he became a franchise icon. I quickly learned those dong sounds (yes, dong) had a huge heartfelt impact on San Diegans everywhere. "When we played that song at concerts we used to rock the crowd, but you rocked the mound, mate," Johnson said during his video message.
Goose bumps may come a dime a dozen in my world, but tears definitely do not. I won't pretend to be a Hoffman fan club leader, but the ending to this ceremony was second to none and definitely had my Maybelline Volum' Express mascara running down my chubby little cheeks. As with all professional sporting events, the National Anthem is a part of the game. Probably the most touching gift you can give a man is the voice of his father, one he hasn't heard since his passing in 1995. As a final "thank you" the Padres shifted attention to the video board where an extremely rare tape of Ed Hoffman, Trevor's late father, singing the National Anthem at a Red Sox game from 1981 played. The entire Hoffman clan, friends and family alike, grabbed each other for support as they honored the late great Ed Hoffman singing from his heart. There is no money in the world that could duplicate such a feeling inside PETCO Park as this anthem did.
When Hoffman entered the Majors, the career saves record was 349 by pitching sensation Jeff Reardon. During his impressive career that lasted nearly two decades, Hoffman raised that bar by 72 percent where the record now sits at 601 saves. Of course, it's not sports without some sort of controversy and that would come in the form of Mariano Rivera who is quickly closing in on Hoffman's coveted MLB record. (At the time this was written, the pinstripe pitcher had 592 saves, plus a slew of post-season appearances, which Hoffman can't match.)
Although I'm a huge fan of Major League Baseball, I'll admit there are some teams (which in turn mean some players) I don't follow as much as I probably should. Especially being in the sport's writing business that I find myself. San Diego and Hoffman are one of those missing combos, where milestone saves aside; I haven't really kept up with. It was touching to see the 40,000+ fans in attendance for Hoffman's retirement ceremony with their cheers and occasional tears, especially when you know the start of the Hoffman|Padres relationship. He was not a very favored trade option as the front office needed to dump salary, which ultimately meant an unpopular trade sending fan-favorite Gary Sheffield to Florida, which brought Hoffman to San Diego as part of the deal in 1993. At the time people thought Gary Sheffield for Trevor Hoffman? Surely baseball operations in Southern California needed to be randomly drug tested after such a trade? Fans were outraged and took every opportunity to boo the rookie every time he took the mound. Hoffman, a rookie in everyway, who at this point had only notched 28 Major League appearances under his belt. Those were extremely small potatoes, especially when a franchise player like Sheffield was involved.
18 years of baseball. 18 years of stats. 18 years of memories. Trevor Time. The Numbers Game:
Padres General Manager, Randy Smith was on the job for 15 days before making the trade for Hoffman who has 601 total career saves with his first save dating back to April 29,1993. Hoffman started with a 95mph fastball whose signature pitch later became his hard-to-hit-changeup. Almost 16 years of his 18-year career was played in a Padres uniform where he recorded 552 of those record number saves. Hoffman was drafted in the 11th round by the Cincinnati Reds and is a 7-time All-Star and finished in the top 10 in NL Most Valuable Player Award voting twice. He became the fourth man ever with 50 saves in a season and finished in the top six in National League Cy Young Award voting four different times (finishing second in the 2006 Cy Young winners). Probably not his favorite stat, but Hoffman became the first pitcher ever not to win the trophy despite the fact he received the most first-place votes. There is still a large discrepancy among the voters if a closer is worthy of such an award, and as a swift kick in the nuts, six writers left him completely off their ballot as their show of disapproval in his role on the pitching staff. Hoffman supported the Padres run to the World Series in 1998 with a club-record 53 saves, a career-best 1.48 ERA (a low 2.76 for his career) and a walloping 1.18 strikeouts per inning. His ERA in save situations was a miniscule 0.49 and the man was a complete stranger to pressure converting an astounding 89 percent of his save opportunities during his entire career wherein the '98 season he failed just once in 54 tries. This gave him the unheard-of statistic of putting the lid on 54 percent of the Padres' 98 victories that season. He has 4 National League West Division titles and has been quoted as saying, "the biggest and most coveted title I carried was teammate."
During his tenure, Hoffman was only 1 of 2 pitchers with streaks of 4 straight seasons with at least 40 saves (Francisco Rodriguez the other) and overall has racked up 9 seasons of 40 or more saves which is virtually unheard of in the game. He has an impressive 1,133 strikeouts and has pitched in 1,035 games. He won the 2004 Hutch Award and was also the 2x NL Rolaids Relief Man of the Year (1998, 2006). Hoffman donated $200 for every save to the National Kidney Foundation in honor of his late father, Ed Hoffman.
Hoffman's #51 jersey now joins Steve Garvey's #6, Randy Jones #35, Tony Gwynn's #19 and Dave Winfield's #31 in the batters' eye in center-field as the only 5 numbers retired by the Padres franchise.
Trevor Time Trivia (courtesy of signonsandiego.com): Who are the 3 Padres who have entered games to Hell's Bells at PETCO Park? Trevor Hoffman, Akinori Otsuka and Luke Gregerson.
The Blonde Side fun fact: Tracy, Hoffman's wife, was a cheerleader for the Buffalo Jills, where he proposed to her while she was on the field during Super Bowl XXVII. Find a single guy out there on trivia night that knows this trivia tidbit. If you do find one, run, far, far away.
#TrevorTime
http://theblondeside.com/wp-content/uploads/2011/08/JLamm_HoffmanJersey_sign.jpg
567
401
Jayme
http://theblondeside.com/wp-content/uploads/2018/06/1526998321020-300x192.png
Jayme
2011-08-23 19:52:18
2011-08-24 00:18:58
It's A Number's Game