Tags
Related Posts
Share This
My Letter to Nike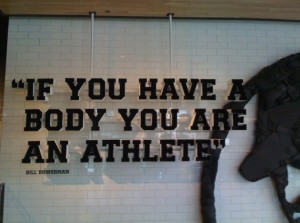 Dear Nike,
I recognize the potential awkwardness of this letter, but I've thought long and hard about this subject and decided it is something that truly needs to be addressed. Let me start by acknowledging that 99% of the time you serve as a great inspiration for athletes just like myself, for the love of the game (any game for that matter), the importance of finishing strong, and all that other good stuff athletes eat up.
Now comes the hard part. I feel strangely justified in writing this because whenever I mess up or don't meet my goal with your Nike + GPS runner's app, your voice is less than thrilled with me and you're not afraid to let me know it. It's a give and take relationship that we have, so here's where I have to stand up for "athletes" everywhere and give it right back to you.
A few weeks ago, I visited one of your Niketown locations. It seems I'm always snapping photos of the displays or wall quotes to share with my readers, but this particular time I ran across one I wholeheartedly and adamantly disagree with from your co-founder Bill Bowerman:
If you have a body you are an athlete.
W-R-O-N-G. So. Incredibly. Wrong.
Coming from an athlete as well as someone with an abundance of common sense, I think this is fallacious and sends the wrong message to all the true athletes out there who work hard to meet goals and excel in their sport. My guess (and hope) is what Bowerman meant by this overly quoted and inaccurate statement was that anyone can be an athlete – meaning anyone has the potential to become one, not that everyone is automatically one. No matter how big or small, short or tall, young or old, black, white or supremely tan. There is a differentiating truth here. Every body has the potential and the intensity to be an athlete, but it is not a God-given certainty everyone walks around with from day one. If that was true, why would any of us work so hard to perfect our half marathon time or practice pole vaulting every night until the sun goes down?
Bowerman's quote just rubs my Nike legend spandex the wrong way – just because you have a body (which admittedly, we all do) does not make you an athlete. As all athletes can attest, it takes hard work, practice, dedication, training, and heart and soul to make you a certifiable athlete. Owning a body, does not, under any circumstance make you an athlete.  Everyone that walks into Niketown is not an athlete. Do they have the potential of becoming one? Absolutely. But are they considered an athlete simply because they have a body and walk into a Nike store? Certainly not. And the athletes that idolize your brand for inspiration and gear would probably be appalled to think you group us in the same league.
Let me ask you this – was Jim Abbott deemed a reputable athlete because he was born without a right hand or because he busted his ass training to make it to the Olympics and later pitch a no-hitter for the New York Yankees in 1993? Is Zach Gowen, the popular and widely marketed WWE wrestler regarded as an athlete because he lost his left leg at the age of 8 from cancer or because he set out and became a Heavyweight Champion after perfecting his high-flying-off-the-ropes act? (And while wrestling may not be a legitimate sport in many people's eyes, that does not mean the men involved aren't athletes.) Is Muggsy Bogues considered a highly regarded athlete because he was the shortest NBA player (5 ft 3 in) to ever grace the NBA or because he was diligent in his dreams and practiced wicked crossovers and fadeaways in his sleep since he was of walking age? The little guy didn't get 39 blocks during his 14-season career by accident; he managed that impressive stat because he worked hard for it. Years of running his little Nikes up and down the court learning the game from the inside and out is what made him an athlete.
And in case the above examples didn't sway you from the defunctness of Bowerman's words, let me introduce you to someone who could never, ever, under any circumstance whatsoever be considered an athlete – my mother. I cringe a little at the thought of writing this because she doesn't like when I use in my writing, but I know she'll agree with my assessment. At 5'3′ (yes, same as Muggsy) and a weight right on scale with traditional BMI readings, this woman has never done any form of physical activity in her life, and has no desire to do so. She is not an athlete on any level. Of course she can still wear a Nike branded sport's bra or a pair of blue LunarGlides+, but she's not an athlete. It doesn't mean she can't be, even now, but plain and simple my mother is the antithesis of Bowerman's statement. She has a body, but is far from an athlete.
So there you have it Nike. I hope this doesn't sever our relationship and I truly hope you understand my concern for this quote. I've suffered sprained ankles, broken bones, torn ligaments, and jammed fingers for decades learning firsthand how much work goes into becoming an athlete, and people like my mom (no offense ma) shouldn't be grouped into this category until they are ready to put forth the effort to hold such a title. Being an athlete is not for the faint of hearts, that I can assure you.
Thank you for time,
Jayme Lamm
PS – I'm happy to send you my mailing address should you want to respond on the DL along with some new running gear. I could surely use it.