Tags
Related Posts
Share This
30 BEforE 30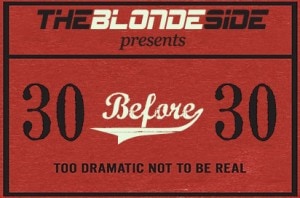 Mark your calendars – November 27th is quickly approaching and it's a big day. It just so happens to be THE day I will gracefully exit my twenties and fly into a brand spanking new decade and hit the big 3-0. ESPN's popular document series 30 for 30 was inspired by their anniversary (aptly, their 30th) and I felt it equally appropriate to do something BIG the 30 days leading up to this milestone. Like many of you, I'm a natural born procrastinator. What better way to light a fire under my ass and start earning my title as a sport's writer, right?
Since The Blonde Side is composed of sweat, blood, tears and opinions with athletes and sports abounding, I realized one thing – I need to interview and write about more athletes. A lot more. I need to find their stories and write them in a way that only I can. That's where my 30 BEFORE 30 comes into play.
My goal everyday for the next 30 days is to approach one athlete a day (via email, Twitter, his or her agent, etc.) and send them this link along with a request for an interview for this here sport's column.
And here's what I'd like as my birthday gift: advice on who I should approach for interviews and help finding their contact information. And just to be clear, I'm not afraid of rejection (I'm single, remember). I want to go after athletes (past and present, even coaches) with stories to tell, and I know I probably won't hear back from half of them. I read all about Kathryn Stockett's (author of 'The Help') 60 rejection letters before she finally hit it big, and I realize I'm giving myself 30 chances for the same outcome – rejection. But I firmly believe you miss 100% of the shots you don't take. So here I am, taking my shot. From behind the three-point line with a torn ACL.
Saturday is the first day of this project and I need to get started on my list of athletes to ask for interviews. Please help a birthday girl out and leave a comment if you think there's a good story out there (preferably an untold one) or an athlete you'd like to see featured on The Blonde Side. If you know someone personally and can help get contact information, that'd be the epitome of a cherry on top of my birthday cake with a shot of Jager to wash it down with followed by a high-five from Donovan McNabb.
I know the first person on my list will be Muggsy Bogues. I also have C.J. Wilson on my list (just waiting until the Rangers win the World Series before re-contacting his agent) and Kelly Slater. Now I just need to find 27 more to add to this awesome list. And don't worry, once this project is completed, I'll update this post with a list of everyone I contacted and what the results were. If we're lucky, you'll also see 30 brand new articles featured here on The Blonde Side.
30. Muggsy Bogues (former NBA, current coach)
29. Kelly Slater (surfer)
28. C.J. Wilson (current MLB)
27. Kasey Kahne (NASCAR)
26. Brandon Belt (current MLB)
25. Chase Budinger (current NBA)
24. Clay Greenfield (NASCAR Trucks)
23. Duane Brown (current NFL)
22. Isaac Keys (former NFL)
21. Jennie Finch (softball/olympics)
20. Chantal Sutherland (jockey)
19. Mike Napoli (current MLB)
18. Andrew Craig (current MMA)
17. Tom Crabtree (current NFL)
16. Arian Foster (current NFL)
15. Shane Battier (current NBA)