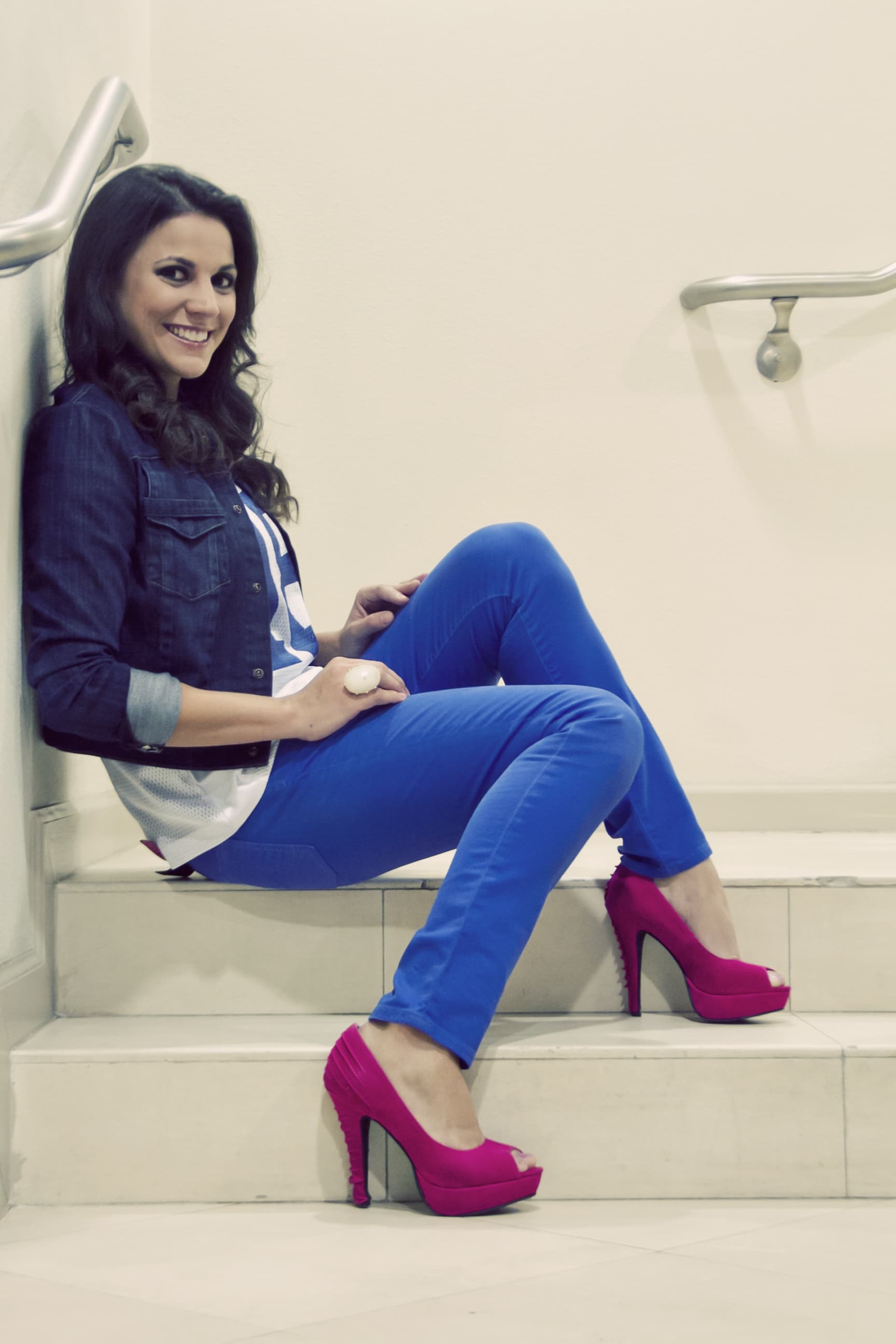 In an effort to show you that girls can love sports, know sports, and look mighty fine wearing a jersey, I rounded up ten girls and paired each of them with some of the latest fall fashions from one of the hottest stores in Houston; Tootsies.
Here's a glimpse of the girls and a little history on how each of them came to love their respective teams. While I can't wholly vouch these girls know their teams as well as I know my Dream Team (let the jokes ensue), I did give them a thorough interview – some passed the test with flying colors, others just knew the colors. I also asked the girls to rank their undying devotion for their boys on the field from 1-10, with 10 being the biggest fan ever. Take a look for yourself and leave a comment who your favorite girl and/or team is.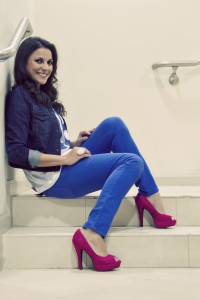 Sophie Jones | 30 | Marketing in Oil and Gas | Indianapolis Colts
"I want to be a fan of the Texans, but it's hard. I grew up in the Oilers era and the Texans just aren't the same," Sophie admits. Like many Indy fans, her love for the Colts really centers on the man in the pocket, Peyton Manning. She also grew extremely fond of the team during the Jim Mora period when we had his multiple illustrious playoff tirades. Who doesn't remember those days? And better yet, who wouldn't love a team led by such an intense personality? (Sophie is wearing Citizens of Humanity cropped skinny jeans and a Citizens of Humanity jacket.)
Fan Scale: 7. (She's only torn in her allegiance to the Colts when they take on the Houston Texans, but so far that hasn't affected her devotion too much.)
The Colts in your own words? Classy.
Jamie Honeycutt | 30 | Public Affairs | Houston Texans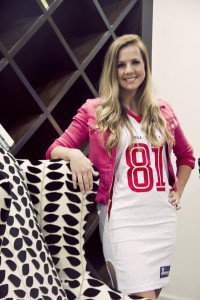 "I grew up an Oilers fan and when we didn't have a team, I didn't jump on the Cowboys bandwagon like others did. I always held out hope we'd get a new team. And now I just love my Houston Texans," Jamie says. She's also a big fan of Owen Daniels (whose Pro Bowl jersey she is sporting, thanks to Owen himself). "He's definitely my favorite player because of his involvement with Blondes vs Brunettes and other charities. He has such a good heart, is down to earth and willing to go the extra mile to help his team and local charities. What else can you ask for in your favorite player?" Good question Jamie, good question. A big thanks to Owen for lending his jersey for this shoot. (Jamie is wearing a pink jacket from Mother Jeans.)
Fan Scale: 8.5
The Texans in your own words? Up and coming super stars. Super Bowl champs even.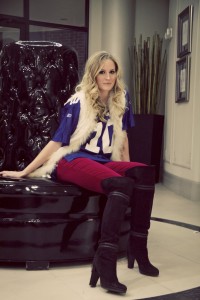 Leigh Evans | 30 | Founder of GirlAroundTown.net | New York Giants
I love it when girls are frank with how they fell in love with their teams, and Leigh holds nothing back. A girl after my own heart. "The Giants are my favorite team and have been for some time. I always spent Sundays watching football with my dad and I used to pick teams based on how cute the boys on the team were. Back then I had a HUGE crush on Jeremy Shockey – apparently long blonde hair and tatted up guys are my thing," she jokes. Later Leigh moved to New York for a few years where her love for the Giants only grew stronger. (Leigh is wearing a Dolce Cabo fur vest and J Brand Pencil Leg jeans.)
Fan Scale: 7.5
The Giants in your own words? Fighters.
Andrea Simmons | 25 | Owner and Makeup Artist at FaceFoward Weddings | Pittsburgh Steelers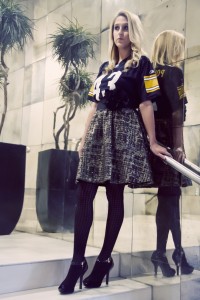 Growing up, Andrea found herself in the bar scene even at an early age. No, she wasn't neglected nor did she present with a drinking problem like Drew Barrymore. Her dad owned quite a few bars in the area. One of her best childhood memories was visiting the bar (before it opened to the public) and playing silly games with one of the bartenders who just so happened to be a huge Steelers fan. Seeing his intensity and love not only for the sport but the men in black and yellow made her an immediate fan. "Not to mention I freaking adore Troy Polamalu," she adds. Off the field she thinks the Head and Shoulders commercials really shows off his sense of humor. As someone who craves extra volume in her hair, I'd love to interview Troy on some of his secrets. (Andrea is wearing an Alice + Olivia skirt and shoes from Louis Vuitton.)
Fan Scale: 8.5
The Steelers in your own words? Fun and aggressive. But at the same time.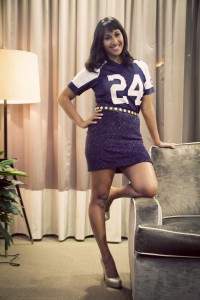 Missy Sucre | 26 | Sales and Marketing | Dallas Cowboys
Although her heart always has and always will belong to the Houston Oilers, Missy chose to sport a Dallas Cowboys throwback jersey for the shoot. "Deion Sanders is my favorite player of all time and this particular throwback reminds me of the last days when Deion played so I felt it fitting to wear it," she says. When asked her thoughts about the controversial and often joked about DIRECTV commercials with Deion flying around as a fairy, she thinks they're hilarious. "It's very primetime of him," she explains. (Missy is wearing a purple skirt by Milly.)
Fan Scale (Cowboys): 2. Fan Scale (Deion): 10+
The Cowboys in your own words? Wrong time. Deion in your own words? Primetime
Chelsey Hearen | 25 | Accounting | New Orleans Saints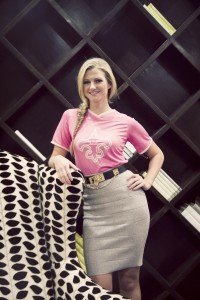 "I'm a hometown girl so the Texans are my number one team," Chelsey clarifies. After Hurricane Katrina, Chelsey, along with many others saw firsthand how inspirational the Saints were. "They were so instrumental in bringing the town back together after a tragedy of that magnitude," she says. "If you've ever been to the Superdome you how much the town thrives on those games – it's definitely a feel good moment in sports on pretty much a weekly basis," she continues. Chelsey also rates Drew Brees as one of the best QBs in the league, and I can't argue with her there. "He's very humble, a family fan, and fun to watch," she adds. Just another reason to root for NOLA. (Chelsey is wearing a skirt and belt – both BCBG.)
Fan Scale: 8
The Saints in your own words? Inspirational.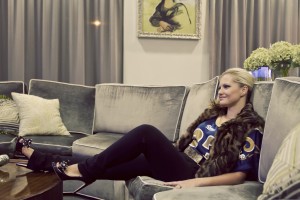 Narisa Dudonsky | 29 | Optometry | St. Louis Rams
A fan since the days when the Rams played in LA, Narisa admits her admiration for the Rams came about as consequence of the big rivalry with the Raiders. "I can't stand the Raiders so I went for their arch enemy in the game," she puts it bluntly. Originally from Seattle, she recognized early on she was a dysfunctional kid. "My whole family liked the Seahawks and I just wanted to be different. That along with my disdain for the Raiders made me a lifelong Rams fan," she explains. Narisa also holds a lot of Houston Texans love in her heart and has been a season ticket holder since she moved here. The two teams have only played twice with the series tied at one win a piece. (Narisa is wearing pants by M Missoni, vest by Adrienne Landau, and Valentino shoes.)
Fan Scale: 7.5
The Rams in your own words? Better than the Raiders, baby!
Ashley Wundrum | 27 | Middle School Teacher | Chicago Bears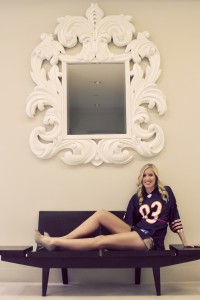 Growing up in Iowa, Ashley has cheered for the Bears since before she can remember. "Chicago was the closest big city to us, so we all took them on as our team, and I've been a fan ever since," she explains. Like many fans, Ashley's quick to admit that although she roots for the navy and orange with everything's she got, the season is much more fun to watch when they are winning. I guess that means she's not watching much this season. When I asked her about Jay Cutler's engagement to Kristin Cavallari, her response? "Oh, he can do so much better!" (Ashley is wearing Robbi & Nikki shorts)
Fan Scale: 6
The Bears in your own words? That's easy – Da Bears.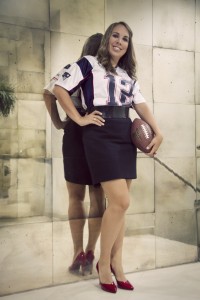 Amy Macaulay | 29 | Rice MBA Graduate | New England Patriots
This may only make sense to you New England fans out there, but Amy claims she is a Pats fan because she is a Red Sox fan. "Being so into the Red Sox, naturally I just gravitated to New England sports in general," she says. Her brother moved to Boston 5 years ago, which only made it easier for being a fan. "For 4 hours every Sunday, my day revolves around Gronkowski and his team. Most people would say Brady, but Gronkowski gets me fantasy points every weekend," she explains. (Amy is wearing Stuart Weitzman shoes.)
Fan Scale: 9
The Patriots in your own words? Consistent
Jess Braudway | 25 | Leasing Coordinator | Minnesota Vikings (read Green Bay Packers)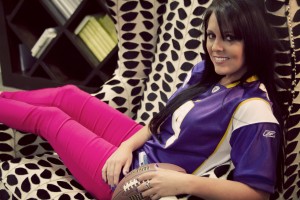 Don't let the jersey fool you. "This is a Brett Favre jersey more than it is a Vikings jersey," she explains. "I'm really not a Vikings fan – I'm a Favre fan," she says again for added emphasis. When other hardcore Green Bay fans felt abandoned by Favre's move to Minnesota, Jess saw things differently. "I was just excited he was still playing – he broke Dan Marino's record for career TDs while he was there. I was actually there when he did it – the whole stadium was bleeding purple, so I'm OK being seen in this jersey as long as people understand the origin," she says. Her love for the Packers comes about like many other young girls – their colors. "As a kid, green and yellow were my cheerleading colors so I guess I kind of fell in love with them because of that," Jess says. Reasons aside, this girl is one helluva NFL fan. (Jess is wearing Chelsea skinny jeans.)
Fan Scale (Vikings): 5 Fan Scale (Favre): 20
Favre in your own words? A legend.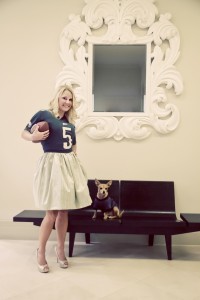 Jayme Lamm | 29 | Sports and Travel Writer | Philadelphia Eagles
Don't say it – I know all about the Dream Team. I've heard it for the past 70+ days since the NFL season began. Vince Young totally screwed us on that and I'll continue to blame him for the rest of the season or until he's traded. I find it's better to blame him than my beloved Andy Reid's continual red flag botches and clock mismanagement or our disparaging secondary. I've been an Eagles fan since Christmas of 1991 – and it all started with a Starter jacket and a set of Encyclopedias. Those were the good ole Randall Cunningham days. (I am wearing a CROP dress by David Peck.)
Fan Scale: As far above a 10 as you can go
The Eagles in my own words: Believe it or not, I'm still having separation anxiety from Donovan.
Credits: Wardrobe (minus the jerseys) courtesy of Tootsies, Makeup by FaceForward Weddings (Andrea Simmons), Royal Beauty Designs (LeRenda Howard) and Veronica Hurtado (you can find her at the Bobbi Brown counter at Neimans), styling by Lissette and Lynnette from The Blonde Brunette, and photographs by Lynnette Marie Photography.
This article was featured on Culture Map, Houston's Daily Digital Magazine in the sport's section.
http://theblondeside.com/wp-content/uploads/2011/11/SophieColts.jpg
2592
1728
Jayme
http://theblondeside.com/wp-content/uploads/2018/06/1526998321020-300x192.png
Jayme
2011-10-31 16:17:52
2011-11-09 16:46:10
A Love for Fashion. And Football.