Tags
Related Posts
Share This
Field of Dreamy Players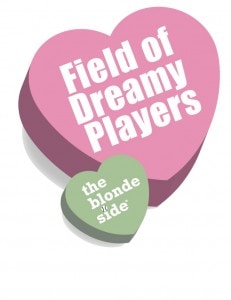 I don't remember the exact age, but somewhere very early in life, I fell in love with baseball. Most definitely the sport itself, but also with the men who play said sport. It's virtually the same as being an avid Jonas Brother's trailblazing fan and holding out a little piece of your heart for Joe Jonas, yes?
Playing softball my whole life, being surrounded by baseball players' day in and day out seemed an incestuous part of the game. When our softball team took a trip, which was sometimes overnight and/or out of state, it was usually in tandem with the baseball team. Softball games average 50 minutes less than baseball games, which meant after a full game of slap bunting and fielding grounders, we found ourselves and our freshly dirt-stained uniforms sitting on the bleachers with a pack of gummy bears cheering our boys on. So it's shouldn't come as a surprise that my "high school sweetheart" played third base and was a rock star, and it's not surprising that soon after graduation he was drafted by Major League Baseball, although it wasn't until long after we broke up that he made a name for himself on ESPN and various other sport's frenzied media outlets.
A few years ago, shortly after moving to Houston, I had a torrid, yet closeted fling with a "co-worker" who just so happened to play right field for the professional baseball team in which I was employed which coincidentally would later cost me my job. Apparently it's one of those seemingly unfair unwritten rules that front office staff cannot, under any circumstance date a player.
If you do the math, that's two guys in my past that both play Major League Baseball. And I guess if you live by the old adage, if it walks like a duck and talks like a duck… it should come as no surprise that in a few small circles I was branded the not-so-flattering and ever-debilitating scarlet letter, "jersey chaser."
For years, I tried all I could to dispel that myth. Since my parents read this column, I'm not going to say exactly how many guys I've been "with", but I can assure you, two is a long shot from being the majority. And for purposes of stating the obvious, in case you missed it above, the high school boy was just that during our relationship – a high school boy. No Vitamin Water or Nike endorsements, no contracts, no agent; just a high school boy that could swing a bat and play mighty fine defense at the hot corner.
Now, as a freelance sportswriter, for my column, The Blonde Side, I'm very cautious of who I tell my Major League past to, if at all. But as of this posting, it's clear the cats out of the bag, and I'm A-ok with that. And here's why – there's nothing wrong with thinking a baseball player, or any athlete for that matter, is sexy. Even as someone who works in the front office of a professional team, or a blonde sportswriter like myself, there's nothing wrong with that. I'm surrounded by these guys on a regular basis, I follow their stats (which are sometimes sexy in and of itself), and a guy that can wear a baseball uniform correctly (with means having his pants iconically pushed up to his knees) is by definition, in my book, sexy.
That was a seemingly long interlude to say this; as a single girl on this soon-to-be-Hallmark-infested dampening holiday which is upon us in mere hours, I present to you the sexiest guys in baseball with a little commentary on each. I'd love to hear your feedback if you agree or you're highly concerned that my perfect 20/20 vision has recently been compromised based on these picks.
Ian Kinsler, Second Baseman, Texas Rangers
Guys with out of control hair (or "lettuce" as I've recently learned) have never really turned me on. But put said lettuce on top of Ian Kinsler and I'm willing to turn all sorts of vegetarian for the dude. Not only does he rock the uniform of my favorite team, but he definitely possesses a leadership role within the club. Kinsler batted .308 last postseason and has a career batting average of .275 – not the best, but certainly in fairly good company. Not your typical 17th-rounder, Kinsler's the kind of guy you constantly hear about from sports commentators because he's known as a five-tool player, simply meaning he hits for power and average, and excels at baserunning, throwing and fielding. Last season he broke his own club record with 28 consecutive steals. The kind of utilitarian player every franchise needs. As a longtime sufferer of asthma, I think it's kind of cute. Hey Ian, I'm happy to tote around your inhaler in my Louis Vuitton if need be. Call me? And 2012 is the year of the claw and antlers, yes?
Joe Mauer, Catcher, Minnesota Twins
This time last year, Joe Mauer was rehabbing his knee after arthroscopic surgery battling a difficult recovery, which affected much of his season hitting career lows. Any guy who can look hot rehabbing an appendage is good in my book, especially a guy blessed with those baby blues. And while any guy who's known for playing the field is usually bad in anyone's book, not Mauer who can play catcher, left field and first (he also played Quarterback in high school and completed 62% of his passes his senior year). An all around good athlete. Mauer is also one of those guys who has played his entire major league career in the same uniform – no wonder the ladies in Minnesota are always boasting such big smiles. The only negative I see for this hottie is the fact he turned down a football scholarship to FLORIDA STATE (Go Noles!) to enter the Major League Baseball Draft. Alas, I guess it's worked out well for him…
Chase Utley, Second Baseman, Philadelphia Phillies
Playing his entire career in the same Phillies uniform, it's easy to like this guy. Utley had a rough season last year with declining stats and a troublesome head injury after getting beaned in the head with a 90-mph fastball, but there's something endearing about a guy getting injured playing the game he loves. Something in me that wants to bring him an ice-pack and sit on the couch watching SportsCenter together making fun of his overpaid, goofy-looking right fielder. Utley finished the 2011 regular season having scored 54 runs, hitting safely 103 times (including 21 doubles, 6 triples, and 11 home runs), and with a .259 batting average. If you ever wonder why you get such a warm and fuzzy feeling watching Utley stride up to the plate at Citizens Bank Park, it's his badass intro song "Kashmir" by one of the all time greats, Led Zeppelin. And one more thing for you animal lovers, Utley and his wife Jennifer are advocates for animals everywhere having founded The Utley Foundation, an organization established to bring awareness to the increasing epidemic of animal cruelty. Animal lovers make my heart swoon, and Chase Utley is no expectation.
Nick Markakis, Outfielder, Baltimore Orioles
Much sexier when his hat is covering that flowbee of a hairdo he sometimes sports, it's his strong arm in the outfield that really catches my eye. That strong arm is no mystery – originally a pitcher with a fastball clocked at 96, he's known for throwing out guys trying to score that extra base hit. It's not only his skill in the field that adds him to my list of sexy baseball players; it's behind the plate as well. Last season, Markakis claimed his 1,000th career hit against the Cleveland Indians. On his own, Markakis decided to donate $75,000 of his paycheck each year to deserving charities along with starting his very own organization, Right Side Foundation with his wife Christina. A man with a heart and strong arms – really, is there any question here? Talk about the ultimate playmaker.
He also has a random entry in Urban Dictionary I felt worthy to share.
Ryan Braun, Outfielder, Milwaukee Brewers
Anyone who refuses to admit Braun is a rather goofy looking individual is just plain lying. But there's something about goofy that's a bit sexy, yes? And being the reigning (although I guess we can't currently say undisputed) National League MVP, it's clear his play on the field is stellar compared to hundreds of other guys. Having the chance to watch him (or stare at him really) this past season at Miller Park was definitely one of the high points of my year. Last year alone he led the NL in slugging percentage and extra-base hits, was named a starter for the All-Star game and won the NL Outfielder Silver Slugger Award. Dudes been busy on the field and did I fail to mention he's got sky-high book smarts? He attended University of Miami on an academic scholarship, which is rather rare for a record-breaking athlete. And I'm pretty sure every Brewers fan loves this guy for the simple fact it was his 450-foot bomb over the fence that clinched the Brewers' NL-Central victory last season.
The only thing not so hot about this guy? The fact he developed his own signature t-shirt for the douchey clothing line, Affliction. Eek! Oh, and the fact he might have herpes. Eek again. But for now, Braun remains on my list of sexy ball players.
Jake Arrieta, Pitcher, Baltimore Orioles
It's definitely not all about money (the guy is still making the league minimum) or perfect play each time he steps on the mound (although he was good enough to start the home opener for the Orioles last season), but there's something about Arrieta that is plain striking. Perhaps it's a guy who knows how to take charge, and anyone on the mound in Major League Baseball should know how to take charge and be a leader. I've always thought well-educated guys were extremely attractive, and Arrieta turned down his initial draft by the Milwaukee Brewers to instead head off to college at TCU. Over the last few years in his career, Arrieta has learned to develop and throw an arsenal of pitches and not rely solely on his fastball as he did early on in his career. Coming off of bone spur surgery, I expect a lot out of Arrieta this season. And without question, so do the Orioles. This is a guy I wish had more TV time. You hear that ESPN? Consider that my request, in writing.
Josh Willingham, Outfielder, Minnesota Twins
Recently picked up the Minnesota Twins, Josh Willingham looks good in almost any uniform (and he's worn quite a few already in his eight year career playing for the Florida Marlins for his longest stint, the Washington Nationals, the Oakland Athletics and now the Minnesota Twins). Willingham joined the Twins less than two months ago and signed a three-year deal valued at $21mil. Last season Willingham hit his career best 29 homeruns and 98 RBIs (although also hitting his career low batting average with .246) with Oakland. A solid characteristic I look for in any man – patience. Patience is most definitely a virtue in the majors and Willingham shows quite a bit of it at the plate with a career .361 OBP due to his ability to draw walks and even take a few hits from wild pitchers. This season should be interesting for Willingham as he's taking on the challenge of playing right field for the Twins as opposed to his comfort zone in left. The season will prove to be equally as interesting for Twins fans as they have to deal with the loss of one of their favorites, Michael Cuddyer, whose spot was recently taken over by Willingham.
Adam Wainwright, Pitcher, St. Louis Cardinals
I like tall guys, so AW is already off to a blazing start at 6-foot-7, not to mention those ridiculously soul-piercing eyes. But like I said, it's not all about how he looks in his uniform, it's how he plays the game. And last year, he didn't play the game. At all. In February 2011, Wainwright underwent Tommy John surgery, which has since been described as "successful", but we all know what happened to Brandon Backe (Astros) after that exact same procedure. Oh wait, no we don't. Last I heard he was tending bar in Galveston, TX, but I digress. Some are already professing Wainwright as the comeback player of the year but that prophecy comes with a lot of weight on his shoulders without that very large staple the Cardinals have become so used to in their lineup. You know the one, starts with Albert, ends with Pujols. Wainwright placed in the top 3 for the Cy Young award from 2007-2010, so the guy's no stranger to pressure and delivering results in the form of W's. Wainwright also openly expresses his Christian faith, which is something I highly admire in any human.
Before I wish you a Happy Valentine's Day, please know two things:
I never professed to have victorious taste when it comes to spotting sexy men, in particular baseball players. I typically am attracted to one type of guy: the ones that don't like me. Wah, wah, wah.
While the above little diddy was fun to write and I stand by almost everything I said, I am in no way interested in hooking up with, dating, or starting any type of relationship with any ball players. Been there, done that. Literally.
Now, Happy Valentine's Day to all of you, from The Blonde Side.