Tags
Related Posts
Share This
My Cinderella Story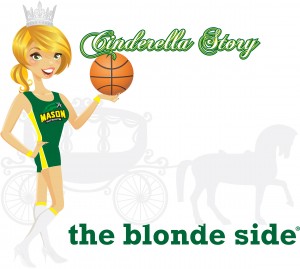 There comes a time in everyone's life where bragging rights start to take over societal norms. For me, that was in 2006 and I still hold tight to those fleeting front-page memories probably the same way Britney Spears holds tight to her old Catholic schoolgirl hot bod. Those were the days, right?
And based on the picture to the left, it's pretty obvious I'm a George Mason fan (and alum) and firmly believe they are one of the greatest Cinderella Stories in NCAA history, if not the greatest. Although, based on definition and parallels of the actual 1950 movie, I'm not sure anyone in NCAA Men's Basketball has really fit the proverbial glass slipper to a T. Not even my Patriots if we're being honest.
Most of you reading The Blonde Side should be acutely aware of what a Cinderella or "Cinderella Story" refers to, but since I know my mother is reading this (thanks mom), I'll elaborate: this concept refers to a team or player who advances much further in a tournament than expected (via Wikipedia). The amount of media attention and bandwagon fans these Cinderellas get is b-a-n-a-n-a-s.
Take George Mason for instance – one of the biggest schools in Virginia, but because we lack a football team, we are either off the sport's map completely or people assume we're a small private school. Wrong. Wrong. And wrong'er.
But the thing that really bothers with me with this fairy tale analogy is that in the Disney classic, Cinderella just kind of shows up out of the woodwork and surprises everyone. Coming out of obscurity, much like George Mason did in that 2006 season when they stole the show as an 11 seed. The 2006 brackets were in worse shape than the Titanic marking the first time in 26 years that all four No. 1 seeds didn't make the Final Four.
In the movie, Cinderella has to work harder and overcome multiple obstacles to get her shot at the prince. George Mason did that as well, but obviously not for their shot at a dude, but rather a bid into the dance and then the chance to keep advancing game after game after game.
Here's where I see the difference. In the movie, it's all about the ending – Cinderella finding her Prince Charming (who by the way, for a cartoon character is totally my type for those keeping track). Sure, the story of how she got there and all the wicked haters (her stepsisters and stepmother) were part of the storyline, but the gist of the movie is that she made it. The slipper fit. The two lovebirds tie the knot, which is more than I can say for any of the twenty seasons of The Bachelor, but again, I digress.
The difference, as in most cases with the sporty Cinderella is it's more about their journey. How they got the bid to the Madness that takes over March, all the teams with massive season highlight reels they took down to get there (Wichita State, UCONN, Michigan State and UNC), but then, unlike any Disney fairytale we've seen, the George Mason Patriots lost in the Final Four to Florida (just another reason I can't stand those damn Gators).
While it was a good run, no make that a great run, this particular Cinderella Story, and all the other ones sports blogs and networks hammer on about end more like, well a Lifetime movie. In Lifetime movies, Tori Spelling (or one of their five other actresses they meticulously rotate) typically has a hard time trusting guys and doesn't think she'll ever fall in love, and then without warning (yeah right) she meets the love of her life. That's where a typical Disney story would end – after a few babies of course. But no, she ends up getting brutally murdered by her doting husband while skiing down an Olympic mogul double-black after ACL surgery. Not that Mason got murdered by those damn Gators, but it was kind of hard to watch. I wasn't left with warm and fuzzies like I am after watching Ariel get her legs for the final time to live as a human rather than an underwater mermaid or Sleeping Beauty wake up to a tongue in her mouth.
And of course it's clear after watching VCU's run last year (another Virginia school, mind you), that there may be more than one pair of glass slippers open for the taking. Butler had their shot at the slipper two years ago, but again, where's that perfect Disney ending?
Who do you think has a chance at claiming this year's slipper or at least trying to put a fat foot into it? Creighton? Saint Mary's? Long Beach State?
PS – ever wonder where the term Cinderella came from? Thanks to Bill Murray's impromptu line in Caddyshack, we can now successfully bridge Disney and Sports and feel OK about it.
For those of you gearing up for the Madness that is March, here is the 2012 NCAA Tournament Schedule:
Selection Sunday – March 11, National Bracket Day – March 12, First Four – March 13 – 14, Second Round – March 15 – 16, Third Round – March 17 – 18, Sweet 16 – March 22 – 23, Elite 8 – March 24 – 25, Final Four – March 31, National Championship – April 2
Oh, and contest galore. Two ways:
1. Two lucky readers of The Blonde Side will receive either a $50 Visa gift card or an NCAA team jersey. Simply leave a comment with what your favorite thing about the NCAA tournament and I'll select two lucky random winners this week. If you win, you can pick either the gift card or an NCAA team jersey which will be mailed to you directly. Note, if your email address isn't present, I'll skip over you.
2. Want to see the action in person? AT&T is hosting a sweepstakes right now to go to the Final Four AND the Championship game! That's right, you get to go to both. I'm jealous because I don't think I'm eligible. To enter go to http://bit.ly/ATTSweeps  for details. What are you waiting for? Get in the game!
*A big thanks to AT&T who provided me with a gift card for promoting their sweepstakes but all thoughts and opinions on The Blonde Side and in this post are my own.