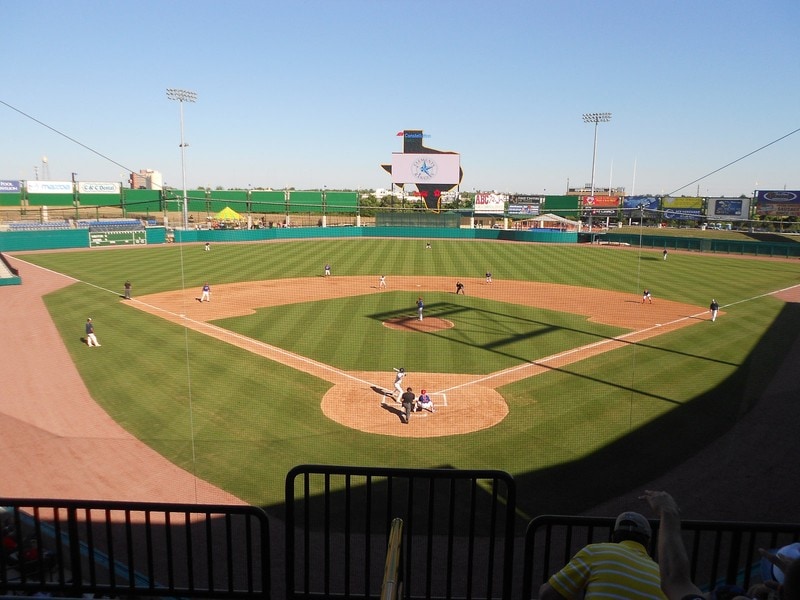 Lightning may not strike the same place twice, but who says Opening Day can't happen twice?
Thursday night that's exactly what greater Houston residents will get to see — a second baseball Opening Day, Opening Day for the new Atlantic League Team in Sugar Land, the Sugar Land Skeeters. And thanks to the novelty of this new independent league team, some Outer Loopers are about as excited for the Skeeters and their new $36 million stadium as they were for the Houston Astros' Opening Day. If not more.
The Skeeters, at least for now, are new and refreshing. They aren't coming off the worst record in franchise history. They didn't go through any ownership or changing leagues drama in the offseason.
For those unfamiliar with this minor league free agent league the Skeeters are part of,it allows all 30 Major League Baseball clubs to sign a player at any time from the A.L. (which stands for Atlantic League, not to be confused with the American League which the Astros will soon be joining) and assign them anywhere within their organization. This is a huge gateway for ballplayers, both old and still relatively new (the age range on the Skeeters roster currently goes from 24 to 34), to try and make it into Major League lineups.
The most recent guy to have success with this free agent (and often last chance) model of minor league baseball is Houston native and Rice University graduate Lance Pendleton who was recently signed to pitch for the Tampa Bay Rays. Prior to this deal, Pendleton signed a minor league contract with the Astros and was released on March 30, 2012 as a free agent which sent him straight into the glove of the Skeeters.
In a press release issued by the Skeeters, Pendelton said, "Being from the Houston area, I knew the Skeeters would give me the best shot to showcase my arm. The organization really treated me with open arms. It is a double-edged sword though.
"I am upset to leave home where my family is, but this is an opportunity I cannot pass up."
When asked about being competition for the Astros (mostly in the form of ticket sales and fan loyalty), Skeeters marketing communications manager Bryan Hodge responded with: "This area is a huge baseball market. Whether it is youth leagues or the Astros, everyone loves baseball here.
"We do not see the Astros as competition. We believe this market is suited for both teams to prosper and benefit each other. The more people watching and talking about baseball, the better it is for the growth of the sport."
This just shows one of the many goals of the Skeeters organization — to further the mission of baseball by grooming these men on the Sugar Land field or helping them find their spot within MLB organizations. Aside from the actual sport itself, Hodge promises fun filled nights of entertainment for guests — that brand of entertainment you only find in the minor leagues.
"We will have the Cowboy Monkeys, a man who will light himself on fire and run the bases, fireworks, Roger Creager, concerts and more! We are a circus with a baseball game," Hodge says half joking, half serious.
And it's almost part of the game in Minor League Baseball to come up with wackiest and wittiest promos each year. MiLB.com even runs a contest to showcase the craziest ones — here's hoping this new Sugar Land team can top that list some day.
The Skeeters will play 70 regular season home games at the brand new Constellation Field which broke ground in April of last year and has since generated an immense amount of buzz from locals. The $36 million stadium on Highway 6 is equipped with luxury suites, party seats, decks and even lawn seating where fans can sprawl out on blankets and battle the Texas heat.
Fans also seem to be excited about catching a glimpse of the eight-story HD video board in the shape of Texas.
Opening Day for the Skeeters is 7:05 p.m. Thursday at Constellation Field against the York Revolution. The game is completely sold out. Some lawn seats remain for the other games in the opening weekend series. Constellation Field has 6,000 reserve seats and the capacity for about a 1,000 more on the lawn or in standing room. Ticket prices for non-suite seats range from $7 to $12 (kids who show up in a youth baseball uniform are let in free).
Now those folks outside the Loop finally have a stadium to call home.
This article was featured on Culture Map, Houston's Daily Digital Magazine in the sport's section.
http://theblondeside.com/wp-content/uploads/2012/05/6_Sugar_Land_Skeeters_baseball_team_April_2012.800w_600h.jpg
600
800
Jayme
http://theblondeside.com/wp-content/uploads/2018/06/1526998321020-300x192.png
Jayme
2012-04-26 10:22:47
2012-05-06 10:26:18
Sugar Land Skeeters Opening Day