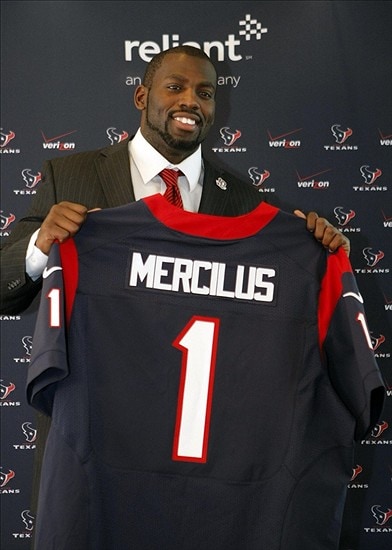 Thanks to the wonderful world wide web (read, mostly Twitter), I was asked to participate in a 2012 Mock NFL Draft with Alicia Jessop over at Ruling Sports. Living in Houston and being fairly tapped into the strengths and weaknesses of the Texans, Jessop asked The Blonde Side to give some thoughts on where the Texans would direct their first-round draft pick.
Below is my super long-winded (surprising, right?) answer to her simple question. Keep in mind, this was my first attempt at putting somewhat knowledgeable words into one of these. Usually I just slam a few drinks and throw out my completely biased opinions. This was really fun and I was in great company with some ridiculously smart NFL guys. Read the entire Mock Draft at Ruling Sports.
Writing my own sports column, The Blonde Side and being credentialed by the Houston Texans, one would think I'd be a bit more confident in predicting who I think the Texans will draft on Thursday, but truth be told, I'm more confident in my ability to put on eye liner with my left hand. After drinking a case of beer. Not to mention, the Texans are so far at the end of the draft (26th overall), it's a crap-shoot.
While Texans fans don't want to admit the solid Draft history of the franchise, the proof is in the pudding: selecting seven players who have gone on to participate in the Pro Bowl since 2002. Coming off a franchise best record (10-6), for the first time in history, the Texans don't have any gaping holes screwing with their depth chart. From all I've heard and what my gut tells me, the Texans have to go for a WR – someone opposite Andre Johnson or to fill the gap if he (knock on wood) gets riddled with injuries again. The Texans haven't drafted a WR since 2010, when they selected Dorin Dickerson from Pittsburgh in the 7th round. It's time. And Texans fans and sports brainiacs will agree – A. Johnson is a beast, but his hamstring can't do it alone.
After Johnson went out with his injury early last season, the Texans had to rely on a run game, thankfully carried by another Pro-Bowler Arian Foster. But if Shaub is healthy this season (or Yates comes back like a wild man), he's got to have someone else to throw to. The NFL is all about options. Outside of Texas, the offense players names are virtually obsolete – no one knows many of the other guys on the roster.
When we talk WR's in this year's draft, there seem to be two names filling up the world wide web: Stephen Hill, the 6'4″ 215lb rockstar from Georgia Tech and Kendall Wright, the 5'11" 190lb almost hometown boy from Baylor. Although small, Wright is my choice, after listening to Joe Fortenbaugh's reasoning and it's true – he can stretch the defense across the field like nobody's business which is exactly what Houston needs to take that franchise best record even further. If the Texans are trying to find an AJ clone, then Hill is your clear choice as they are much more compatible in the size department, but the speed of Wright shant be underestimated. I guess it'll all boil down to what picks are left come the Texans turn, but I stay strong with my WR pick for the Texans first round pick.
And if you're still as fairly clueless as I am on who the Texans will draft, here's what General Manager/Executive Vice President, Rick Smith had to say at Tuesdays Pre-Draft Press Conference (which clearly still doesn't shed any light on the draft situation), "I think if you look across our football team, the first thing I think you would think about, on the offensive line, losing a couple starters, via free agency in one case and then a determination in another case. But we've got to look at the offensive line group. I've said at the Combine earlier that I think we can probably help ourselves at the wide receiver position with maybe adding some youth and adding some speed there. And then depth in the linebacker corps. You can always add pass rushers. You can always add corners, I've always said that. We'll do what we always do. We'll stay true to our board. We've assessed a value that we think these players have at their particular positions and the way that it falls is the way that we'll pick them."hink if you look across our football team, the first thing I think you would think about, on the offensive line, losing a couple starters, via free agency in one case and then a determination in another case. But we've got to look at the offensive line group. I've said at the Combine earlier that I think we can probably help ourselves at the wide receiver position with maybe adding some youth and adding some speed there. And then depth in the linebacker corps. You can always add pass rushers. You can always add corners, I've always said that. We'll do what we always do. We'll stay true to our board. We've assessed a value that we think these players have at their particular positions and the way that it falls is the way that we'll pick them."
http://theblondeside.com/wp-content/uploads/2012/05/62127801.jpg
550
392
Jayme
http://theblondeside.com/wp-content/uploads/2018/06/1526998321020-300x192.png
Jayme
2012-04-27 12:47:42
2012-06-11 17:25:32
Texans Mock NFL Draft