Tags
Related Posts
Share This
Sports & Moustaches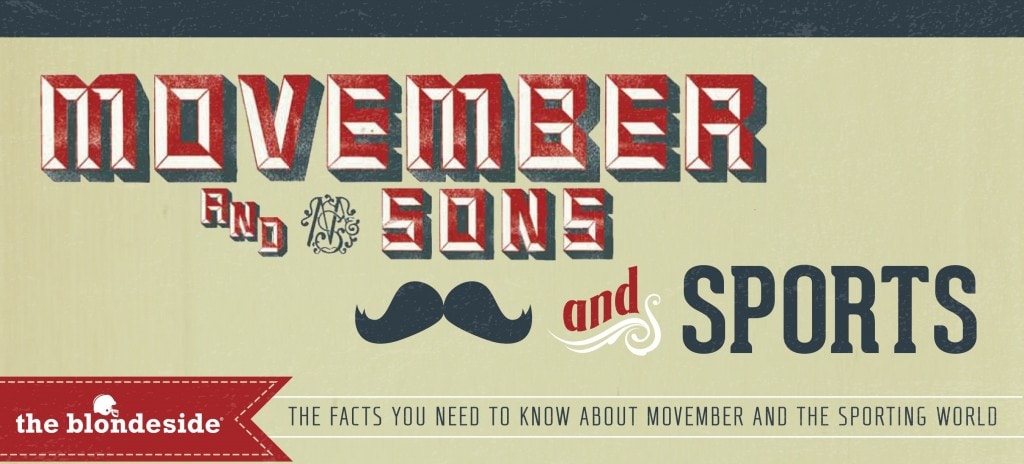 CLICK HERE to download and share The Blonde Side's Movember Infographic.
My love for "moustaches": On my 16th birthday, all I asked for (because I'm a brat and already had a car) was that my dad shave his moustache. He'd had it since I could remember and it was more of a "dare" rather than a present. Just one of those sixteen-year-old moments where you see how far you can really push your parents or how much pull you truly have in the family lineup. We were in Key West celebrating the milestone birthday with my best friend and my dad walked out of his room in the condo without a single hair on his face.
Ew, grow it back. Now. Daddy.
Those were my immediate words. As if he could take a deep breath and the hair would magically rest upon his face again. Luckily for all of us, my mom especially, his 'stache grew back in a matter of days and we were back to business as usual. I knew then that moustaches had a special place in my cold little heart.
My love for sports. Aside from being freakishly awesome at basically every single sport, I've had a natural love for playing sports since the day I was born. I was born to play with balls. My love for watching sports wasn't as natural, but it came early on. As a child, anytime I got in trouble my punishment was being sequestered in the family room while my mother flipped through magazines and my father watched sports on TV. It was almost always NFL, baseball, Nascar, golf or tennis. As a troubled child, I spent many-a-days on that microfiber couch and after a while I gave in and started taking an interest.
Why did Jeff Gordon run into another car and why are you screaming bad words at him dad?
Who is that weird looking tennis player with crazy hair dad? (The answer of course was Andre Agassi.)
What's the difference between a false start and off-sides dad?
Why would Joe Gibbs go for a field goal instead of going for those few inches for a first down? He seems like a wuss, right dad?
Soon, I was a natural. I knew it and loved it. The sixth-grade boys came to me for sport's trivia. A rare breed for many little girls, but my family embraced it.
My love for being a do-gooder. I don't really know where this started, but I'm sure glad it did. Somewhere along the line, I realized I needed to payback some bad karma so I co-founded Charity Chicks Houston with a dear friend. Over the course of the four years Charity Chicks has been around, I've come to know and support some amazing charities, both locally and those with a national or even international reach.
When my two worlds (moustaches and do-gooding) collided and I learned about Movember, I was ecstatic. What started as 30 Mo Bros in Australia back in 2003 has morphed into a hipster whirlwind of 854,288 'staches grown last year for Movember. I wanted to help the cause and be part of the MOvement, but surely I wasn't (thankfully) going to grow facial hair. I wanted to put all three of my loves of facial hair, sports and do-gooder stuff all into one nicely packaged thing to do my part, so here I am.
A few fun facts: the average man has a 2-inch long moustache and weighs approximately 2lbs. On average, a man with a 'stache touches it approximately 760 times a day (better than touching something else…).
Jarod Kintz probably said it best when tying the moustaches and sports theme together, "The Nike Swoosh logo would make an interesting mustache…"
Check out the attached infographic, read the facts, join my team and share the hell out of this information. Use it on your own FB page, post it to Twitter, blog it (just be sure to give The Blonde Side credit and a link back) and help one little blonde girl change the face of men's health. On and off the field.
Wanna partake in the hairy fun? Join The Blonde Side's Movember team. Girls and guys are both encouraged to join (the Mo Sistas are there for support, the Mo Bros gotta grow). Can't join, but wanna throw some money to a good cause? Donate to my page here.
The awesome Movember infographic was created by the lovely and talented Melissa Sims [Melrose Designs].