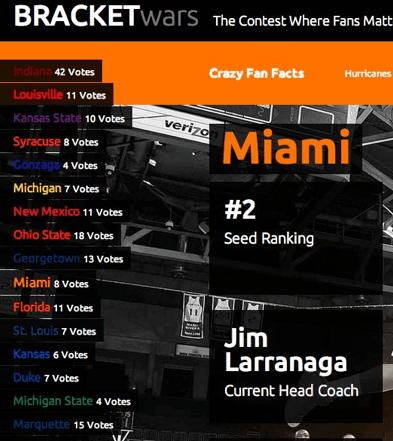 Here's the nitty gritty about March Madness – you have no say or pull whatsoever on who goes dancing, who makes it to the end, who avoids an egregious upset, or anything else for that matter.
But March is all about heart. I know this for two reasons:
Having listened to Dickie V. practically scream at high octaves for years and years at the TV with spit coming out of the corners of his mouth, it's all about heart.
George Mason Patriots. These green and gold men made a huge NCAA run to the Final Four back in 2006 and is still considered one of the greatest Cinderella story in the history of the dance.
The hearts of players, coaches and fans are filled with excitement and angst. Tensions run high between teams, whether rivals or not, players showcase their true personalities and packed arenas roar with excitement for every single game.
And here's a third reason: show you have heart by supporting your team – and a good cause – this March.
You, the fans, are what helps make or break your team in March! So what are you waiting for? Vote for your team to win March Madness BRACKETwars and also give back to your community!
It's for a good cause – a donation will be made in the name of the winning team to the local Boys & Girls club.
Tweet, pin and Like to prove that YOUR TEAM has the best fans in the NCAA!
And for what it's worth (probably nothing other than ONE vote), I went with Miami on this one. That's who I have winning the whole thing this year, but it's only because of Coach Larranaga. I totally believe in that guy and have enjoyed my time at Mason Athletics getting to know him, his coaching style, and all around good spirit.
Winner Selection and Announcements: The BRACKETwars winning school will be announced on or around April 9th based on total votes collected during the tournament.
And if you're looking to make March Madness a bit more interesting (without wagering any cash, that is), join The Blonde Side's FREE bracket from CBS. You must sign up with your bracket picks no later than Tuesday, March 19th. Click here to join and be sure to use password: BLONDE. There will be a prize for the winning bracket, TBD.
Few fun facts about the schools up for votes in BRACKETwars:
Louisville: 38 NCAA appearances
Rick Pitino's salary: $3 million
Kansas State: Bruce Webber's salary: $1.5 million
26 NCAA appearances
10,739 Facebook LIKES
Syracuse: 1 Championship
Jim Boeheim's salary: $1.2 million
239,659 Facebook LIKES
Gonzaga: 15 NCAA appearances
Mark Few's salary: $1 million
90% basketball player graduation rate
Michigan: John Beilein's salary: $2.2 million
23 NCAA appearances
New Mexico: Overall tournament record 8-14
Steve Alford's salary: $1.1 million
29% basketball player graduation rate
Kansas: Overall tournament record 93-40
Bill Self's salary: $3.7 million
100% basketball player graduation rate (!!)
St. Louis: #4 seed
1,379 Facebook LIKES
7 NCAA appearances
Duke: Mike Krzyzewski's salary: $5 million
36 NCAA appearances
4 Championships
Michigan State: Tom Izzo's salary: $3 million
#3 seed
69,399 Facebook LIKES
Georgetown: John Thompson III's salary: $2 million
8,548 Facebook LIKES
28 NCAA appearances
Marquette: 30 NCAA appearances
#3 seed
Buzz Williams' salary: $2 million
Dwayne Wade's college (!!)
Ohio State: Thad Matta's salary: $2.5 million
1 Championship
32,906 Facebook LIKES
Miami: Jim Larranaga's salary: $1 million
6 NCAA appearances
87% basketball player graduation rate
Florida: Billy Donovan's salary: $3.3 million
17% basketball player graduation rate (WHOA)
17 NCAA appearances
http://theblondeside.com/wp-content/uploads/2013/03/Screen-Shot-2013-03-19-at-8.34.33-PM.png
441
393
Jayme
http://theblondeside.com/wp-content/uploads/2018/06/1526998321020-300x192.png
Jayme
2013-03-19 21:17:10
2013-11-06 15:43:17
BRACKETwars