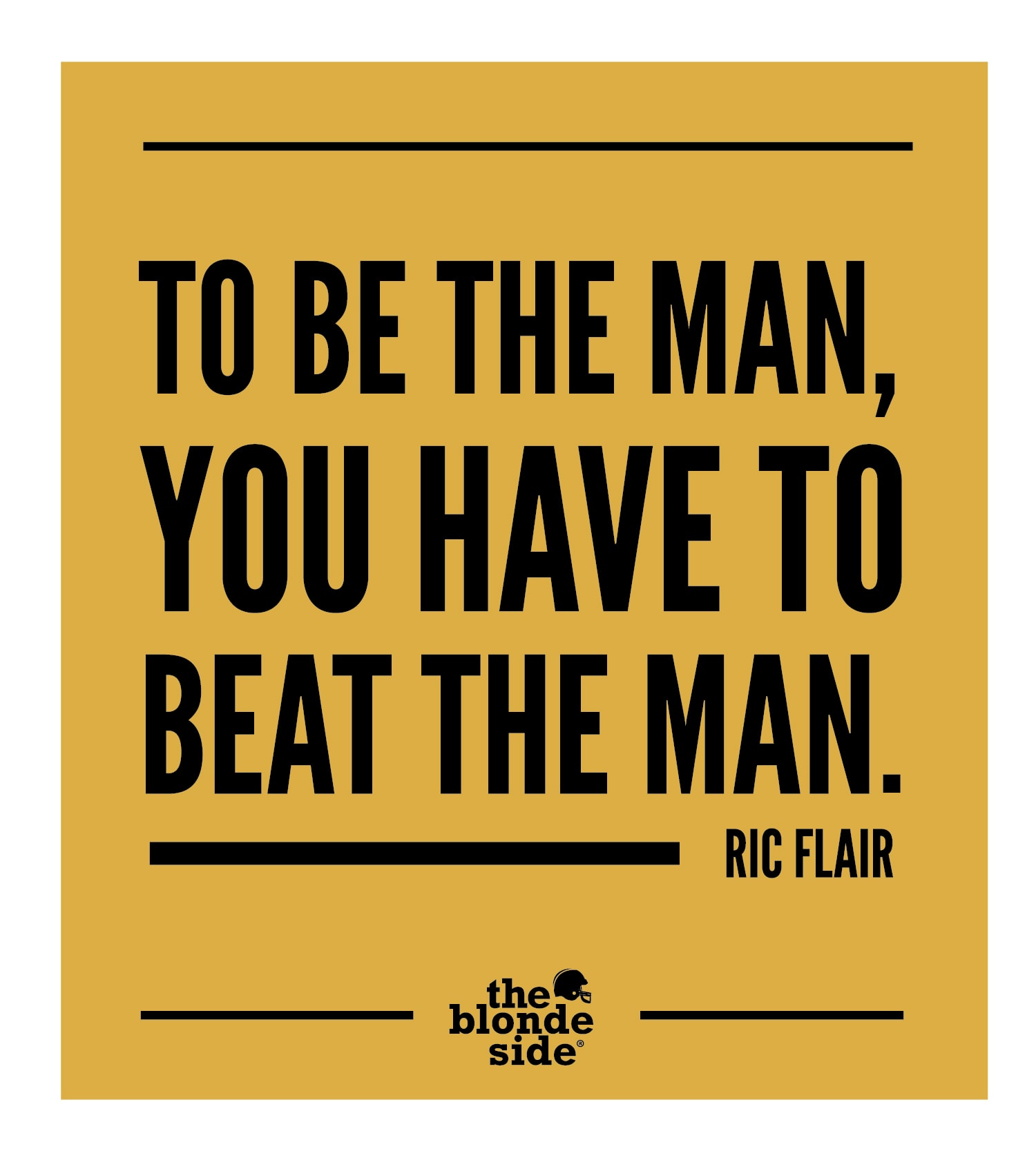 Quotes make the world go round. While I don't have any empirical data on this, it certainly makes my world go round. And with social media and the ease of sharing things, The Blonde Side decided to create a set of shareable quotes, branded specifically with the TBS logo. After shooting a message out on Twitter, quite a few notable designers responded back, but the folks at Proof Branding caught out attention and we set out on our first (hopefully of many!) partnerships.
How did Jayme | The Blonde Side connect with Matt | Proof Branding: "Jayme and I connected in the early stages of The Blonde Side and it's been pretty damn incredible to see her grow and evolve over the past few years. She knows her shit when it comes to sports, but more importantly, isn't afraid to bring her own personality into her editorial process – that truly is what sets her apart and is the mark of a great writer," Matt says.
"It's a pleasure to partner with The Blonde Side on this project and it's so important, especially in today's journalistic environment – to pair the visual with the written word to offer up content that is engaging and memorable. Jayme does the hard work of cranking out great content – and we're happy to step in and make it look (even sexier) than it already does."
Awe Matt, now I'm blushing! I owe you a case of your favorite beer!
A little more about Matt with Proof: Matt Chevy, the Founder/Brand Craftsman of Proof is a die-had Chicago sports fan. "Bears, Bulls, Hawks, and yes, even the lowly Cubs (my family's favorite saying rings true with Cubbie fans everywhere…'Maybe next year') – that damn goat! I'm also a Titans Fan but ever since we came up one foot short of winning the 1999 Superbowl, I've had a bad taste in my mouth," Matt says. (If you too are a fan of craft beer, Chicago sports teams, or branding at its finest, be sure to follow Matt on Twitter.)
The gal behind the graphics: Emily! She's awesome! Emily and I worked side-by-side, via email of course, to work on these graphics creating a professional yet fitting look for The Blonde Side. Although not totally invested in sports (yet), this is what Emily had to say about sports: As far as "my teams" — I'm not invested in sports whatsoever, but I can say that I love US Women's soccer. As a kid, I idolized the entire team in the days of Mia Hamm and Brandi Chastain, and this year I got to go to the gold medal match at the London Olympics — a rematch against Japan from the World Cup. We won, and it was powerful and nostalgic. My dad coached my soccer teams growing up and taught me to love the game, it was my first trip abroad, and the crowd broke a record for attendance at a women's Olympic event. So it was a wonderfully full-circle sports-loving moment.
(You can follow Emily on Twitter too.)
More about Proof: Proof is a full-service branding company based in Nashville, Tennessee that does a lot of creative work – logos, websites, print pieces, etc. – but they do it all through the lens of branding, encouraging clients to take a step back and think holistically, and strategically, about their overall brand – their big dreams and strategic goals.
A big thanks to Matt and Emily with Proof and all the other partners that have helped grow The Blonde Side brand over the years!
Be sure to follow The Blonde Side on FB and Twitter to see all the newest quotes and definitely share them around those crazy world wide webs we all live in. If you have any favorite sports, fitness or motivational quotes, leave a comment and maybe we'll add it to the already stellar collection!
http://theblondeside.com/wp-content/uploads/2013/06/Beattheman.jpg
1677
1500
Jayme
http://theblondeside.com/wp-content/uploads/2018/06/1526998321020-300x192.png
Jayme
2013-06-21 17:26:29
2013-06-21 17:26:29
Quotes & Proof Branding