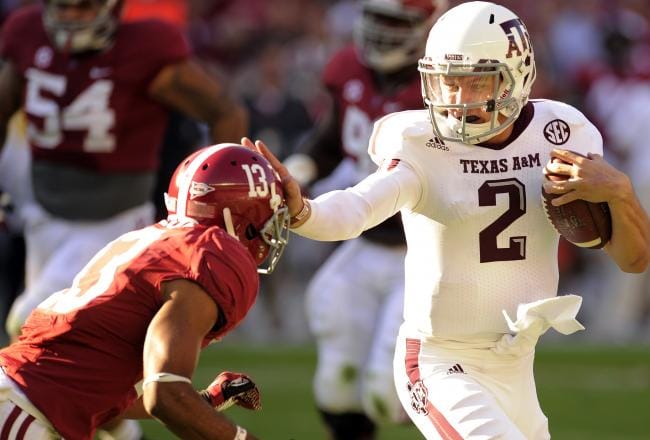 I like Johnny Manziel and I can say that and it's relevant, at least in my mind, because I am one of the few souls without an allegiance to A&M and even more surprising, without an allegiance to an A&M rival (just like sports columnist Gregg Doyel so cleverly put it).
I'm also an anomaly when it comes to my adoration for the Kerville native – I love him more now that these antics have taken place off the field. He's got human qualities and is quite the polar opposite of Tim Tebow, one of the former most hyped about college football players and all I can say is Hallejuah! (Funny, y'all are saying "Where's Tim Tebow now?" but everyone knows exactly where Manziel is…)
My apologies to my Aggie friends, but I can't even begin to fathom Texas A&Ms football traditions and ideologies, but this whole Johnny Football thing reminds me of a Gwen Stefani song: "This S**t Is B-A-N-A-N-A-S."
Johnny Football gets to hang out with King James, party with that creepy Drake rapper, spend time seriously sucking at golf, and most importantly – ACT HIS AGE. Yeah, shame on him.
He is simply Johnny Football being Johnny Football. But on the field, the guy is a natural. Just like the superhero indication on the new Texas Monthly cover. Here's how Johnny Football stacks up against four Pro Bowl Quarterbacks from last year and their freshman seasons:
Tom Brady at Michigan completed 3 of his 5 pass attempts with 1 interception.
Peyton Manning at Tennessee was 89 for 144 for 1,141 yards, 11 TD and 6 INT.
Drew Brees at Purdue only threw for 232 yards, completing less than half his passes.
Double Discount Check: Aaron Rodgers at Cal didn't even play as a freshman.
Those four Pro Bowlers combined hold 7 NFL MVPs.
In comparison, this newsworthy Aggie is the only freshman to have won the Heisman, was 295-434 attempts, throwing for 26 TDs and running for 21. (stats via ESPN)
Let me say this – if there were camera phones, TMZ, Twitter, Instagram, Vine, Facebook and those overzealous nasty vultures circling the worldwide webs when I was 20 and in college, I'd be screwed. I was pledging a sorority and "finding myself," if you know what I mean. (Sorry mom
and dad, but it's true.)
I'd be screwed, as in, Corporate America would slam the door in my face and I probably wouldn't even be invited to my own Sunday night family dinner. Ever. Twenty is that crazy age where you're legally forbidden to drink, but it's still kind of a rite of passage.
AND IT'S COLLEGE STATION, need I say more? Sorry Texas state laws, but you know it's true.
And maybe the polarizing athlete that everyone sweated all last season did sell his autograph, but the proof is not in the pudding. It's actually quite the opposite, especially with the oft-duped Darren Rovell leading the investigative masses, the whole story kind of loses credibility and is a crock.
So what he throws temper-tantrums. Don't you? Doesn't your girlfriend?
And guess where that leaves us? Right smack dab in the middle of Kyle Field, exactly where we should be, our eyes glued to see if this freak of an athlete can have an even relatively comparable sophomore season.
Everyone fell in love with that high-stepping, end zone seeking charismatic football player on the field; is it really that hard to believe he's just as charismatic with a shot of Tito's in his hand when he's not on the field? I think not.
The guy comes from money and drives a Mercedes that many of us wish we could afford. And people actually want his signature, unlike you and I where we just have to sign our bar tabs. Yeah, cause for jealousy, I concur.
How can you not love a guy who "ate Skittles, drank beer and won the Heisman," as his dad boasted?
Oh and one final thing, for those of you condemning JFF's off-field antics: He's SEVEN years younger than Lindsay Lohan. BOOM.

Although I am a JFF fan (for now), I did love this joke by Texans backup QB, TJ Yates:
Here's my final parting joke for you Texas (as in the entire state) fans: Who's the only person Johnny Football hasn't signed for?
MACK BROWN.
This article was part of The Blonde Side's sports column on CBS Man Cave Daily. Click here to see the original article on their awesome website.
http://theblondeside.com/wp-content/uploads/2013/09/Johnny-Football.jpg
440
650
Jayme
http://theblondeside.com/wp-content/uploads/2018/06/1526998321020-300x192.png
Jayme
2013-09-13 09:05:55
2013-09-25 09:13:02
I Like Johnny Football