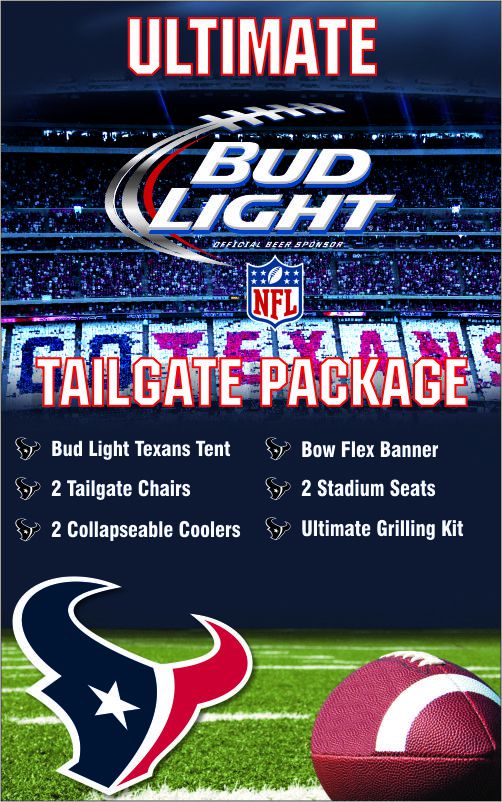 We get it – it's football season and you love to tailgate. At least you should. Now's your chance, thanks to the brand new partnership with Bud Light and The Blonde Side, where you, the fan, can win your very own Bud Light Ultimate Tailgate Package.
The package up for grabs includes a 10×10 Bud Light Tent, 2 chairs, 2 coolers, an ultimate grilling kit, and hats & koozies and other awesome stuff.
As always, it's really easy to win this contest:
1. Be sure you LIKE The Blonde Side on Facebook (but you probably already do).
2. Go LIKE the Bud Light Houston Facebook page
3. Leave a comment on THEIR page (link is in #2), telling us where you would use this Bud Light Ultimate Tailgate Package. Is it in your driveway with neighbors, the Yellow Lot at Reliant, College Station to watch Johnny Football or somewhere else? You tell us.
**BE SURE TO USE #BUDLIGHTTAILGATE when posting your response, so we can keep track of all entries.
4. Tell your friends! Sharing is caring y'all
The contest starts today and the winner will be announced on Friday, September 27th at noon! So if you really want to win this Ultimate Tailgate Package from Bud Light, make sure you enter and then go tell all your tailgating buddies to as well!
*A few nitty gritty details, for legal purposes:
– You MUST be 21 to enter this contest.
– You MUST be able to pick up the prize pack here in Houston, TX.
Special thanks to Bud Light for the new partnership with The Blonde Side.
http://theblondeside.com/wp-content/uploads/2013/09/TailgatePkg.jpg
802
502
Jayme
http://theblondeside.com/wp-content/uploads/2018/06/1526998321020-300x192.png
Jayme
2013-09-23 20:46:53
2013-09-23 21:24:54
Ultimate Tailgate Package from Bud Light