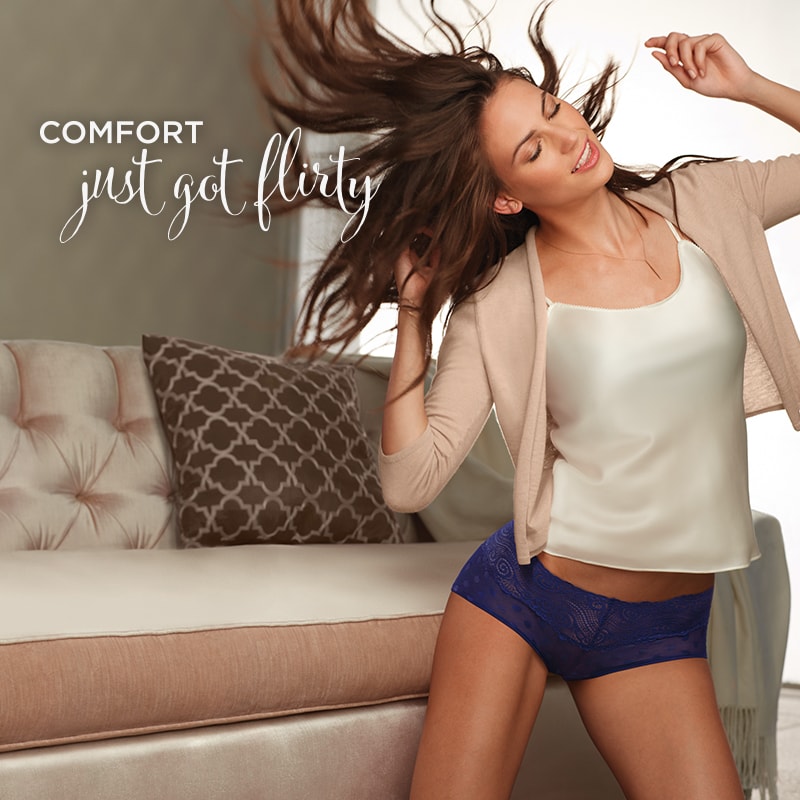 One of the great things about being selected as a Women's Health Action Hero is that they send us new products out in the market to test out and give feedback on. After all, we are very busy gals with a huge focus on fitness, which means a huge focus on: fitness related products. And we are women – we want to look flirty and feel good while doing it too, so clearly that means our undies should reflect all of the above, yes?
I get that underwear doesn't really scream fitness, but because I'm always on the go as a travel and sports writer, comfort is at the top of my priority list. Plus, I'm 31 (eek!) and I'm more into wearing comfortable and flattering clothes for myself than for some guy.
The Jockey collection, preferred by Rachel Zoe, is a new line that has come out and I'm a pretty big fan of it. Just because these pieces cover more doesn't mean they are any less flattering, trust me.
I was tempted to post a picture of myself rocking a pair of these but I remembered my dad reads this column and that would be just plain awkward, but what I'm saying is: it looks good on.
Having worked in healthcare briefly, I'm not a huge fan of g-string thongs (sorry if I just crushed a few fantasies?), so it's hard to find sexy and flirty undergarments that are more full-coverage. I don't want to look like a grandma, but I know what I'm comfortable in and ultimately, what looks best on me.
I tried the Lacy Dot Hip Hugger ($12) first. I have been working my butt off at Sculpt Fitness to get more toned than I've ever been, and these hip huggers definitely compliment all the hard work I've been doing.
These are flirty panties with a silky-smooth nylon blend that feels light and comfy with "major sass and the perfect touch of
class." Funny, I could have rhymed sass and class with something else…
I also tried the Clean Edge Thong ($12). Even though it's a thong, it's not as invasive and is fabric feels amazing.
These are yet again flirty panties with laser cut edges both at the waist and leg openings offering a flawless finish (i.e. no panty lines) under clothes.
Each of the above marries Jockey's trusted expertise in creating comfortable, stylish, solution-based apparel with Rachel Zoe's enviable style and sophistication. It's not just about what we wear on the outside – what's underneath is just as important.
I guess I was totally off base thinking Jockey was just for my mom…not the first time I've been wrong about something, and definitely not the last.
Also, for those wondering, I'm not that girl that wears underwear under my workout tights. Here are the other things I can't stand at the gym.
http://theblondeside.com/wp-content/uploads/2013/10/1013_redefiningcomfort_800x800_lacydot_21.jpg
800
800
Jayme
http://theblondeside.com/wp-content/uploads/2018/06/1526998321020-300x192.png
Jayme
2013-10-14 07:26:38
2013-10-13 21:49:08
Jockey Skivvies: Product Review