Tags
Related Posts
Share This
NFL Cheer: Ben-Gals
First up: Selina

Originally from the great state of Texas, smarty-pants Selina moved to Cincinnati in 2009 after college graduation, thanks in part to a killer job offer at P&G. This second year Ben-Gal graduated college with two degrees, one in biomedical science/engineering and the other in general studies. But that's not all. She also graduated with four minors (chemistry, physics, English and Spanish). At the age of 19.
So again, to debunk that silly NFL Cheerleader myth that keeps floating around the Internet that they aren't educated or don't have "real" jobs, I'd venture to say Selina's job is more real than yours and mine…put together. But don't let those degrees scare you away. If you happen to get ahold of her iPod, you'll surely find every Disney song imaginable, as Selina admits she "grew up with a Disney Princess complex," and happily discloses that information to anyone who asks.
Taking almost three years to muster up the spirit fingers to try out for the Ben-Gals, Selina, now in her second season, made the team on her first try. Since then, Selina has become one of the favorites on the sidelines, gets intensely involved in community events around Cincinnati, and has debuted her smokin' hot bod on the cover of this year's swimsuit calendar.
Selina is not only proud of her unique squad (the Ben-Gals have the oldest cheerleader in the NFL, to which Selina says, "She's 45 and killing it!"), but she's incredibly passionate about the fans and energy inside Paul Brown Stadium. She describes Bengal fans in three easy words: Die hard loyalty. "They also love props," Selina laughs. "I've seen people show up in a full Bengal tiger mascot costume in 90-degree weather and body paint in the dead of winter. If you've never heard 65,000 fans mock up the guitar solo that kicks off Guns N' Roses' "Welcome to the Jungle," you haven't lived," she says.
Although she's a big fan of that particular hard rock song, her favorite music to dance to is Latin, ranging from salsa, merengue and bachata.
"Sundays at Paul Brown Stadium are a production – from our Sound Engineer rocking the fans to Who Dey (the team mascot) hamming it up on the Jumbotron. Our players also know how to give the fans what they want – the occasional touchdown flip and pick six that culminates into a dramatic crowd dive are just a few examples. The Bengals family is worth experiencing first hand," she brags.
Like most of the NFL Cheerleaders I've met this year, Selina admits she still gets nervous before performances. "The five minutes before are the most stressful because somehow I manage to convince myself I've forgotten the choreography. Once the music is on, muscle memory and 'cheerleader brain' take over," she explains.
My favorite thing about the 5'3″ brunette (although she says she's 5'6 because she's always in heels) is her over-sized, larger-than-life, HUGE…heart.
Selina's younger brother is autistic, so she has a huge passion for autism and has set a goal for herself to one day start a non-profit to help adults with autism live independent, purpose-driven lives. A calendar girl with a high-kicking passion for football and a heart of gold – is there more to life than this woman?
And since she's single, I should probably tell all you Cincinnati boys Selina's favorite date spot: Fountain Square in Downtown Cincy. "It is surrounded by a few of my favorite eateries – Via Vite, a fantastic Italian Restaurant and Graeter's Ice Cream, which 1) Is the official ice cream of Cincinnati and 2) Makes Oprah's favorite flavored ice cream. It's also great people watching," she says.
In her spare time, which there isn't much of once you add the hours of a full-time job on top of being an NFL Cheerleader, Selina finds herself wanting to do laundry, watching TV or taking a lot of naps. You know, the normal stuff we do everyday.
Follow Selina on Twitter at @sssamano.
Win or lose, at least Cincinnati has inspiring women like Ben-Gals Selina (pictured) and Emily.
A rookie Ben-Gal, Emily found the time to chat with me after her first day back at work after months and months of studying for and taking the bar exam. Currently a Law Clerk, Emily is waiting for many big things in her life: mostly to find out the results of the bar exam and to see just how far the Bengals will go this year. Oh, and her upcoming wedding.
Not afraid to put in hard work and dedication, this is Emily's first season on the Ben-Gals roster, after trying out three years in a row. For two years she made it as far in the tryout process as possible, without actually making the team, but this year was a different story.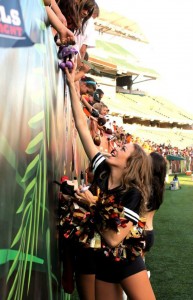 "My now-fiancé has always had Bengals season tickets, so when we started dating, I started going to games with him. I knew absolutely nothing about football, but after a while I decided I wanted to know what everyone was screaming about, so he taught me and I became a Bengals fan," Emily says. "Then one day I noticed the cheerleaders were doing a lot of DANCING, and not cheerleader stunts or pyramids or whatever they're called," she laughs.
Emily admits the weirdest thing as a rookie is signing autographs, but it's part of the job. As this column indicates, there are fans of these gals, not just the hard-hitting players, all over the country.
Like Selina, Emily gets nervous before performing. The Syracuse native is fun loving and loves to laugh at herself, telling me one of her most random facts is that she graduated from college in three years "accidentally," and is a self-proclaimed nerd.
"I graduated from Miami University (OH), and spent those years competing with the mock trial team. It's exactly what it sounds like – we put on a mock trial, acting as attorneys and witnesses, using witness statements, depositions, exhibits, etc. and compete against other teams from across the country. I qualified for nationals every year in undergrad, competed at the national level twice (finishing both times in the Top 10) and received individual attorney awards throughout the years," she says.
"I've been so nerdy for such a long time, it's good to have an excuse to dress up and be sexy with a group of girls," Emily gushes. "I gave up dance in college to compete with the mock trial team and continued to be involved in law school. It's awesome to curl my hair and put makeup on!" (Emily has been involved in dance since the age of 2, as a studio dancer with concentrations in ballet and contemporary dance.)
Emily's nerd-factor spikes once again when she admits to having the Law & Order theme song on her iPod. "I'm not really embarrassed about it. I'm okay with how nerdy I can be, but people usually laugh when they listen to it," she admits. To give her playlists a little more street cred, she admits it's pretty much dominated by Nicki Minaj with some Rhianna and random
college songs thrown in for good measure.
Emily's guiltiest pleasure? Dance Moms. "I cannot wait to be a dance mom…in a few years!" she says. For now, we'll have to settle for watching her alongside Selina and a sea of other beautiful dancing Ben-Gals over at Paul Brown Stadium.
Follow Emily on Twitter: @BenGal_Esq
This article originally ran on The Blonde Side's sports column on CBS Man Cave Daily. Click here to see the original piece.