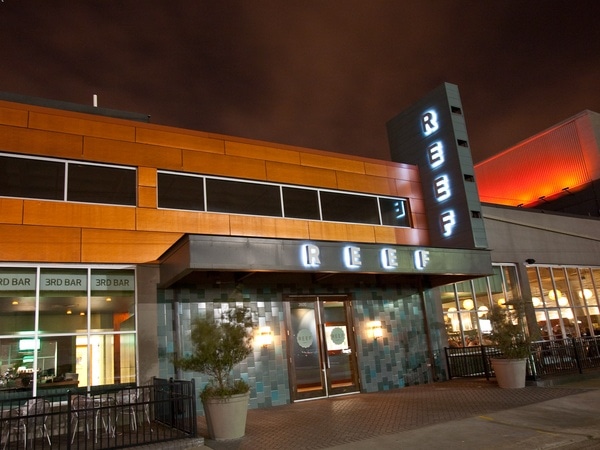 I don't like to make a habit of using this blog as a platform for negativity, but sometimes there's a story to be told and this is a mighty fine platform for it, so here goes.
Last night I had a pretty ridiculous experience, and one I feel worth sharing for a number of reasons. Let me start with this: there is surely no shortage of good restaurants in Houston. Last night I decided to meet a good friend at Reef in Midtown for dinner and drinks. Just six blocks away, the Lakers, who had just arrived in town to take on their old "buddy" Dwight and the rest of the Rockets were set to tip off in a few minutes.
I got to the restaurant first, and made the executive decision to sit at the bar off to the side instead of the main dining area. Being the avid sports fan I am, I asked if they had TVs at the bar and if the Rockets game would be on. The hostess said "oh absolutely," and immediately my excitement level went up another notch. I get to enjoy conversations with a great friend, delicious food from Executive Chef Bryan Caswell, and one of the biggest games all season, a primetime showing of two teams with a lot to prove, featuring our very own Houston Rockets.
Winner winner chicken dinner! (Sorry, I couldn't resist that easy pun.)
Since it was a late game (8:30 start time), we enjoyed a few glasses of champagne then asked the bartender to turn one of the three TVs to the Rockets game. The TV to my far left was on the Oregon/Stanford game (a distinct rivalry and with a lot on the line for two ranked teams) and the other two were on the Thursday Night Football game featuring the (then) 1-6 Vikings and 3-5 Redskins. I was told those two TVs were connected so the same game had to be shown on both (um, not my fault you have it rigged like the projects). The bartender informed me someone else was watching the NFL game and couldn't change it.
Hold up. We're in Houston and six blocks away from the Toyota Center, where your HOMETOWN Rockets are playing the Los Angeles LAKERS and you won't turn the game on? A rare primetime showing that CSN doesn't actually have their grubby little Monopoly hands on and is featured on TNT where fans can enjoy the game and you won't put it on?
"Can I speak to a manager please?" I politely asked.
Here's where it gets fun for you reading the story and not-so-fun for the sports fan in me living the story:
I introduced myself to the unfriendly and fairly unkempt woman in charge, who simply said, "ok."
Wait, isn't it common courtesy to introduce yourself back especially when you are managing this establishment (where our tab was already sitting at $150)? Not to mention this is good ole Texas, home of southern hospitality and friendliness, am I right?
She informed me she wouldn't change the game because someone else was watching the Vikings (hello, the Vikings!?), nor did she seem to give a damn I specifically asked about the Rockets being on TV before I even sat down and spent a penny. I also felt the need to ask how long this other group had been there since I had already been there an hour and didn't feel it was necessary or appropriate to ask for a channel to be set an hour before actual gametime. Little did I know you basically had to call "shotgun" at this award-winning and highly touted restaurant to call dibs on a television.
Not even an apology was offered when I explained that the hostess had promised the game would be on. To be honest, an apology probably would have appeased me for the moment.
Let me be very clear: I did not go to the Reef to watch the Rockets game. I got excited when I saw the TVs tuned to sports and when I was told the game would be shown. Truth be told, had I wanted to go to the game that bad, I would have been at the game.
Then comes this: "If you're such a big sports fan and the game is only six blocks away, why aren't you at the game?
Ok, first of all, perhaps a good point, but as someone who goes to more than 70% of home games, not only because I enjoy it, but because it's my JOB, I wanted a break and to enjoy good-non-stadium food. Second of all, that's your home team and something deep in my being tells me that many folks within the Rockets organization drop quite a few dollar bills in this exact establishment, including many of their fans, sponsors, advertisers, etc.
BUT THAT ISN'T EVEN THE POINT. The point is, you don't want to support your hometown team and you want to be rude to me in the process of your unsupportive ways?
Then there's this: about 20 minutes before any of this happened, I was introduced to Bryan Caswell, the Executive Chef. To be frank, he's a pretty awkward conversationalist. I told him I enjoy the food at Minute Maid so much more since he took over and commended his work.
After this we-refuse-to-put-the-Rockets-on-TV-issue, I sat there eating my seared tuna and brussel sprouts, pretty much steaming when Caswell walked by again.
I asked him to come over, told him the food was delicious (because it absolutely was) and informed him of the issue I just had. His response might be the best/worst part:
"Well, we're not a sports bar…"
Oh really genius? You're not? I took a minute, swallowed my champagne and looked at him in disbelief.
My response back went pretty much like this:
I'm not sure if it's the fur vest or the Michael Kors suede knee-high boots I'm wearing that makes you think I was under the impression I was at a sports bar, but I'm pretty well aware this isn't a sports bar. Considering what I do for a living, I'm pretty tapped into what constitutes a sports bar and furthermore, which ones are the best ones in Houston. Secondly, if I wanted a $10 basket of greasy chicken fingers and honey mustard along with a draft beer in an ice-cold mug served by wait staff with  cleavage upon cleavage, I would have gone to one. Instead I opted for a $33 entree, appetizers and drinks (all of the drinks were over $12, so again, not a typical sports bar).
Hey Caswell and Reef: not my first rodeo.
I'm not sure why I had to beg to get that game on (of all games) or why I had to sit through a lecture informing me Reef was not a sports bar, but I'm downright disappointed and it's a shame too because my meal was delicious. But here's the thing – if you can't support your local sports team and you're going to talk to me like I was at the Barnum & Bailey Circus, then perhaps I better make dinner reservations at a restaurant that appreciates my patronage as well as our local sports team.
I also wish I had the name of the former bartender/now server who made our lemon drop martinis because he was last night just as he's always been: AMAZING. That was the only solid piece of customer service during our visit.
And let me end with this Reef/Caswell/Grumpy Woman Manager: YOU are the ones who installed TVs in your bar, NOT ME. YOU are the ones who had games on before I even arrived. YOU are the ones who told me the Rockets game would be on. It's not like I asked you to put Sammy Davis and Louis Armstrong in the corner in order to highlight this barbaric game playing with balls.
I hope Rockets fans (along with Texans, Astros and Dynamo fans), read this and think twice before supporting a restaurant that is not only rude to customers but gives preferential treatment to the Vikings and Redskins, over their hometown Houston teams.
http://theblondeside.com/wp-content/uploads/2013/11/Reef-restaurant-Houston-exterior-night_092512.jpg
450
600
Jayme
http://theblondeside.com/wp-content/uploads/2018/06/1526998321020-300x192.png
Jayme
2013-11-08 14:15:06
2013-11-09 00:49:48
Don't Eat At The Reef