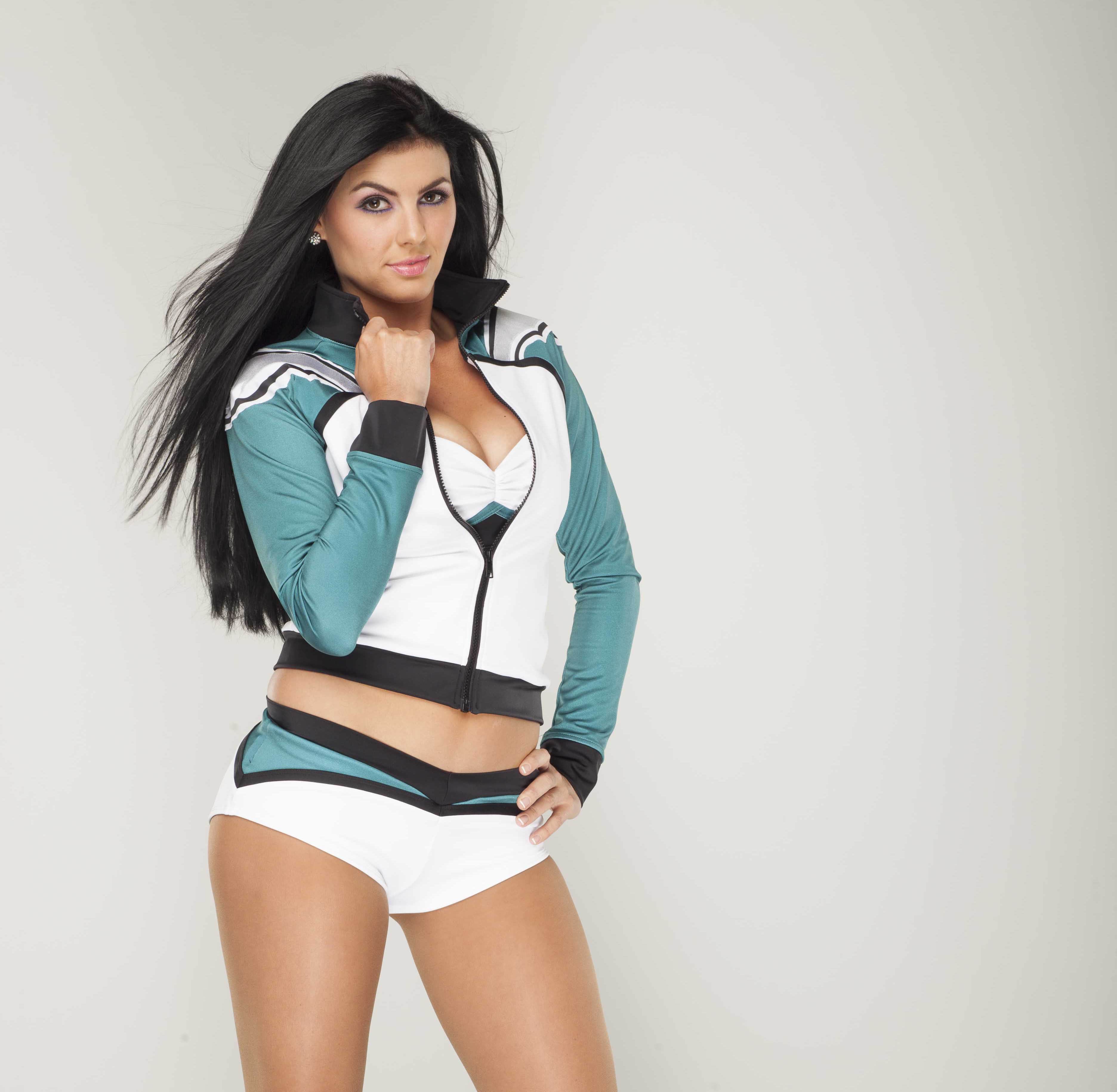 While I wouldn't say there is a fully encompassing description of what an NFL cheerleader looks like or does for a living, I'd be willing to say Stephanie, a five-year veteran as a Philadelphia Eagles Cheerleader and Fundraising Coordinator for the Muscular Dystrophy Association, breaks that typical mold and does so with immense pride.
If you've never checked out the Eagles Cheerleader website, let me start you off with this: before accessing the site, there is a "warning" that reads, "Please note, this area contains mature content." If that doesn't get your attention as a football fan and lover of beautiful women, then stop reading now.
It's no secret the Eagles have been my football team of choice since 1991, so this interview on the sidelines of Lincoln Financial Field with Stephanie was by far one of my favorite moments. The Eagles are known around the league for their forward-thinking vision and taking the world of cheerleading to incredibly new and amazing heights all with one thing in mind: their fans. Just as each football team plays a different kind of ball relying uniquely on run games or special teams spectaculars, the cheerleading squads you see on the sidelines are just as unique.
"We are known for being cutting-edge. We were the first to produce an eco-friendly calendar as well as the first to have a lingerie-themed calendar, which really set us apart from the typical swimsuit calendars," Stephanie, also known as Miss January 2014, brags. "We are the first and only to have uniforms created by an internationally renowned designer (Vera Wang), and the first to create a Cheerleader Calendar Mobile App. These are just a few examples of our creative mentality. It's exciting to be a part of a squad that is always implementing new ideas!"
As two hardcore Eagles fans, we talk about our love for Brian Dawkins and the bad rap Philly sports fans get from the rest of the world. "I think Eagles fans are the most passionate fans in the NFL – we live and die with the team, we bleed green! We have a great history of football tradition here in Philadelphia and are very proud of that history and tradition. The reason why Philly fans get a bad rap sometimes is because we are so passionate…but that passion comes from love. It's our love of the game, our team, our city, our fellow fans. I am so proud to be an Eagles fan and be in the constant company of incredible fellow fans here in Philadelphia. Just like the Eagles organization, Eagles fans stand behind important community initiatives. With the support from Eagles fans, over the last several years more than $1.7 million has been raised for breast cancer care and research in the Philadelphia region. Eagles fans support our troops, help feed the hungry with our food drive, support research for Autism, participate heavily in the Eagles Go Green campaign, and much more. E-A-G-L-E-S- EAGLES," she says without stopping for air.
Together we could go on and on about the love for our team and fans, but this isn't an Eagles PSA, so we'll move on.
As someone who's clearly never been a cheerleader, it always amazes me to hear these women describe their roles and their game day routines and rituals, but I think Stephanie explains it best. "I always use this analogy what it feels like to be on the field for the first time as a Philadelphia Eagles cheerleader, that it's a lot like getting on a roller coaster," where she pauses to inform me that roller coasters are one of her top three biggest fears in life.
"Once you're strapped in and climbing toward the first drop, as much as you want to freak out and start screaming, there is no getting off so you just hang on and get ready for the ride of your life. After five years on the squad, I guess you can say that as soon as the ride stops, I am the woman running to get back in line to do it all over again," she says admitting that the experience and adrenaline are addicting.
Stephanie is just one of the 38 beautiful, smart and driven women on the Philadelphia Eagles cheerleader roster where she has served as a captain for the past two seasons and serves as perhaps the most dynamic representation of the organization. Calling these women smart and driven is by far an understatement. "I have had teammates with careers that included being a registered nurse, architect, teacher, accountant, and more. I always joke we need to start our own company. That way we can give ourselves the day off after a game!" she laughs.
Oh, and back to not exactly looking like your "typical" cheerleader (her words), Stephanie stands at 5'6″ and weighs 124 lbs. with long black hair. "I am proud of who I am and how I look. I wish more celebrities would publicly embrace a healthy weight and lifestyle rather than promoting dieting and being skinny so they could be role models for young girls today. It's important for young girls to know it's not about what you weigh, it's about your health, how you feel, and loving the way you look," she says.
Stephanie was also selected to model for Esquire magazine's "Me in My Place" feature alongside supermodels Chrissy Teigen and Jessica Hart.
And Stephanie isn't the only one that loves the way she looks and feels; she's one of the favorites on the Eagles sidelines, by players and fans alike, and is featured as Miss January 2014 in the Philadelphia Eagles Cheerleaders 2013-2014 Calendar. "I was extra excited for this year's shoot, because all the net proceeds are being donated to the Hurricane Sandy New Jersey Relief Fund. It is a cause near and dear to our hearts because so many of us grew up spending family vacations or living at the Jersey Shore and it was devastating to see the damage. Through the calendar, we hope to show the great resiliency of the shore communities and contribute to the rebuilding efforts," Stephanie says. And that's just one of the ways the Philadelphia Eagles cheerleaders set themselves apart from the other women in the league.
"I love that our uniforms were designed by Vera Wang. We are the only squad to have uniforms created by an internationally famed designer. I really like that our look is so different from other teams. We have a very fashion-forward look that is both sporty and chic. My two favorite signature pieces are the sweater with the modern design and sleeve length and the jacket with the Eagles wings logo motif. Also, I'm a woman truly obsessed with shoes so I absolutely love our new black sparkle sneakers that Vera Wang designed just for us," she says.And it isn't just the uniforms and the amazing friendships she's made being an Eagle cheerleader that Stephanie raves about, it's the entire organization. "The Eagles organization as a whole embraces change and knows that to make a difference on and off the field you have to be willing to evolve. That's why you can see progressive decisions being made like bringing on Chip Kelly as the Head Coach with his innovative approach and adding wind turbines to adorn the top of Lincoln Financial Field. I think the Eagles Go Green efforts are absolutely on a playing field of their own," she says.
Stephanie admits that it's probably just her and "the entire world's population of 13-year-olds" that bought Bieber's Believe album, but there's just something about the Biebs that makes you want to dance, she says. But then admits she'll dance to pretty much any kind of music.
Don't let her goofball personality or devotion to Justin Bieber fool you. Like many of the NFL cheerleaders I've interviewed, Stephanie too is an over-achiever it seems and I sometimes wonder how she gets so much accomplished having the same 24-hour window that we all are gifted with. All before the age of 22, Stephanie graduated from Drexel University where she earned her Bachelors in Design and Merchandising with a minor in both business and dance where she was also a four-year member of the soccer team as well as captain of the Division I Drexel Dance Team, then went on to earn her MBA from Philadelphia University where she had a life-changing opportunity to participate in a study abroad program in India where she checked off the Taj Mahal from her bucket list. I repeat, all before the age of 22.
As if her big heart, her beautiful dark eyes and olive skin weren't enough to make you fall in love, she loves to bake too, although admits it's crazy she doesn't own a microwave and prides herself on buying all organic and not going anywhere near artificial sugars. Stephanie says a lot of her recent free time (what free time I ask again?) she's been baking pumpkin inspired goodies to help celebrate and get into the fall season to share with her squad.
You shouldn't judge a book by its cover, nor should you judge a cheerleader by her obsession of catalogs. Yes, catalogs.
"For some reason, I find looking at catalogs really relaxing and flip through them as I workout. They are really easy to page through while working out and it takes my mind away from that 'I'm going to fall over and die if I do one more sprint' feeling," the Pen Argyl small town native laughs.
One of her newest obsessions is the new craze of The Color Run. "There is just something about being doused in different colors of paint at every kilometer that I find delightful. I also love that the run celebrates healthiness, happiness, and individuality," she explains.
For those who have never experienced Philadelphia sports for real, let me let Stephanie walk you through an Eagles game day. I won't say an "average" Eagles game day, because the word average doesn't exist in those parking lots.
"The excitement starts long before you enter the stadium. Tailgating is one of our great traditions at Lincoln Financial Field. For a 1:00 PM kickoff, you can see Eagles fans in the parking lots by 7:00 AM tailgating. The excitement in the air is almost tangible. Once you enter the stadium, it is a sea of green jerseys. When our fight song is played pre-game and after touchdowns, 70,000 fans are singing it together! Throughout the game, you will hear sections of fans competing with one another for the loudest E-A-G-L-E-S cheer! I also love that we live in a city that bears all the elements. We get the blazing heat of the August preseason games, the crisp fall that is synonymous with it being football season, and the brutal winters…and our fans never leave their seats! We are tough, proud, and passionate," she explains.
As an Eagles fan having ventured into The Vet and The Linc on multiple occasions, I couldn't agree more with Stephanie.
Will the beautiful Stephanie return for a sixth year? You never know, but she does end with this. "I love my career, but as an NFL cheerleader, I just feel like I am living a dream and I don't know how you ever walk away from that," she says before adding how incredibly grateful she is for this experience.
This was part of The Blonde Side's sports column on CBS Man Cave Daily. Click here to see the original article.
http://theblondeside.com/wp-content/uploads/2013/12/Stephanie-modeling-one-of-the-new-Vera-Wang-Signature-Pieces.jpg
3660
3744
Jayme
http://theblondeside.com/wp-content/uploads/2018/06/1526998321020-300x192.png
Jayme
2013-12-06 23:05:54
2013-12-06 23:07:39
Eagles Cheerleader Stephanie