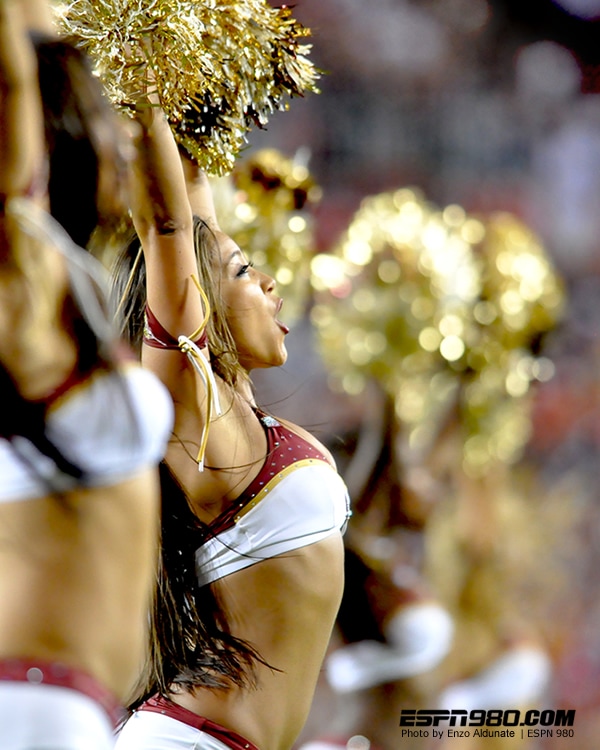 There's this thing about being first at something. You're considered the cream of the crop. The veterans. You set the bar. Everyone imitates you. When it comes to NFL cheerleaders, the First Ladies of Football, also known as the Washington Redskins cheerleaders are those beautiful bar-setters, and have been for 51 years, the longest extant cheerleading team in the NFL.
Charo is just one of the beautiful women who has been lucky enough to don perhaps the most coveted uniform in all of cheerleading in over half a century. A tax accountant by trade, Charo, now in her third season, definitely worked her way onto the sidelines little by little. When she first tried out, while still at the University of Maryland (and on the dance team no less), she didn't even make in past the second round. A few years later, she tried out again and this time made the team as an "alternate."
"Being an alternate was definitely a humbling experience, but I've always believed that every woman has a different experience and journey on this team, and I guess it worked out well because I just completed this season as one of the co-captains!" she exclaims.
It's no secret the Washington Redskins finished off the 2013 season with a bit of an eyesore of a record at 3-13 (last in their division) and quite a bit of drama, and Charo admits it does make their job more difficult on the sidelines, and at times her "maniacal side" does come shining through. "When the Redskins are down, or aren't playing as well as we know they can, it definitely becomes tougher to keep the smiles going. I think this is mostly because no one wants to be the person who, right after the opposing team scores, has to face the fans and continue to smile and cheer like that didn't obviously just suck. Personally, I get very involved with what's happening on the field, but thankfully, when plays are going on, we are facing the field and the fans don't see this slightly maniacal side of me. But like any job, it's our duty to keep that air of professionalism and continue to cheer on our Skins, regardless of the outcome. Rain or shine (or hail or snow), win or lose, we always support our team," she says optimistically.
"Although I was born on a 
U.S. Air Force
 base in Okinawa, 
Japan
, I was raised in the much less exotic town of Columbia, Maryland," the 5'5″ brunette says of her hometown.
When it comes to her favorite current player, Charo has a bit of a different take than most of the other women we've talked to. "People always choose the offensive players when asked who their favorite players are. It's true, I love
watching younger playmakers like Alfred Morris and Pierre Garçon pick up those extra yards or complete the pass and convert the third down. But my favorite player to watch right now is, and always has been, London Fletcher. It's cool to watch defensive players continue to show resilience in times of adversity (when they held the Chargers THRICE at first-and-1 to force overtime!), and Fletcher has been a steadfast force both on and off the field. It was a sad day to see him announce his retirement this year," she says.
Having grown up just a few hours from RFK Stadium (the old Redskins home), I'm beyond familiar with their gameday atmosphere and crazed fans. But in Charo's words, it looks a little something like this: "FedEx Field (or Redskins Stadium) is the largest stadium in the NFL in terms of regular capacity — 85,000 seats [Editor's note: Jerry's World can hold up to 100,000 by use of temporary seating]. Our gargantuan stadium lends itself to accommodating some of the most loyal fans in the nation. Our franchise is 81 years old, has won five NFL Championships (including three Super Bowls), and is one of the maybe two NFL teams to have an official marching band. Also, our fight song, Hail to the Redskins, is one of the oldest fight songs in the NFL. The Redskins organization is rich with tradition and I couldn't be more proud to be a part of the 2010, 2012, and 2013 Washington Redskins cheerleaders teams," she boasts with a smile.And it seems you can't really talk about the history of the Washington Redskins without also bringing up the ill-named "America's Team."
"Although our fans loyally and almost equally detest any team in the NFC East, our biggest rival is easily the Dallas Cowboys," she says. "I presume this predates us as Americans to the classic 'Cowboys vs. Indians' dilemma. Last year, when we were the NFC East Champs, we played the Cowboys in the final game of the regular season and it determined eligibility to go to playoffs. I don't think I've ever heard the stadium that loud and alive. Every season ticket holder is at FedEx Field for the Dallas game in addition to the rest of the stadium being completely sold out. The roar is deafening, especially when Dallas is on offense; the energy is electric and brings you up, makes you want to dance harder and stronger, smile bigger because you're thinking, 'Wow, this is what football and fandom is really all about.' "
We take a few moments to bond over our sovereign loathing of the Cowboys and how they really aren't America's Team. Not even close actually. I ask her what she was doing right before she sat down to do this interview. "Well actually, I had just rolled out of bed and was drinking my coffee. I was wearing a white tank top and…well yes, just a white tank top."
While we talk, laugh up a storm, crack jokes and challenge each other's sarcasm levels, Charo makes a shocking and almost unbelievable admission. "Something that people may be surprised to know is that I am a complete nerd and I used to be irrationally shy. I literally didn't know how to speak to anyone…especially the opposite sex. My childhood and adolescence consisted of dancing six days a week for six hours a day, so my social life was limited. Now, I am very high-energy and sometimes way too forward and sarcastic to the point that people don't know I'm joking. And I'm a total nerd in that I love math, grammar, spelling, vocabulary, and reading. I could happily read a book a day. Crossword puzzles are my jam," she jokes with a sincere undercurrent.
Charo's collegiate experience at University of Maryland wasn't all parts nerd. She managed to mix in some fun times and "memorable moments" she didn't quite spill the beans on. "I was an accounting major in the Robert H. Smith School of Business at UMD — as reputable as the school is, and even though I had quite a few memorable and impressive professors, no one in her right mind ever cites the first-class education as her favorite thing about college. One of my favorite things about the University of Maryland was the 'true college experience.' I was able to get involved at the campus gym, in my sorority, and with the dance team insofar that I broadened my horizons through different people and experiences. Many of my favorite memories at UMD took place at the intersection of Route 1 and Knox Avenue…even though it was a wild four-year ride, I managed to maintain a 3.6 GPA and I have absolutely no regrets."
Like pretty much every NFL cheerleader, Charo does have a bout of nerves hit her just before gametime each and every week. "I've been dancing my whole life, so the stage – regardless of the scale and scope of it – has been my friend and favorite place for as long as I can remember. I always get butterflies about one minute before I'm about to walk out – which I attempt to quell by getting on all fours and doing planks. I've heard this centers you but it could be complete bologna, but the second I'm out there dancing all I feel is confidence and ease," she says. (My apologies, I could not capture a photo of Charo on all fours showing me her game time ritual for you to see in all its glory.)
And while she used to have trouble talking to the opposite sex, some things have changed. She says her perfect date spot is anywhere, absolutely anywhere outdoors. "Seriously, give me good weather and the great outdoors and I'll probably fall in love with you…nine out of ten times."
Charo claims she likes to dance to any kind of music, even country, but prefers "sharp and with a lot of syncopated, hard-hitting accents." (All words I've never really heard of.) "I'm really loving electronic/house although I'm definitely not a self-proclaimed househead," she says, "but honestly, who doesn't love when the beat drops?" Though not ideal dance material, she says the most embarrassing thing on her iPod is something like B*Witched or 98 Degrees, saying she never deletes anything. "And now that I'm saying this aloud I realize just how terrible it is. Wow."
For workouts beyond the team mandated ones, Charo has recently gotten into Bikram Yoga. "I used to despise yoga, but there is something about sweat dripping in my eyes, my limbs being too slippery to hold, and feeling like I'm going to die that keeps me coming back for more," she says.Having been around the block, also known as the league, for 51 years, the First Ladies of Football have a lot to be proud of. "Our team has been on 44 international tours to entertain U.S. Military men & women – this is one of our proudest accomplishments," says coach/director, Stephanie Jojokian.
As for Charo, she admits sifting through all of her favorite moments on the team would probably take an eternity. "I
can say, however, that one of my favorite experiences thus far as a Washington Redskins cheerleader is going on a Military Appreciation Tour to the Middle East in September 2012. With three other teammates and four NFL alumni, we visited eight bases, four countries, and put on eight shows over the course of 12 days. Sleep when you're dead. One of my very favorite American moments of this tour was when a rookie fighter pilot began singing 'You've Lost That Loving Feeling' from the movie Top Gun to me on one knee in front of an entire base. Beyond the performing and supporting our team and fans back in DC, we are so lucky to be able to travel the world supporting America's heroes – the troops who make sacrifices for our country's freedom every single day. I would have never been able to grasp the comprehensiveness of their service until I saw it firsthand overseas and I am forever grateful," she says with extreme and genuine pride.
If you haven't figured it out by now, all these women I've interviewed for the NFL Cheer series are go-getters. They lead busier lives than the Kardashians try to pretend they do for sake of making "real TV."
For instance, here is what a typical day looks like for Charo:
Waking up early ("or as early as my snooze button allows") and going to work. This is the typical "9-to-5″ job where I rack my brain all day preparing and reviewing taxes and Excel spreadsheets. A day at work sometimes allows for a workout at the gym in my office building (2-3 times per week), where I'll run, take yoga, lift, or box. After work, I head to the stadium for practice; DMV traffic is quite conducive to going over choreography in my head in the car en route (albeit also dangerous). I arrive at the stadium at about 6pm, we practice before practice, and then practice begins. Practice usually consists of a warmup, kickline, across the floor where we work on technical skills, then going over the dances we will be performing at the next home game/show/etc. Once per week, we also have a workout after practice, and then finally I go home for the night – usually returning between 11pm and midnight.
Oh, and then she does it all over again the very next day. And the next. I need about four Red Bulls (sugar free of course) just to listen to her tell me about her average day.
Even with a schedule like that, there are still people out there who think these girls are much less ambitious than they really are. "The biggest misconception about NFL cheerleaders is that we are all airhead, fake-bodied bimbos with no depth or outside career. The truth is, in spite of the immense time commitment required, being an NFL cheerleader IS our 'outside career.' So many of us are well-educated, driven, passionate women who choose to contribute so much of our own time and effort into NFL cheerleading because it's something we love," Charo counters to the nay-sayers.
"And no, we don't date the players."
Some of her guilty pleasures (outside of wanting to scream at refs for bad calls) include Young Adult fiction, tons of sugar (or Splenda as she elaborates) in my coffee, cheese, and The Bachelor/Bachelorette, which she says blame should be laid upon her roommates. Where she finds time to read, watch TV or even drink coffee for that matter is completely lost upon me.
"The most difficult thing in being an NFL cheerleader is, without a doubt, the life balance. Between work, relationships, family, Redskins, and just plain life, I believe I am constantly being tested in managing priorities, making others happy, and most importantly, finding what makes me happy. Cheering for the Redskins doesn't come without sacrifice in other aspects of my life, but I'm learning to trust and live in the 'now' and take one day at a time," she says.
I've learned throughout this series, thanks to women like Charo, that NFL cheerleaders are a different breed. Not just in their work ethic and their exuberance and passion for something outside of themselves, but for their pursuit to make the world a better place – on NFL sidelines and beyond, including visits to our country's heroes. The above characteristics describe every team and every woman I've interviewed, but they are still ultimately unique in such a tangible way.
"One of the aspects that differentiates us from other teams is our style. We have such a wide range of choreography and music, from hip-hop to classic rock and everything in between, but also such a distinct, sexy style across the board. Additionally, I imagine that when most people envision a group of 40 women together day in and day out, the outcome is something reserved for a reality TV show, where drama and conflict is inevitable or even encouraged. Another authentic element of my team is the true bond of sisterhood. There is something to be said for having the largest (and first) Cheerleader Alumni Association in the NFL. We truly support each other both inside and outside of practice, in endeavors outside of Redskins, and in any obstacle or success that life throws at us. When I look back at my years on the team, I probably won't remember that one touchdown that that one player scored that one game – I'll remember with whom I was jumping up and down on the sidelines. These women are lifelong friends," Charo says.
If you want to join the lovely Charo and all the other gorgeous and talented First Ladies of Football (sans reality TV drama of course), 2014 tryouts are just around the corner – March 29th. Click here for more details including prep tips.
You can also follow Charo on Twitter: @charobishop and well as the entire team: @1stLadiesofFB and check them out on FB.
This article originally ran on CBS Man Cave Daily under The Blonde Side's sports column. Click here to see the original article.
http://theblondeside.com/wp-content/uploads/2014/01/ESPN980-Enzo-Aldunate.jpg
750
600
Jayme
http://theblondeside.com/wp-content/uploads/2018/06/1526998321020-300x192.png
Jayme
2014-01-21 23:17:30
2014-11-19 12:07:41
Hail to the First Ladies of Football