Tags
Related Posts
Share This
The Blonde Side Social Calendar 3.17.14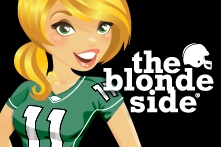 Instead of bombarding all our social media outlets with what's going on, here's a simple breakdown of what's going on, what you need to know, how you can hang with us, etc.
WTF shirts. Due to the CRAZY popularity, we are extending the NAVY WTF: Where's the football shirts until Tuesday, the 18th. Thanks to Texan Hollie for sharing hers, we had a ton of new orders. To see the shirts (the ones pictured are not for sale, we are ONLY doing navy shirts in men and women with white font so it pops more!), click here and ORDER Today. The price is $20 and keeps going down the more you order (hello, did someone say GIFT TIME?!)
Join our 5k team for Run for the Rose, Sunday, March 30th. You can sign up for the 5k AND/or donate at this very link. This 5k is open to serious runners, hungover individuals, walkers, those with baby strollers that want to hang out, etc. The cost to register is $30 and it goes to brain cancer research. This is a run/race that The Blonde Side (& Charity Chicks Houston) has happily been involved in for five years now – we are aiming for 50 people on our team and to raise $2,500 for the cause. If you are a business who wants to make a tax deductible writeoff, well, hello! Here we are! Please SHARE with other Houston folks!
Sticking with the charitable efforts, The Blonde Side has once again (for the third straight year) partnered up with those goofy SportsMonkey guys for our Annual Charity Kickball Tournament. We are looking for teams of 8-10 players on Saturday, April 19th for an all-day event. Our friends at Bud Light Houston have sponsored the event, so the beer will not run out. Get your team together and sign up today – total team cost is $250, it's fun and goes to a great cause.
As part of The Blonde Side's existence in Houston, we cannot forgo mentioning the Houston Rodeo, where we do concert reviews for Culture Map. Check out the concerts we've covered so far, and if you're going to one, let's meet up! (As long as you're not creep!).
Contests. Damn. We've been lucky to have a slew of contests for readers of The Blonde Side, but we're going to slow down, because the responses just aren't there lately. In one week we gave away an autographed James Harden ball from BODYARMOR and a Fila Golf Jacket and we expected a ton of more entries. In order to keep our sponsors happy and these contests going, I NEED MORE SUPPORT. Enter each contest (if you win, you can turn it down or gift it), SHARE the contests, give feedback (are we requiring too many steps, do the prizes suck, etc.). Help me help you!
The Blonde Side was also able to surprise Station 58 of the Houston Fire Department last week with
Natural Pawz – PAWZ HERO award for rescuing 3 dogs from a burning home by providing them tickets to an upcoming Houston Astros game alongside Bud Light. Please take a minute (now and each day) to thank our first responders – they do so much for us and sometimes we all overlook it!
All FSU shirts have been ordered and will be mailed out in seven business days, so thanks for your order and be patient! If you have more designs in mind, shoot me an email, if we use yours, YOU GET A FREE ONE!
The Blonde Side is looking for a project-by-project basis graphic designer that is down for small paying jobs and working with trade (hey, we're working on the budget), so if you're a lover of sports, detail oriented, and all that jazz, email us ASAP: jayme @ theblondeside . com
If you're a lover of baseball and think Opening Day should be a legit national holiday, check out this petition at the White House via Bud Light and go sign it.
Oh, and Happy St. Patty's Day! Go enjoy some green Bud Light, but enjoy responsibly!