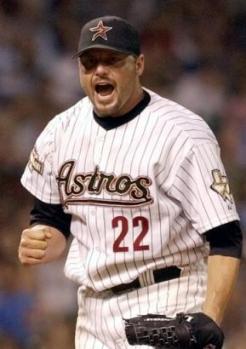 It's no secret Roger Clemens has had a huge impact on the city of Houston and all of baseball. The seven-time Cy Young Winner is an athlete I've long admired and had the pleasure of meeting a handful of times, but his love for giving back is what makes him particularly awesome. (Remember Jingle Balls where he donated A TON of silent auction items for Ronald McDonald House?!)
Here's your chance to win TWO Tickets to the Rocketman Celebrity Slam Softball Tournament held on July 15th (6:30p) at Minute Maid Park. The Tuesday night event will benefit the Roger Clemens Foundation.
Simply comment on THIS POST telling us why YOU want to go to this great event. We will choose one lucky (and random) winner for the tickets. ALL entries must be posted by 5pEST on Friday, July 11th – please use a valid email address when posting comments as that is how we will notify you – it will not be public or used for SPAM, promise!
Keep your eyes peeled for these celebs who will also be in attendance: Former Astros greats Roy Oswalt and Jeff Bagwell are scheduled to participate along with country music star Toby Keith, local rap star Paul Wall, Dynamo icon Brian Ching, Houston Rockets guard Patrick Beverley, Texans punter Shane Lechler and former Rockets star Tracy McGrady and actor Lee Majors (via Houston Chron).
Tickets are $25 and can be purchased at Minute Maid Park's Box Office and Ticketmaster (you know, in case you don't win, but still want to support a good cause!).

More about the Roger Clemens Foundation (via their website):
The Roger Clemens Foundation is an entity dedicated to helping children. It was established in 1992 by Roger and Debbie Clemens in order to ensure that funds raised by the Foundation through golf tournaments, silent auctions and other events, would be properly distributed to the charities and organizations that they have committed to support.
The Foundation exists for the purpose of carrying on and supporting educational, charitable, literary, scientific and religious activities for children, with a special emphasis on underprivileged and at-risk children, and children with special needs.
Among the numerous organizations that The Roger Clemens Foundation has supported are: Cystic Fibrosis Foundation, Variety Clubs International, Boys and Girls Clubs of America, Make A Wish Foundation, The Jimmy Fund, Sunshine Kids, Periwinkle Foundation, and the National Paralysis Foundation, Starlight Children's Fund of Canada.
The Foundation has also provided either ongoing or one-time support to a number of local organizations benefiting children in Texas and the Houston area: Spring Branch Education Foundation, Paws For A Cause, Initiatives For Children, Arbor House Preschool, St. Francis Episcopal School, Bunker Hill Elementary School, Memorial Drive Elementary School, Memorial High School, Spring Woods High School, Boys and Girls Clubs of Houston, the Texas Chapter of Dystrophic Epidermolysis Bullosa Research Association (DEBRA), Muscular Dystrophy Association, and the Multiple Sclerosis Society. Support has also been provided through the years for numerous organizations in Boston, Toronto and New York.
There are many organizations that Roger has supported and continues to support since the Foundation's inception through donation of memorabilia for auction, and with gifts and personal appearances in hospitals and shelters. Among these in the Houston, Texas area are the Star of Hope Family & Children's Center, Texas Children's Hospital, and the Mission of Yahweh Women's and Children's Center. Roger and Debbie also donate their time by participating in special charity events.
The Roger Clemens Foundation is the realization of a dream Roger had early in his career to help fulfill the needs, ease the suffering, and encourage and support children from all walks of life. In doing so, he and Debbie have been and continue to be able to give back to their community by sharing a portion of their success through the efforts of the Roger Clemens Foundation.
http://theblondeside.com/wp-content/uploads/2014/07/roger.jpg
349
246
Jayme
http://theblondeside.com/wp-content/uploads/2018/06/1526998321020-300x192.png
Jayme
2014-07-10 18:58:37
2014-11-19 11:31:44
Win Tickets: Roger Clemens Celebrity Softball Game