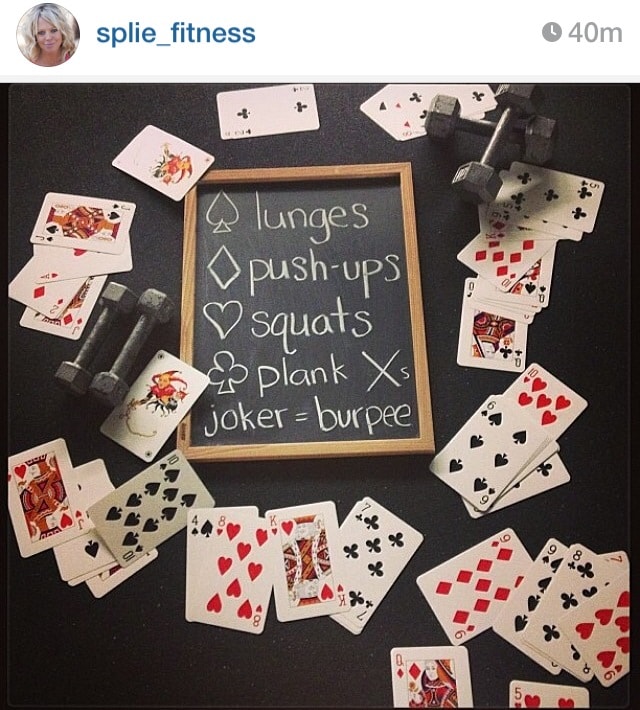 This isn't my first time writing (and raving) about Splie Fitness. Although based all the way in South Lake Tahoe, my girl Tara (owner and instructor) still has me sweating to her demands all the way in Texas. Here's her latest idea, via Instagram.
According to the easy game to get your sweat on all you need is a deck of cards. You can use just your body weight for these exercises, or add weights if you'd prefer. Grab a deck of cards and start flipping them over one at a time.

♠️ = lunges
♦️ = push ups
♥️ = squats
♣️ = plank rows
Whichever number is on the card, you'll do that many of each exercise. Go through the deck once and then switch the movements to 4 new moves. You should be good after two times through. Be creative the second time through. Exercises you can incorporate in the second round can include: tricep dips, frog jumps, burpees, mountain climbers, ab exercises like bicycles, bridges – the list is endless.
Try this next time you're at home or at a hotel and a gym and weights aren't readily available.
What games have you played to help with your fitness routine?
http://theblondeside.com/wp-content/uploads/2014/08/photo-1.jpg
710
640
Jayme
http://theblondeside.com/wp-content/uploads/2018/06/1526998321020-300x192.png
Jayme
2014-08-04 08:50:38
2014-08-02 21:51:17
Hit the Deck