Tags
Related Posts
Share This
Event: Sport4Life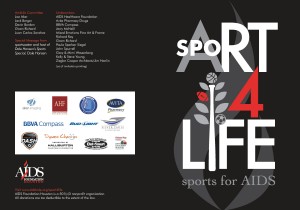 You're invited. To what? Only one of the coolest most unique events to hit the Houston charity scene, all in honor and support of a wonderful cause: AIDS Foundation Houston.
Sadly I won't be able to attend, but I wanted to make sure the readers of The Blonde Side had the info for such a great evening.
WHEN: Thursday, August 21st 6-10pm
WHERE: BBVA Compass Stadium (West Club)
BUY TICKETS: HERE
MORE SOCIAL MEDIA INFO: FB Event Page | Twitter: @AIDSHelpHouston #sport4life
Sometimes people forget the sports world – not limited to fans, cheerleaders, players, coaches, front offices, families and more – are often riddled with the same issues we are. This event puts a unique spin on a topic that many are afraid to talk about and bringing some big names to the table to show their support. Here's your chance to show your support also. Spread the good word Houston.
*A lot of big names and companies are responsible for making an event like this happen (see at bottom of this post for the full list) – The Blonde Side is proud to see Bud Light as an official sponsor! So if you make it out to the event, go bid on some awesome art, grab a Bud Light, and snap a picture and send it to me on Twitter using #sport4Life.
Press Release Information:
 Houston Sports Celebrities and Local Artists Team Up For
AIDS Foundation Houston's "Sport4Life"
Join AIDS Foundation Houston, Inc. (AFH) and sports champion co-chairs Jolanda Jones and Carl Lewis for the fundraiser Sport4Life at the West Club in BBVA Compass Stadium on Thursday, August 21, 2014 from 6 -10 p.m.           
Former Houston City Council Member and national track star Jolanda Jones will welcome fans to Sport4Life alongside nine-time Olympic gold medal champion Carl Lewis; Olympic gold medalists Leroy and Michelle Burrell; boxing promoter George Foreman IV; Olympian Floyd Heard; and track stars Ifoma and Henrik Olausson.
The fundraising event offers a new and unique play to the organization's annual art auction by adding to its roster the help of professional and amateur athletes to raise awareness of HIV/AIDS, reduce the stigma of HIV in the sports arena, and promote healthy lifestyles to the public.

Guests are encouraged to gear up and wear sports attire while attending the fun-filled sports themed night with ballpark-style food, sports art and sports auction items. Guests will also have the opportunity to dance the night away as DJ Chris Luera spins during the evening.       
In efforts to score funds for AFH, sports related art from exclusive art collections and original artwork by Houston's top artists fashioned from various sports equipment will be auctioned off at Sport4Life along with exclusive sports memorabilia and surprises throughout the night.

Featured local artists contributing to Sport4Life include Joe Aker; David Aylsworth; Cara Barer; David Brown; Michael Crowder; Sharon Engelstein; Geoff Hippenstiel; Linda Hofheinz; Ted Kincaid; Austin Allen James; Terrell James; Erin McLeod; Mauricio Menjivar; Richard Nix; Patrick Palmer; Aaron Parazette; Nicola Parente; Josh Pazda; Patrick Renner; Ariane Roesch; Pahl Samson; Kaneem Smith; Shane Tolbert; and Charles Wiese.
This event is made possible with the support from sponsors and underwriters BBVA Compass; OutSmart Magazine; Outsports; Dynamo Charities; Houston Dash; Avita Pharmacy; Bud Light; AIDS Healthcare Foundation; Aker Imaging; Richard Ray; Jerry McNeill; Mixed Emotions Fine Art & Frame; Gwen Richard; Paula Sperber Siegel; John Spurrell; Gary & Mimi Wasserberg; Kelly and Steve Young; and Ziegler Cooper Architects/Jim Hanlin.
For more information on Sport4Life please visit www.aidshelp.org or call 713-623-6796.
Looking for media information? Contact Kim Padgett at The Padgett Group: kim@thepadgettgroup.com