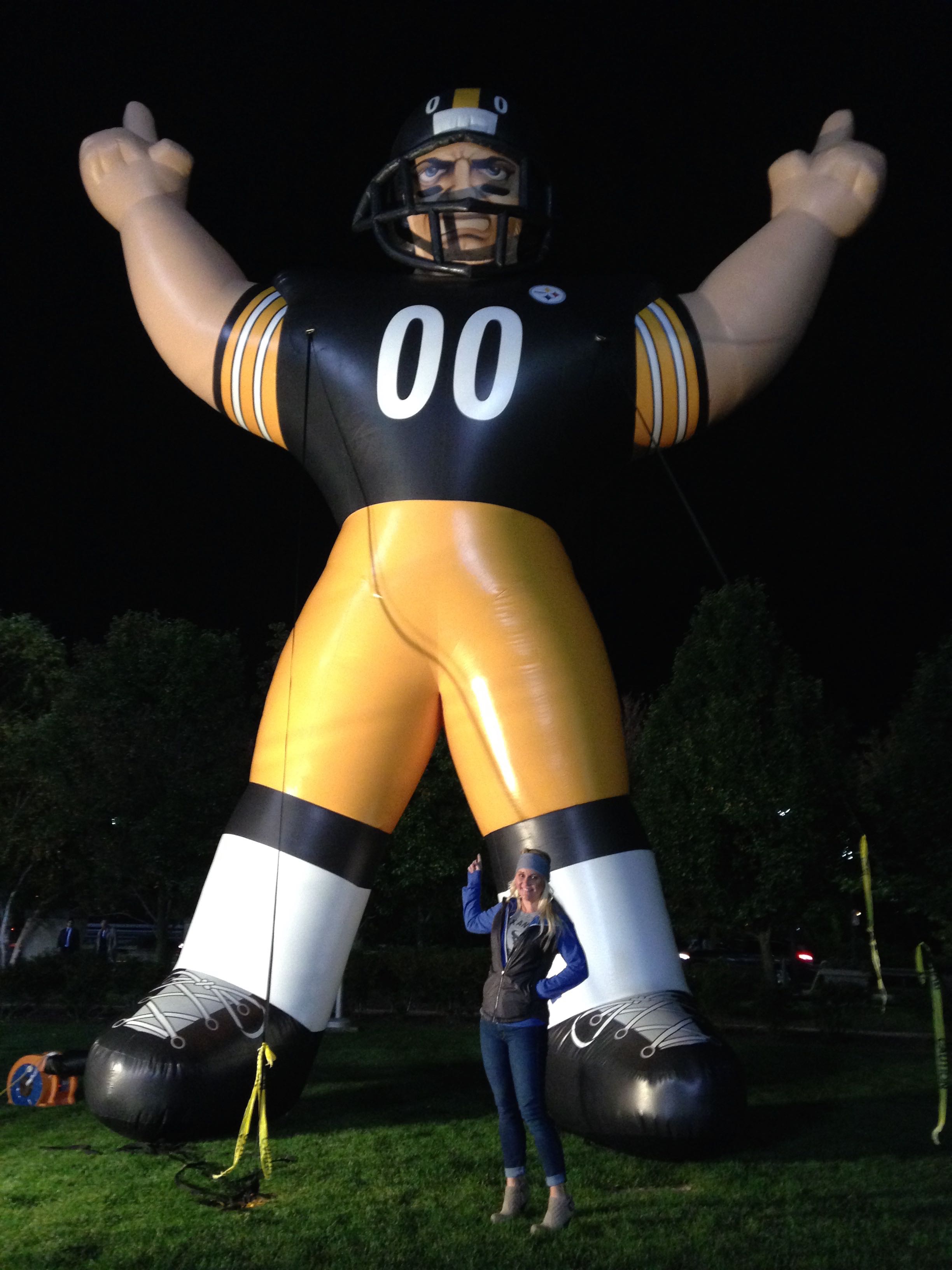 My second visit to the great city of Pittsburgh was just as amazing as my first (last year for the FSU/PITT game), if not better. Having grown up on the East Coast, I'm rather disappointed I waited until the past couple years to check out this fun city.
Although a short visit, I headed to Pittsburgh Sunday afternoon (via Southwest) to meet up with some Texans fans for the much anticipated Monday Night Football game, which was supposed to go a little something like this…it's going to take more than a towel to stop JJ Watt, however, to our disappointment the Steelers played pretty well. And to the shock of most of the NFL world, the Steelers actually showed up for all four quarters. Kudos to them now 4-3, while the Texans sunk to 3-4 (but it's still early in the season).
Here are some highlights of my Pittsburgh visit, where I stayed, ate, and partied. Perhaps use it as a guide next time you visit and if I missed any good spots, leave a comment so I can add it to my next visit. Because there will be a next visit.
Lodging: Cambria Suites: I stayed at the same spot I stayed last fall  – it was a tiny bit further than most of my friend's hotels, but with their free and accessible shuttle, I literally was only a few minutes away. I wish I had been in town to catch a Penguins game (never seen them), as my hotel is literally a stones throw away from the arena.
The hotel is clean and simple, and has everything you need (including a mini-fridge in the hotel and a Keurig) and the fitness center is definitely on point.
Bars: I spent pretty much my entire 30 hours in bars. Before you get all judge-y on me, know this – I was supposed to stay in Pittsburgh until Wednesday so I could enjoy the city more (after the MNF debauchery had subsided), but a last minute opportunity led me to Kansas City to catch Game 1 of the World Series. I get it – tough life.
Bettis – I would venture to say I spent more time in this one spot than anywhere else. It's the same owner group as the Texans Grille, it was a good easy-to-find meeting spot, the food was good and the Bud Light was cold. What else do you need? Plus, shots just kept coming and coming. The cheeseburger sliders and Steak Tip Salad were incredible – better than pretty much any bar food I've had – and trust me, I've had a lot.
Redbeards – Another place I have been before, still great like last time. It was a little more low-key than Bettis' but still very fun. Football on the TVs and friendly bar staff.
Flatheads – (On E. Carson Street) – Definitely a younger looking-to-party crowd and just over the bridge (as if there aren't 492 bridges to decipher from…). Great local selection of beers and I heard the food was amazing, but had already eaten so I can't speak firsthand.
Primanti Bros – Before everyone says, oh I love that place!!, I do not. I have never actually eaten here, so directly after MNF we headed over to Market Square, which is walking distance from Heinz Field. We checked online and it said it was open until Midnight and when we walked in at 11:39, not only was the kitchen already closed, the overweight dude in camo cargo shorts with an obvious chip on his shoulder was a complete jerk. Here's the thing – if you closed the kitchen early (which as a business owner, I am not a fan
of), that's fine, but BE POLITE about it. A simple, "sorry guys, we already closed the kitchen down tonight, come grab us tomorrow," would have sufficed. It wouldn't have filled my belly, but I wouldn't be writing this right now.
And it gets better – I sat down and chatted with a guy from LA who was eating and we were catching highlights on the TV above his table. The large man came and turned the TV off rather aggressively, then when I left goes, "thanks for interrupting his meal." The funny part was the guy from LA (whose meal I had supposedly interrupted) looked at him and informed him that I did not interrupt his meal. Awkward. Weird. I was in a Texans shirt, so that could have pissed him off, but YOUR TEAM WON and I was trying to give you money. Oh well, I still hear it tastes good, but I'll spend my hard-earned-barely-there paycheck elsewhere.
Delucas – This is a hole in the wall diner well known for breakfast, located in a historic part of Pittsburgh. We waited in line Monday morning next to a handful of other Texans fans for an extremely greasy/perfect for a hangover meal. The line looked a lot longer than the actual wait and it has a huge menu.
Meat and Potatoes – I didn't get the chance to make it there this trip, but I wish I had. If you head to Pittsburgh, THIS is where you need to go for dinner. It is amazing. That is all I remember from last time. Make reservations if possible.
Transportation: For the most part, we used Uber, which was easy, except after the game when none were available. Pittsburgh is a pretty easy and walkable city, so that was a plus and of course I had access to Cambria Suites complimentary shuttle, which was never more than 20 minutes away.
Run: A great city for a run (or walk) and a chance to take in all the beautiful rivers, bridges and just all around scenery. For a few tips and trails, check out this local Pittsburgh Running Group.
Photo Opp: In true Traveling Texans form, a massive group of Texans fans met up at Points Park to take a group photo. The Texans even sent along staff to hand out goodies to the hardcore fans. Nice touch Texans, nice touch.
Heinz Field: A fairly new stadium, just 13 years old, Heinz Field is a beauty. The black and yellow are pretty aggressive (the colors, not the fans) once inside, and I had the opportunity to sit in the club level (Section 236), which had a full bar, no lines for food and a great view of the field.
Oh…we did make one more stop, late night Sunday – hopefully my mom and dad already stopped reading this, but we went to Blush (strip club). I'm a fan of these establishments once in a blue moon, but I would steer clear of this one. Sorry Blush employees, but I speak the truth.
Thanks to Pittsburgh, their fans and businesses for showing this Texas girl another good time. Will definitely be seeing you in the near future!
http://theblondeside.com/wp-content/uploads/2014/10/IMG_6526.jpg
3264
2448
Jayme
http://theblondeside.com/wp-content/uploads/2018/06/1526998321020-300x192.png
Jayme
2014-10-21 21:10:26
2014-11-18 21:23:03
MNF Texans at Steelers Review