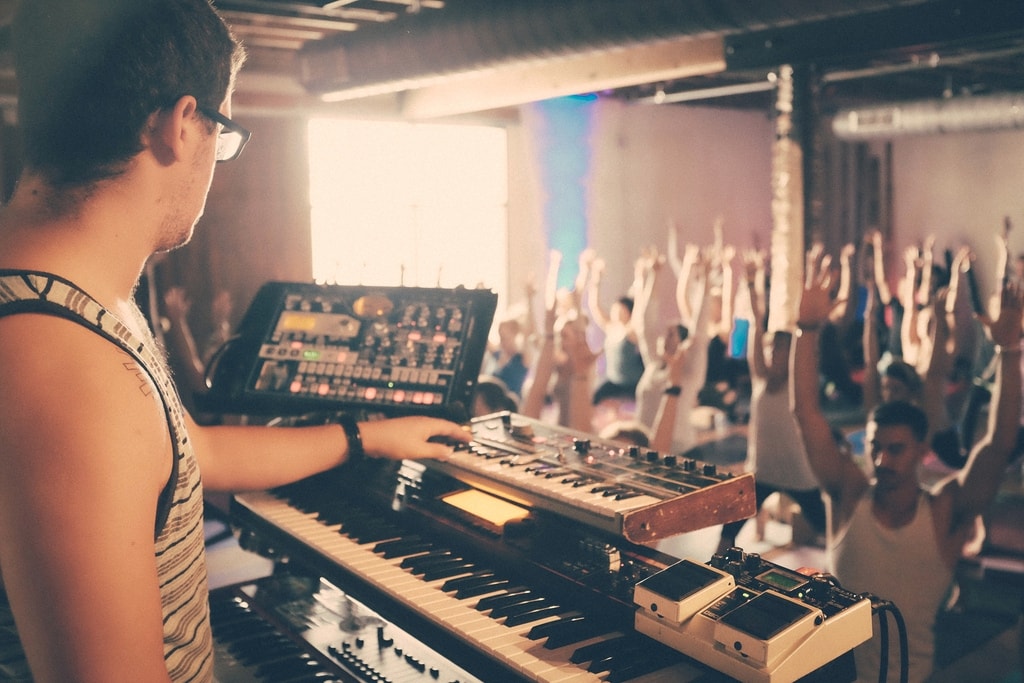 Things are getting real.
I started Day 2 with Wanderlust co-creator Schuyler Grant's Kula Flow: Hips, Hearts & Hands class. Kula is Grant's signature style of yoga that integrates the breath-based flow of Astanga yoga with the precision of Iyengar to create a deep, sweaty (ok, super sweaty), transformative mind/body experience.
Her signature style is a pretty big deal. The 10 a.m. class was filled to max room capacity.
Grant uses instructions like "use full imagery," when talking about movements, body parts, and breathes as well as cues like, "surrender completely," which is a popular mantra in all practices of yoga. Grant was hands-on as she went around the room, showing participants what 'surrendering completely' actually meant.
"How high you go is up to you," was my favorite line during Grant's session as it's not just applicable to yoga, but to all of life. And the class was set perfectly to the chill tunes of DJ Taz Rashid, who was stationed in front of the class.
Next on my schedule was the crazy popular AcroYoga for Beginners class taught by Mateo J. Daniel, with tunes by Happy Happy James. AcroYoga is clearly a thing all over the world, and yogis are chomping at the bit to learn the basics. By the end of the class, many had found themselves as stable bases (on the ground) while others were happy and willing flyers (in the air). This practice illustrated the importance of trusting and communicating well with your partner.
What quickly became clear in this class was that each person has their own style and limitations. And that's okay. In fact, that's what a good practice entails—learning your own style and moving along and growing with it. Another vital life lesson: "It's important to come home, come back to center and sit back up, ready to do it again." Sure, Daniel meant yoga, but it applies to so much more.
I'm pretty confident every attendee of this class was more than ready to do it again. The class was a great bonding experience.
Next up was my personal zen moment taught by former NFL player Keith Mitchell for FOCUS: Foundation and Expression. Have I let the cat out of the bag that I'm more of a runner than I am in tune with yoga practices? Because if not, now's a good time to make sure we're clear on that.
Dare I say it? Keith Mitchell may have made me believe in (and perhaps become obsessed with) the potential of yoga. After class Mitchell scolded me for not informing him I was just in the beginning stages of my own personal yoga practice. "You would have been my [class] favorite," Mitchell told me as he talked about his love for teaching others.
One of the songs on his playlist went something like this: "I am not the mistakes I have made. I am not the things that caused me pain." This song played as we went into Savasana—the lying down, meditative state that ends a yoga practice. I'm not sure I've ever felt a more zen moment.
I don't mean to compare religion to yoga because I take religion very seriously, but I feel it's an accurate emotional parallel. When I go to church and get inside my own thoughts—my prayers, being truthful to myself about myself—it's an un-earthly, cleansing feeling. And that's how I felt during Mitchell's class. I felt like it was a personal moment where I could forgive myself and feel renewed and cleansed and free to just start over. Every breath felt like a new moment in life, and I was reminded that it should be treated as such.
Afterwards, I took a brief peak into the class Rock n Roll Flow with Vinnie Manno to see what all the hype was about. Because, who doesn't love Rock 'n' Roll?
"There's a moment when you switch your perspective—when you're more into feeling than thinking," Manno said.
I finished off the long and soulful day with Kurt Johnsen's Workout and Wine Down, which of course featured a wind down from all your practices session followed by a glass (or two) of wine. Johnsen is the host of Yoga for Life on Z Living TV, so crowds and cameras are his thing.
Stay tuned for my last post from Wanderlust Day 3 tomorrow (the festival officially ends on Sunday) and follow my adventures on Twitter: @jaymelamm.
This post originally ran online at Austin Fit Magazine. Click here to see the original post with more Wanderlust Austin photos.
http://theblondeside.com/wp-content/uploads/2014/11/Wanderlust-Festival-Austin-Photo-by-James-Guiry-5-471b58b5.jpeg
683
1024
Jayme
http://theblondeside.com/wp-content/uploads/2018/06/1526998321020-300x192.png
Jayme
2014-11-08 09:14:09
2014-11-19 09:17:45
Namaste Y'all Wanderlust Austin Diaries Day 2