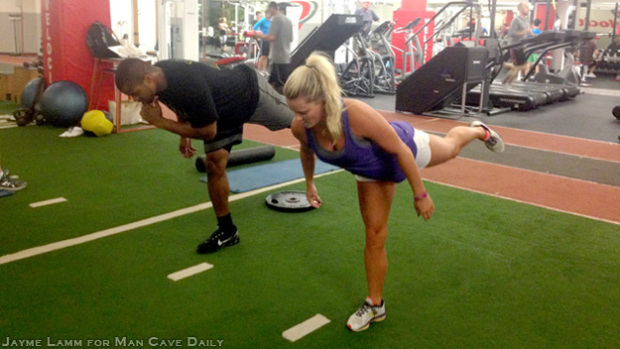 If you've ever met a professional athlete, at least a good one, you come to learn there is no such thing as an "off-season." No matter what your contract looks like or how healthy you are, you are never guaranteed that coveted spot on the roster you've spent your lifetime working for (unless of course your name is Kobe).
As an athlete you know that someone younger, stronger and with even more determination is right on your cleats and if you slip up for even a second, it could all be gone. That's why guys like Chris Carter, recently waived outside linebacker for the Indianapolis Colts, can't give those guys a chance to catch up – he doesn't let up. He can't let up. It's not in his DNA. In his fourth NFL season, and still considered a career back up, he has no room to let up – his job depends on it. Carter's "off-season" workout proves just how focused he is year-round.
If all it took to play in the NFL were dedication and heart, Carter would be a starter by anyone's standards. But as we already know, it takes more to play at this level. Much more. Which may be why he started the season with the Steelers, then was quickly signed by the Colts, and is now released on waivers. But has he given up? Nope. Has he slowed down? Nope again.
Diligently passing his time before heading back to Pittsburgh for training camp and most recently landing a spot on the active roster in Indy, Carter returns home. Home is Southern California, which is where he teamed up with Matthew Uohara (MS, CSCS), a Los Angeles-based strength and conditioning professional specializing in athlete off-season development. Uohara brings an unprecedented science to the ssport
, which is becoming more common and sought-out from today's athletes. As competition is more vigorous than ever, it goes beyond how fast you run a 40 or how many pounds you can bench, something Carter has quickly become familiar with.
If you've ever made it past any junior varsity sport, odds are you know how to work out, as defined by sweating with cardio and doing a suggested numberof reps through your gym's purposeful circuit. Uohara works with Carter on an individual level, like he does all his athletes. As cliché as "everyone's an individual" is, there is more truth to that when it comes to bodily abilities than perhaps all else.
"This is absolutely true. Every athlete will come in with specific goals and although you may have two players from the same sport that play the same position and look completely identical on paper; their expression of the stimuli that we give them (training) can be very different," Uohara explains. Carter is no exception.
On paper Chris Carter is a beast – he's big, strong, fast and dedicated – each a fundamental for having a successful NFL career. Yet to snag a professional sack on the field, Uohara sees Carter in a different light, noting specific areas for improvement.
"When we looked at the tape and evaluated his movement, we found that there were specific reasons why he was not able to express his speed and strength optimally on the field. This was a very different approach for him. Throughout the off-season we used a variety of physical, visual and auditory cues to continuously re-educate these new patterns. One is an exercise we call "the stealth walk." This exercise uses your body weight to aid in extreme dorsiflexion of the ankle. To the average viewer it may look like we are just walking very slowly and close to the ground. However, what we are truly doing is teaching his brain/body that this position is both safe and comfortable. When we can provide that environment of stability, the brain will give the body all the range of motion it needs. The coolest part is not only having the range but being strong there too," Uohara says.
Not missing a single practice with Uohara, the 2011 fifth round draft pick knows there is truth behind ProFootballTalk.com calling this a "now-or-never season" for him. Having played 29 games for the Steelers over the last three seasons, Carter got the chance to take his talents to Indianapolis where the competition is just as stiff, if not more so. Whether that competition was just too stiff or the current depth chart just didn't have a spot for Carter remains to be determined, but it's the motivation he needs to work even harder.
As for the benefits, Carter's seen a few early on. "What benefited me the most is the way we worked on my posture. In addition to that, my hips and hamstrings were always tight in the past. Now they never get tight and I feel very fluid," Carter says.
Understanding where your body is "supposed to be" (i.e. posture) helps the body control each and every deliberate movement, giving the athlete more power, explosiveness off the line and resistance to injury. The exact things the Colts hope to see in Carter right away.
Back in the day we heard stories of football players like Herschel Walker taking ballet to improve flexibility, agility and endurance, which has morphed over time into practices like Yoga, Pilates, and SPX. But true to form, Uohara and others in his field continue to be progressive and have joined the JOGA movement, receiving his stamp of approval. JOGA quickly became a constant in Carter's summertime workout rotation.
"Not a lot of people in my profession are huge fans of yoga and for the most part nor am I. In saying that, Jana Webb, a yoga instructor from Canada, has created JOGA–a yoga system with the athlete in mind. In my experience, [JOGA] accomplishes much of the same tasks in a regenerative manner. In essence, it is a form of yoga that can be used to both train and facilitate recovery," Uohara says, which is optimal for any athlete who performs at high levels.
Uohara takes one of the most commons poses in yoga, the Down Dog, and explains JOGA modifications. "The traditional Down Dog attempts to take the client's heels all the way through the floor. This is great if they have the structural pre-requisites to do this, however, if not, the athlete will attempt to get there anyway, taking the path of least resistance. Often times this is also the path of dysfunction. Keeping this in mind, JOGA has what they call a Crouching Down Dog–the heels are off the mat and knees are bent. This position still capitalizes on all the benefits you would see in a traditional Down Dog such as ankle dorsiflexion, hip hinge patterning, thoracic extension as well as length in the lats. In addition to this, it uniquely trains a modified squat pattern all the while decreasing the likelihood for injury," Uohara explains noting that is one of the main attributes to Carter feeling more "fluid."
The scientific art behind this form of strengthening and re-training gets guys like Carter ready to hit the field at newly re-defined speeds, which is what Carter needs as he's finding his place on the depth chart in Indy.
Consider Uohara's sessions camp before camp. But when Uohara sends these guys back to the field, he continues to keep a close eye and has been known to send a text or two while watching a game. He strives to give immediate feedback such as "I noticed some stumbling coming out of your backpedal, lets make sure to get some more of your quick foot work in prior to stepping on to the field." Although he still reaches out, Uohara notes that when the guys return to their teams they are in fully capable hands and he has faith that all that hard work over the summer will continue to pay off.
There's no telling where Carter's career will take him, but it'll be interesting to see where these new movements and retrainings might land him on the NFL's big stage, hopefully back onto the field and into the starting lineup.
This article originally ran in the sport's section of CBS Man Cave Daily here.
http://theblondeside.com/wp-content/uploads/2014/11/chris-carter.jpg
349
620
Jayme
http://theblondeside.com/wp-content/uploads/2018/06/1526998321020-300x192.png
Jayme
2014-11-19 09:31:09
2014-11-19 09:31:10
Chris Carter Reinvents Himself