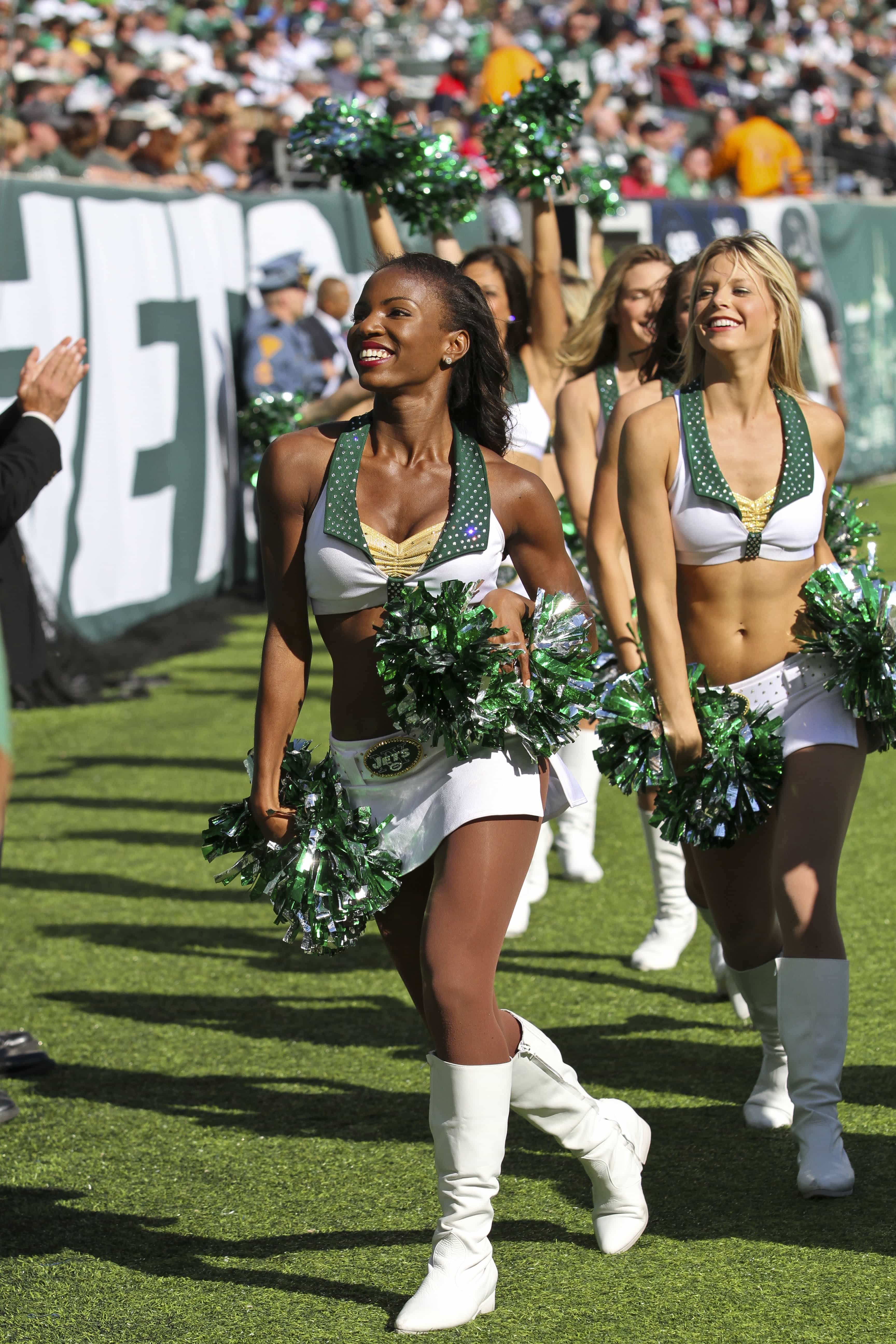 Jets Flight Crew Kristina L. Plays Hard, Works Harder, Cheers Hardest
You know that saying, "You have just as many hours in a day as Beyonce?" Well, I'm pretty sure Kristina has more than Beyonce because she manages to get more done (WITH A SMILE ON HER FACE) in a few hours than I can muster in a few days. An attorney by day, Kristina, who goes by "Steen" thanks to her college cheerleading coach, spends the rest of her hours dancing, practicing and loving football as a New York Jets Flight Crew Cheerleader.
The two-year Flight Crew veteran considers her style "structured," and one that fits many occasions. Much the same can be said for her lifestyle. She's structured, she's gorgeous and she's got moves I've tried to learn via YouTube, but failed miserably. She's kind of awesome.
Man Cave Daily: Where are you from?
Kristina: I'm a military brat, so I have such a hard time answering this question! I was born in Germany, and I've lived in Virginia, South Carolina, Washington State, Louisiana, Georgia, Maryland, Washington D.C., and now, New York. I went to high school in South Carolina, so I claim that as my "hometown." The southern drawl comes back as soon as I set foot below the Mason-Dixon Line.
MCD: What school did you go to?
K: I went to undergrad at Spelman College in Atlanta, Georgia, and am a member of Delta Sigma Theta Sorority, Inc., Eta Kappa Chapter. I am super connected to Spelman and to my sorority life. I also love supporting and encouraging high school students to attend historically black colleges ("HBCUs"). Both of my sisters also graduated from Spelman and are members of sororities. My parents both graduated from HBCUs, and my husband graduated from Howard University, an HBCU in D.C. For law school, I attended Georgetown Law.
MCD: Why do HBCUs mean so much to you? Did you learn unique things or is it just something you learned from your family?
K: I love this question! I think it has the most to do with the history behind how HBCUs came to exist. This was something my parents definitely taught me and my sisters growing up. The idea was that for so many years, young black people weren't permitted to attend predominantly white colleges and universities, so HBCUs were a place founded for them so that they could receive an education. I feel a real kinship to that kind of idea! In high school, I just loved the idea of knowing that I was going to a college I knew was founded for me. It made for a different kind of college experience that I'd heard my aunts, uncles, mom, dad and older sister all talk about.
MCD: Day job?
K: Attorney. I practiced corporate law (mergers & acquisitions) at a law firm in Connecticut for over three years. I now work at a non-profit organization in Manhattan, where I help private donors fund public school classrooms.
MCD: Since I write The Blonde Side, I'm curious on your thoughts on Legally Blonde?
K: That movie is so fun, and I think we can all learn a few things from Elle Woods (awesome style, included)! She was such an underdog when she entered law school, and she really proved people wrong. I can totally relate to that. It's a great lesson in not judging a book by its cover.
MCD: Years on team?
K: This is my second year on the team, and I feel so blessed to have made it on my first try. It was such a hard process, though! I attribute making the team to actually attending prep classes with Denise [the coach] and the Flight Crew before auditions. Those classes were a MUST.
MCD: Number one "trick" you learned in those classes?
K: Those classes redefine what it means to be in shape. I learned that just because you run fast and do a ton of push-ups doesn't mean anything if you can't hit a dance routine at your absolutely hardest for 60 seconds. In that class, I remember watching the two Flight Crew Cheerleaders perform a routine for the group of audition candidates, and they didn't even look tired.  Their makeup didn't move! As soon as we ran the routine once, I was breathless and my makeup was everywhere. It was priceless to hear the cheerleaders and Denise talk about nutrition, a solid exercise regimen (lots of dancing!) and makeup tips for performing on a field.
MCD: Are you in the calendar?
K: Yes  — I'm honored to be the month of March in this year's calendar.
MCD: Greatest memory so far?
K: My greatest memory happened at the end of last season. It was the last game of the 2013 season when my group shared a huge group hug as the clock ran down in the 4th quarter. It was one of those moments that you don't plan or choreograph. It just happens. I remember hearing the fans count down the last few seconds of the game — and the cheerleaders in my group suddenly rushed toward each other with tears of joy, sadness and accomplishment. I especially felt lucky to witness veterans from our inaugural team complete an awesome career on the Flight Crew. I can't imagine what my very last game will look like, but that feeling is one I won't ever forget. It's like years of hard work, sweat, tears and joy coming together for a grand finale.
MCD: For those who have never been to your stadium, describe the atmosphere:
K: Jets fans make MetLife Stadium, and I love that feeling of Jets loyalty every time I set foot on the turf. Sundays at the stadium are just raw, New York/New Jersey football. I also love that it's an outdoor stadium, so you get the elements — wind, cold, rain and shine. There's nothing better than looking up in the stadium when it's snowing and seeing shivering fans wearing face paint and rooting on the Jets.
MCD: If you had a Real Housewives intro, what would yours be?
K: I'd be wearing my best suit, a judge's robe, killer pumps, and slamming a gavel into my palm. I would say nothing (as my coach Denise would say, "I'd just make a statement without saying a word.") … And then, I'd probably crack up and need to do a few outtakes before actually nailing some sort of serious lawyer intro.
MCD: I like your style. Biggest misconception about Cheerleaders?
K: I'm not really concerned about any misconceptions that others have about cheerleaders, particularly in the NFL, because that would imply that we're all spending season after season aiming to prove people wrong. And that's not why we're here! Instead, I think that the act of cheerleading, itself, is pretty awesome and pretty important as a way of life: Cheerleaders are selflessly supporting others (the team), encouraging others (fans) to do the same, promoting health and physical fitness, and always remaining optimistic — all while upholding a positive self image. We do all of these things even when we aren't on the sidelines.
MCD: What charity is nearest and dearest to your heart?
K: DonorsChoose.org, where ordinary people can give money to public school classrooms. I'm all about putting kids on equal footing so that they have the materials they need to learn!
MCD: If you could only dance/perform to one artist for the entire season, who would it be?
K: Janet Jackson ("Rhythm Nation"). I'm obsessed.
MCD: Since you're so busy getting ready for the games, (sadly) you miss one of my favorite parts – tailgating! If you were asked to bring one thing, what would it be?
K: I spent a big part of my childhood in the south, so I would certainly be the one bringing the meat… and the grill! My dad taught me and my sisters how to grill at an early age, so I'd probably come to the tailgate with my grill in tow on the back of a truck filled with ribs soaked in an awesome marinade. I don't eat ribs, but I'm sure they'd taste great!
MCD: I know a huge part of being an NFL Cheerleader is visiting/spending time with the military (which I love!). If you could give a message to those who serve our country and fight for our freedom, what would you say?
K: I would give them the silent nod of thanks — just a salute to honor their major sacrifice. My dad is retired military, and he's the kind of patriotic army man that when the national anthem comes on, no one in the family is permitted to move, talk or disrupt. A lot of my family and friends growing up were military, so when we sit down at meals for the holidays, my mom and dad always pray for the soldiers and their families who are separated. Because that used to be us, there's never a dry eye at the table! I know that it's those prayers that bring home soldiers to their children and significant others.
MCD: Look in your purse/bag right now – what's the most random thing in there?
K: Multiple pairs of shoes. I like to know that my look could translate to any part of my day. I wouldn't want to be invited to a night out on the town — or dinner with the president — and be unprepared without the perfect attire.
MCD: Such an attorney mindset, I love it. Favorite book?
K: The Giver by Lois Lowry.  The main character, Jonas, is the person in his society who's responsible for keeping all of the memories and history of his community's past. I'm fascinated by the rich history in the stories of my own grandmothers, their mothers, and so forth, so I feel like I really understand Jonas' character in this book.
MCD: Cheerleaders are known for taking the perfect selfies – probably more so than Kim Kardashian – what's your secret to a perfect selfie?
K: Dare I say it… I've never taken a selfie! I'm not quite comfortable with the idea of posting a solo shot, and then anxiously awaiting the thumbs up from friends and strangers. It makes me nervous. However, I've heard that the perfect filter can put a nice touch on a selfie!
MCD: Hobbies or interests?
K: I love nerdy legal stuff. In my third year of law school, I took classes like critical race theory, feminist legal studies and economic justice. Now, I find myself spending lunch breaks catching up on the new scholarship in these areas! I also love home decor. I could spend an entire day just roaming home decor galleries in the city.
MCD: What's the team's character like?
K: This year's team is about business! Our veterans take seriously the role of being veterans and our rookies are so spunky and awesome. We send text and email reminders to each other about everything, and we take seriously our deadlines, commitments and practices. We're a relatively young team (our oldest veterans have been on the team 4 years), so many of us are still learning things. The great part is, even though we appreciate the business side of our jobs, it's really fun and exciting to treat everything like it's our first time experiencing it. It's cool to watch even fourth-year veterans get teary-eyed during the national anthem, showing the same excitement they had rookie year. That energy totally carries us!
MCD: Homebody or an adventurer?
K: I took a personality assessment once that said I was an adventurer. I think I'm bold when it comes to making life choices, but not necessarily adventurous in daily life. A date at home with my husband to watch House Hunters International sounds fun and adventurous enough to me!
MCD: What's the most adventurous thing you've done?
K: I quit my corporate job, and I became a professional cheerleader. It was the best decision of my life.
MCD: Tell me something about you people would find completely out of character?
K: In reality, my personality is kind of intense. I care a lot about cheerleading and sacrificed a lot to be here — so in practices and in games, I work super hard and always try to push my teammates to do the same. What I think often surprises people, though, is just how much of a jokester I can be. My teammates joke that I'm the perfect locker room prankster because no one is ever suspecting that it would come from me. I love it, and think it's great when we can share a quick joke after mastering a hard routine at practice — and still sweat and shout words of encouragement and motivation when times get tough. Just like in my life, where I play the role of a wife and a lawyer, I love playing all of these roles on the team. Work hard, play hard!
Before this Jet takes off, make sure your seat is in an upright position and you've seen her full flight of photos in her Bonus Gallery!
This article originally ran in the sports section of CBS Man Cave Daily. Click here to see the original article and even more photos!
http://theblondeside.com/wp-content/uploads/2014/12/IMG_6858.jpg
5184
3456
Jayme
http://theblondeside.com/wp-content/uploads/2018/06/1526998321020-300x192.png
Jayme
2014-11-20 00:48:15
2014-12-31 00:54:25
Jets Flight Crew Kristina