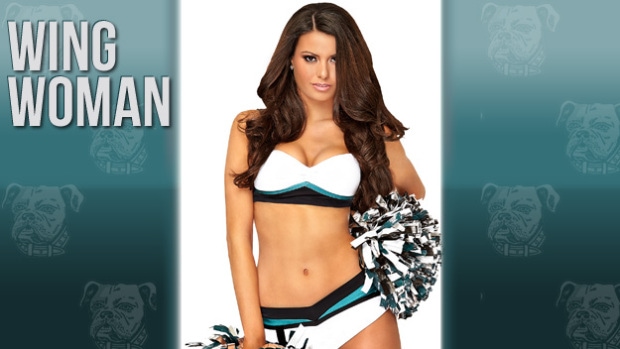 My love and loyalty for the Eagles is definitely a biased one. That is my team. Perhaps that's why I say The Linc is the best stadium in the NFL and why the Philadelphia Eagles Cheerleaders are my absolute faves.
You can only imagine my delight when I got to interview Mandi, who is in an elite club with guys like Peyton Manning and George H. W. Bush, and can school me in math, dance moves and maybe football knowledge. All that aside, she's one tough chick, she's a fan of blue wigs, Beyonce and comes from a long line of cheerleading ladies.
And yes, she was dancing (and smiling) on the sidelines during the infamous Snow Bowl and didn't once complain about it.
On to the interview, then you can watch our exclusive preview of her calendar shoot, and check out her gallery. Deal? 
Man Cave Daily: Where are you originally from?
Mandi: Bucks County, PA
MCD: What school did you go to? Tell me what things you were involved with during college?
M: I graduated summa cum laude from West Chester University with a B.S. in Elementary Education and a minor in Mathematics. I was a member of Alpha Sigma Tau National Sorority, as well as Omicron Delta Kappa, a national honors society, whose members range from Peyton Manning to George H. W. Bush.
MCD: Occupation?
M: I'm a kindergarten teacher in a school district in the suburbs of Philadelphia.MCD: Years on team?
M: This is my second season on the squad! During my last year of college, I decided to give my lifelong dream of being an Eagles Cheerleader a chance. Even though I didn't make the squad that year, I made it to the final auditions, and I left with a strong appreciation for how hard each woman works to get here–and stay here. I was ready to try again the following year, and this time, was more than grateful to be selected as a member of the Philadelphia Eagles Cheerleaders! Coming from a long line of cheerleaders and die-hard Eagles fans, I've been cheering and "bleeding green" ever since I could stand on my own feet and spell E-A-G-L-E-S, EAGLES!
I grew up learning the old cheerleading and pom routines of my mom and aunts, who cheered together in high school. To this day, my cousins and I could most likely perform the '70s version of high school cheerleading…if we wanted to! Coincidently enough, my aunts and mother went to the same high school that my sister and I attended. We have a funny picture somewhere of all of us in our high school cheerleading jackets "through-the-decades." Many of my family members went on to coach high school cheerleading, however, I am the first in my family to become a NFL cheerleader!
MCD: Are you in the calendar?
M: We are a very fortunate squad, in that we ALL get to be featured in the calendar! Each
cheerleader has such stunning photos–it's great that our fans get to see them all!
MCD: Greatest memory so far?
M: Some of my favorite memories including cheering at the "Snow Bowl" game last season, appearing at New York Fashion Week in our latest signature pieces designed by Vera Wang, volunteering for numerous charity and military appreciation events.
MCD: Favorite player?
M: David Akers. He was such a reliable kicker for our team, and always made time to volunteer within the community. On and off the field, he showed what it meant to be a role model for fans and athletes.
MCD: I've never heard anyone say a kicker, I like that. I am a BIG Akers fan. For those who have never been to your stadium, describe the atmosphere.
M: Seventy thousand seats at Lincoln Financial Field are filled during every Eagles game in a sea of green with passionate, spirited, loyal fans…including fans celebrating their 50+ years as season ticket holders! The atmosphere is absolutely electrifying. Fans begin to chant and cheer even before entering the gates and they keep up that same energy level until the very last play. Some fans donning only green body paint and feathered hats in 20-degree weather take "fandemonium" to a whole new level! It's awesome! There is a strong sense of pride and tradition that fills the hearts of everyone at Eagles games especially when the 100 yard American flag unfurls, the fighter-jets flyover during the national anthem, the Rocky theme song is played at kickoff, and military servicemen and women are honored during the game. Lincoln Financial Field ignites after every Eagles touchdown! It is an unforgettable day that as Eagles Cheerleaders we get to experience with the best fans in the NFL.
MCD: I've been there a hundred times and probably couldn't have described The Linc any better. You are absolutely right; our fans are like no other. Which Spice Girl would you be?
M: Sticking with my childhood alter-ego, I'd have to go with Posh Spice! I may or may not still have my "little Gucci dress" from a "Mini-Spice Girls" concert I performed in the fourth grade…
MCD: Who's your bestie on the squad?
M: Over the past two years, I've become very close with the other cheerleaders on the squad. Becoming friends, both on and off the field, I know that I can turn to any one of them! I have an extra special bond with the other six women who I made the squad with in 2013. Sharing that first year together as Eagles Cheerleaders is something irreplaceable that will always be with us!
MCD: What charity is nearest and dearest to your heart?
M: My grandfather was my role model. He taught me how to "fly" on my own and be a good person along the way. (He also raised me to be a true Eagles fan… pretty smart guy!) Unfortunately, he passed away from lymphoma, so every now and then when I am missing him more than usual I make a private donation to the Leukemia and Lymphoma Society in his honor.
MCD: If you could only dance/perform to one artist for the entire season, who would it be?
M: Beyoncé! She's the queen for a reason. I love her music and even her older songs still get me pumped to take the field!
MCD: Most random thing we'd find in your recent Google history?
M: "Blue wig for sale" …it was for my Halloween costume (it's my favorite holiday!)
MCD: Since you're so busy getting ready for the games, (sadly) you miss one of my favorite parts — tailgating! If you were asked to bring one thing, what would it be?
M: As Eagles cheerleaders, we do get to be a part of the tailgates and spend time with fans before kickoff. It's the best of both worlds. We visit the tailgates prior to kickoff with the Eagles Pep Band, Drumline, Alumni players, and our mascot SWOOP to get everyone pumped up for the game with the Eagles Fight Song! As far as what I will bring with me? There isn't much! Eagles fans are known for their fantastic tailgates–they bring everything you could imagine including incredible food, fire-pits, camping RVs painted green and white, and big screen televisions.
MCD: A huge part of being an NFL cheerleader is visiting/spending time with the military (which I love!). If you could give a message to those who serve our country and fight for our freedom, what would you say?
M: THANK YOU! As simple as it sounds, I can't thank the military enough for their sacrifices and bravery. They are truly heroes and deserve of appreciation and support.
MCD: Look in your purse/bag right now — what's the most random thing in there?
M: An obnoxiously large bag of trail mix… I admit it–I'm hooked. I've been creating my own mix recently–peanuts, almonds, pumpkin seeds, dark chocolate, peanut butter chunks, and a secret ingredient! My family calls it "Mandi Mix."
MCD: Favorite book/magazine/website?
M: Once Beneath the Stars by R.S. Lentin. It's based on a true story of an ex-football player, who becomes paralyzed from the neck down during a play. It makes you realize how your life can change in a split second.
MCD: Cheerleaders are known for taking the perfect selfies — probably more so than Kim Kardashian — what's your secret to a perfect selfie?
M: My friends always ask me to take the selfie because of my long arms. I guess the right distance is the secret to capturing your good side!
MCD: Any time for hobbies or interests?
M: Yes — photography! I used to volunteer my time staging and photographing portrait shoots. Some of my photography is still featured today, in company publications and brochures local to Philadelphia. During my free time, I still love to dust off my SLR and take pictures!
MCD: What's the team's character like?
M: With many different interests and careers, our squad is very dynamic! As a very supportive and encouraging group of women, we truly appreciate one another for what each person brings to the table. Learning from each other and working hard together, we are a very motivated group!
MCD: Homebody or an adventurer?
M: I like to think of myself as a homebody, but when I look at the things I've experienced in my life, I guess I'm more of an adventurer than I realized!
MCD: So, what's the most adventurous thing you've done?
M: A few years ago, I packed my bags and moved to Barcelona with two of my friends. It was definitely an adventure considering none of us had ever been outside of the US before! We experienced Spain's beautiful costal lands, rich culture, and welcoming people. I can't wait to go back!
MCD: Tell me something about you people would find completely interesting?
M: I've flown an airplane before. My grandfather was a pilot and used to take me up in his private plane when I was younger. As soon as we were in the sky, he would let go of the controls and teach me how to fly it!
Eagles spirit, personal success, planes: Mandi flies 'em all. Now see her bonus gallery for more reasons why we think she's keen (and her full suite of pictures)! It's time to enjoy her calendar shoot with a fuller appreciation of why she's so great. 
This article on Mandi originally ran in the sport's section of CBS Man Cave Daily. Click here to see the original one and a big thanks to ShockTop for creating this NFL Cheerleader series!
http://theblondeside.com/wp-content/uploads/2014/11/eagles-mandi.jpg
349
620
Jayme
http://theblondeside.com/wp-content/uploads/2018/06/1526998321020-300x192.png
Jayme
2014-11-24 11:37:02
2015-01-15 11:48:17
F-L-Y Mandi F-L-Y