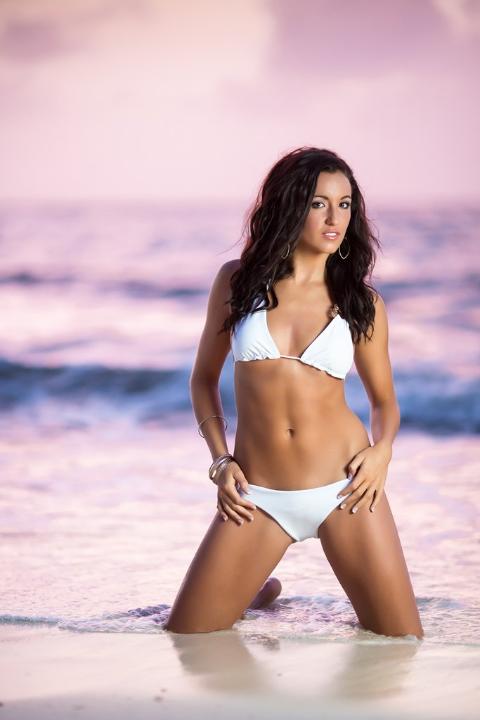 Meet Mi(chelle) in St. Louis
She's not afraid to dance in front of 60,000 screaming fans, she's not afraid of becoming online besties with The Blonde Side, and she's not afraid of wetting her pants in her soccer photo and giving up on the sport completely. Or at least admitting it to everyone on the World Wide Web.
Her mother once said she cried when Michelle "quit sports," but with dance moves like these, Michelle is most definitely still an athlete.
Work brought her to St. Louis and cheering kept her there – for five years. A five-year veteran as a St. Louis Rams cheerleader, Michelle has pretty much seen and done it all, including being a captain for two seasons, going to the 2013 Pro Bowl, touring Japan, and not to mention dancing pregame with the popular band Train. And there's more. A lot more.
Oh, and Katy Perry–if you're listening–Michelle has a message just for you that includes her phone number.
Man Cave Daily: Where are you originally from?
M: Columbus, OH
MCD: What school did you go to?
M: I attended the University of Cincinnati where I was a member of the UC Dance Team, and was also in Pi Beta Phi. I ended up transferring to the University of Missouri after I moved to St. Louis for an internship. While interning I tried out for the Rams cheerleading team, made the squad, and decided to stay in the city and transferred schools. I graduated in 2012 with a Bachelor of Science in Business Administration and Marketing.
MCD: Occupation?
M: I am a marketing coordinator for AEG Live, where we produce several concerts, tours, and music festivals worldwide.
MCD: Years on team? Did you try out multiple times before making it?
M: I (fortunately) made it my first try, and am currently in my fifth season with the St. Louis Rams.
MCD: Are you in the calendar?
M: Our squad is very lucky and every single girl is featured in the calendar each year. For this season's calendar I am Miss July 2015!
MCD: Greatest memory?
M: During my third season I was chosen to represent the St. Louis Rams at the 2013 Pro Bowl, followed by a goodwill tour across Japan to visit the troops with Pro Tour Productions. I honestly cannot even put into words what an amazing impact those two weeks had on my life. I still keep in contact with many of the girls, and am so grateful for those friendships. Pro Bowl week was filled with many unbelievable experiences. We got to visit some amazing kids at local hospitals around Honolulu, met fans from all over the world, got to perform the pregame with Train, performed during the game with DJ Steve Aoki, and were surrounded by some of the best NFL players of all time. Two years later, I am still in shock that I was chosen to represent my team, and am eternally indebted to the Rams organization for giving me that opportunity.
MCD: Favorite player?
M: Right now our locker room is full of players who embody the St. Louis Rams community spirit and do so while letting their fun personalities shine through. Although I couldn't say I have a favorite, Johnny Hekker really stands out as someone to emulate. He was a walk on at Oregon State and then an undrafted free agent in the NFL. Last year he earned his spot at the 2014 Pro Bowl, and is now known as one of the best punters in the league. If that's not hard work and determination, I'm not sure what is. Also, this year he was selected as the St. Louis Rams Walter Peyton Man of the Year for his community work. I believe he is a true inspiration to all the young football players looking up to him.
MCD: If you had a Real Housewives intro, what would yours be? OR which Spice Girl would you be?
M: I have to be the only girl my age on this planet that has never seen a single Real Housewivesshow. So, I'm not sure what my intro would be, but it would obviously be something spectacular. As for a Spice Girl, I would be Sporty Spice all the way! I've always been addicted to working out, and I remember growing up I dressed up as Sporty Spice a few times for Halloween. This included using red food dye to color my bangs red, just like hers!
MCD: Who's your bestie on the squad?
M: My best friend on the squad is the girl who has been with me since day one. Kayla and I both tried out and made it in 2010, and have been each other's "person" on the squad ever since. We have traveled the world together, been through the ups and downs of cheerleading and life, and will be in each others weddings one day. I am so appreciative to the Rams for all of the friendships I have made with my teammates, because I know we will be friends for the rest of our lives, and those types of relationships are hard to come across.
MCD: Biggest misconception about cheerleaders?
M: Many people are shocked to learn that all NFL cheerleaders are required to have a full-time job, or be a full-time student. Each team is filled with doctors, lawyers, military
members, nurses, moms, students, business owners, and so much more. I am so proud of my teammates and all of their accomplishments, and I want the world to see that.
MCD: What charity is nearest and dearest to your heart and why?
M: Not so much a "charity," but all of the work we do with the military has really impacted my life. I have had several family members in the military, including my brother who is currently stationed in Italy with the U.S. Air Force. Getting to visit the troops all over the world, and see all the behind-the-scenes work has been really eye opening. Everyone knows these men and women bust their butts for our freedom, but you really cannot comprehend that until you see it first-hand. I am forever thankful for the military, and they truly deserve all the praise they get, and merit more.
MCD: If you could only dance/perform to one artist for the entire season, who would it be?
M: Katy Perry, 100%. I am so excited to see her perform at the Super Bowl this year, and am already extremely jealous of all the girls that will get to dance with her. I have a dream of being one of her backup dancers one day. KATY IF YOU'RE HIRING, GIVE ME A CALL!
MCD: What's the most embarrassing/random thing we'd find in your recent Google history?
M: I am known as the "Google Queen" to my friends. My biggest pet peeve is not knowing something, so I'm Googling probably 25+ a day. Embarrassing. My recent searches include: how to bring a plant back to life, Jamba Juice menu calories, Garth Brooks's hometown (went to his concert last night, UNREAL), Title Boxing class schedule, frosted or iced animal cookies (don't ask), and best things to do in Paris.
MCD: Since you're so busy getting ready for the games, (sadly) you miss one of my favorite parts – tailgating! If you were asked to bring one thing, what would it be?
M: I made apple pie salsa with cinnamon pita chips for Thanksgiving this year, and I think it would be the perfect tailgating dish. It was so simple to make, and so incredibly delicious.
MCD: I know a huge part of being an NFL cheerleader is visiting/spending time with the military–if you could give a message to those who serve our country and fight for our freedom, what would you say?
M: The military is near and dear to my heart. I pray for them every day, and hope that they will make it home safely to their families and friends. These men and women put their lives on the line every single day for us, for our freedom, and for our country. There is honestly nothing we can do to repay them for that, except show our gratitude and give thanks every single day.
MCD: Look in your purse/bag right now – what's the most random thing in there?
M: A measuring cup… All my shakers were dirty this morning, and I am very adamant about having the right protein to water ratio (yes, I am extremely OCD).
MCD: Favorite book/magazine/website?
M: Favorite Book: Anything by Jodi Picoult. I own every single one of her books, and each new one that comes out is somehow always better than the last. Favorite Magazine: Women's Health Magazine. I am addicted to the gym and working out, so this magazine just speaks my language. I love all the new workout tips and recipes featured in each issue. Favorite Website: I am addicted to Google. Ask me anything, bet I know the answer (or I will Google it and find out for you).
MCD: Cheerleaders are known for taking the perfect selfies – probably more so than Kim Kardashian – what's your secret to a perfect selfie?
M: I have never posted a selfie, true story. I refuse. No one wants to see my face that much, or that up close. As for other pictures, my secret is the app called Facetune. LIFE. CHANGER.
MCD: Twerking: Fun while it lasted or wish it never started?
M: A little twerking never hurt anyone.
MCD: Time for hobbies or interests?
M: Between my job, cheerleading, working out, taking care of my puppy, and finding time for friends and family, it doesn't leave much room for anything else. In my very limited free time I enjoy traveling the world, visiting my family, working out, and cooking. I picked my current apartment based on the kitchen space. I needed to make sure I had enough room to try lots of new recipes.
MCD: What's the team's character like?
M: Our team is one of the most versatile groups I have ever been a part of. We have 18-year-olds and 34-year-olds. Girls just starting college and girls with doctorates. I think this versatility makes us work and gives our team character. We all have so much to learn from one another, and I think that is what brings us together. Every single girl has something different to offer, and it is truthfully a remarkable gift to be a part of this group.
MCD: Homebody or an adventurer?
M: I am an adventurer, through and through. I love exploring, traveling, and being spontaneous. I am on a mission to fill up my passport in the next few years. Don't get me wrong though, I also love a night at home with some red wine and my favorite buddy, Netflix.
MCD: So what's the most adventurous thing you've done?
M: I moved to St. Louis. It might not sound that adventurous, but I moved here at the age of 20 for a three-month-long internship. I didn't know a single soul in the city, and was honestly ready to move back to Ohio the first chance I got. After trying out and making Rams, I decided to stay here and it was one of the best, and scariest decisions I have ever made. I have now been here for 4.5 years and wouldn't trade it for the world.
MCD: Tell me something about you people would find completely interesting?
M: I haven't eaten red meat in about twenty years, literally. Didn't like steak the first time I tried it, and never gave it a second chance. I honestly wouldn't even know how to order a steak or burger if my life depended on it. There are perks to this though; I'm a cheap date.
Just one more reason to love Michelle. Check out the full catalog of them in her bonus gallery. 
Find Michelle on social media: Facebook, Twitter @MLove_1, and Instagram @MLove_1. 
Follow the Rams Cheerleaders: Twitter @STLRamsCheer and Instagram @STLRamsCheer and their official site.
This article originally ran on CBS Man Cave Daily in the sport's section. Click here to see the full article and even more photos. Thanks to ShockTop for allowing us to share with the world how shockingly awesome these ladies of the NFL are.
http://theblondeside.com/wp-content/uploads/2015/01/tempMichelleCalendar-nfl_mezz_1280_1024.jpg
720
480
Jayme
http://theblondeside.com/wp-content/uploads/2018/06/1526998321020-300x192.png
Jayme
2015-01-09 14:44:47
2015-01-15 10:30:02
Rams Cheer: Michelle