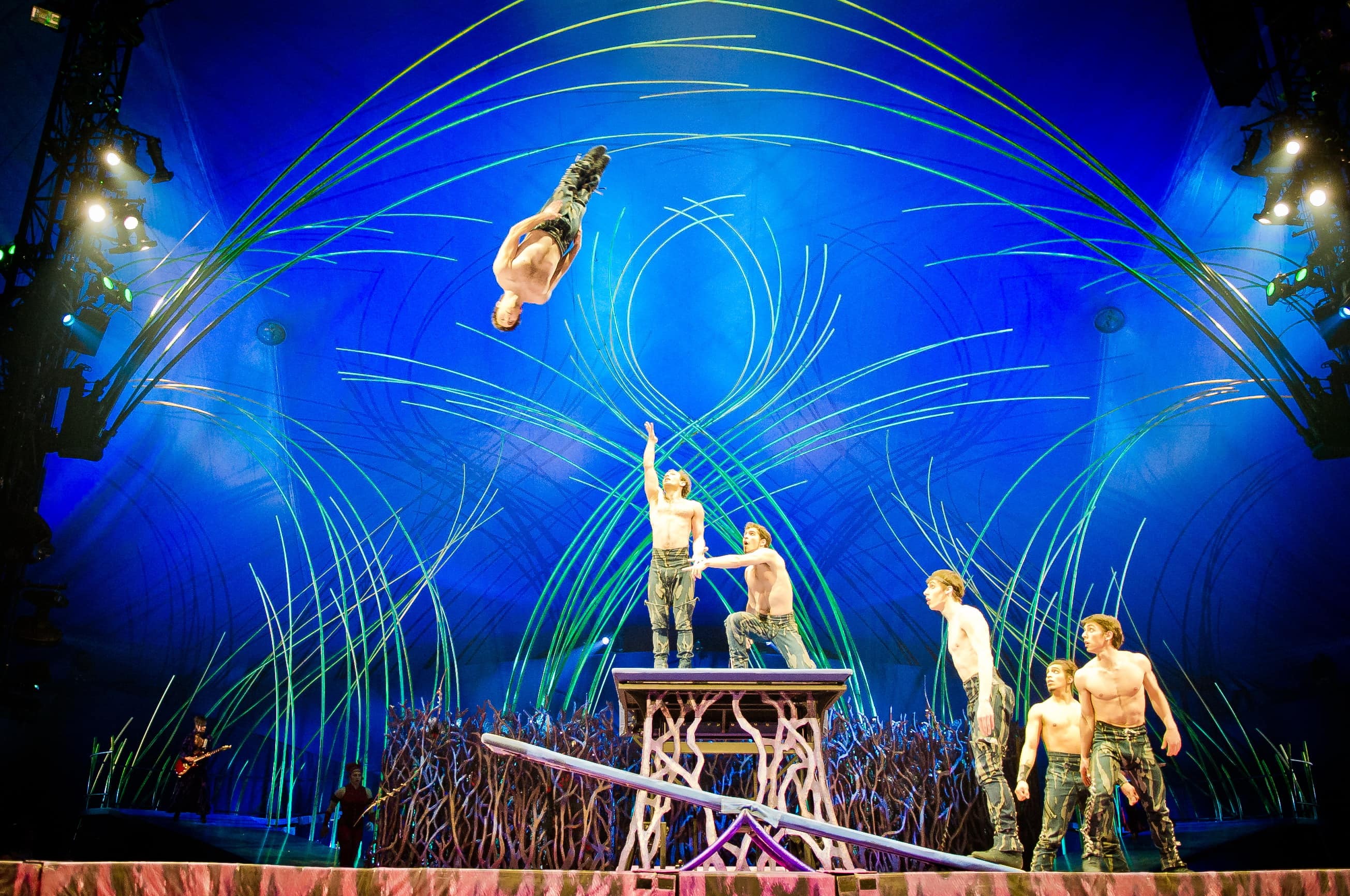 In 2014 Cirque du Soleil presented 19 different shows across the world – this month (and next month) Houston is lucky enough to host and showcase the touring show of Amaluna.
Last week I had a fun girls night in Houston, which started with appetizers and martinis at Eddie V's in West Ave followed by Cirque du Soleil Amaluna, which is written and directed by Diane Paulus.
I consider myself a very strong woman, until I step foot into another Cirque show and realize the strength and talent of all of the cast.
The show is based on a mysterious island governed by Goddesses (yay!) and guided by the cycles of the moon. Amaluna is a fusion of "ama," which refers to "mother" in various languages and "luna," which means "moon," evoking the semblance and complexity of the mother-daughter relationship.
And the femininity theme is fitting – for the first time at Cirque du Soleil, the cast of a show is 70% female and the band, 100%. #GirlPower anyone?
"Amaluna is a tribute to the work and voice of women," explains Director of Creation Fernand Rainville. "The show is a reflection on balance from a woman's perspective," he adds. Show Director Diane Paulus says: "I didn't want to build a 'women's agenda' show. I wanted to create a show with women at the center of it, something that had a hidden story that featured women as the heroines."
Some of the acts you'll see at Amaluna are Aerial Straps, Cerceau and Waterbowl, Chinese Pole, Juggling, Balance Goddess, Peacock Dance, Storm, Teterboard (my favorite!) and Uneven Bars. My favorite character by far was the Nurse (she's a clown, and a riot!).
The mobile village, located in the parking lot of Sam Houston Race Park takes 8 days to set up and 3 days to deconstruct, including the climate controlled Big Top where the show takes place (yes, there are snacks and drinks!).
A total of 65 trucks transport almost 2,000 tons of Amaluna equipment as the show only sticks in one location for about a month (so if you're in Houston, hurry and get your tickets!).
Whether you're looking for a fun girl's night in Houston or a unique date night, this is your spot (or a bromance night is cool too).
The Blonde Side is also running a ticket giveaway on FB and Twitter this week – you can also enter to win two tickets simply by leaving a comment (with a valid email address) on this blog post. The giveaway tickets are for the show on Thursday, February 26th at 8pm in Houston.
Thanks and have fun!
http://theblondeside.com/wp-content/uploads/2015/02/Teetorboard-CWP_173.jpg
1732
2609
Jayme
http://theblondeside.com/wp-content/uploads/2018/06/1526998321020-300x192.png
Jayme
2015-02-19 17:12:27
2015-02-19 17:15:17
Cirque Du Soleil: Amaluna