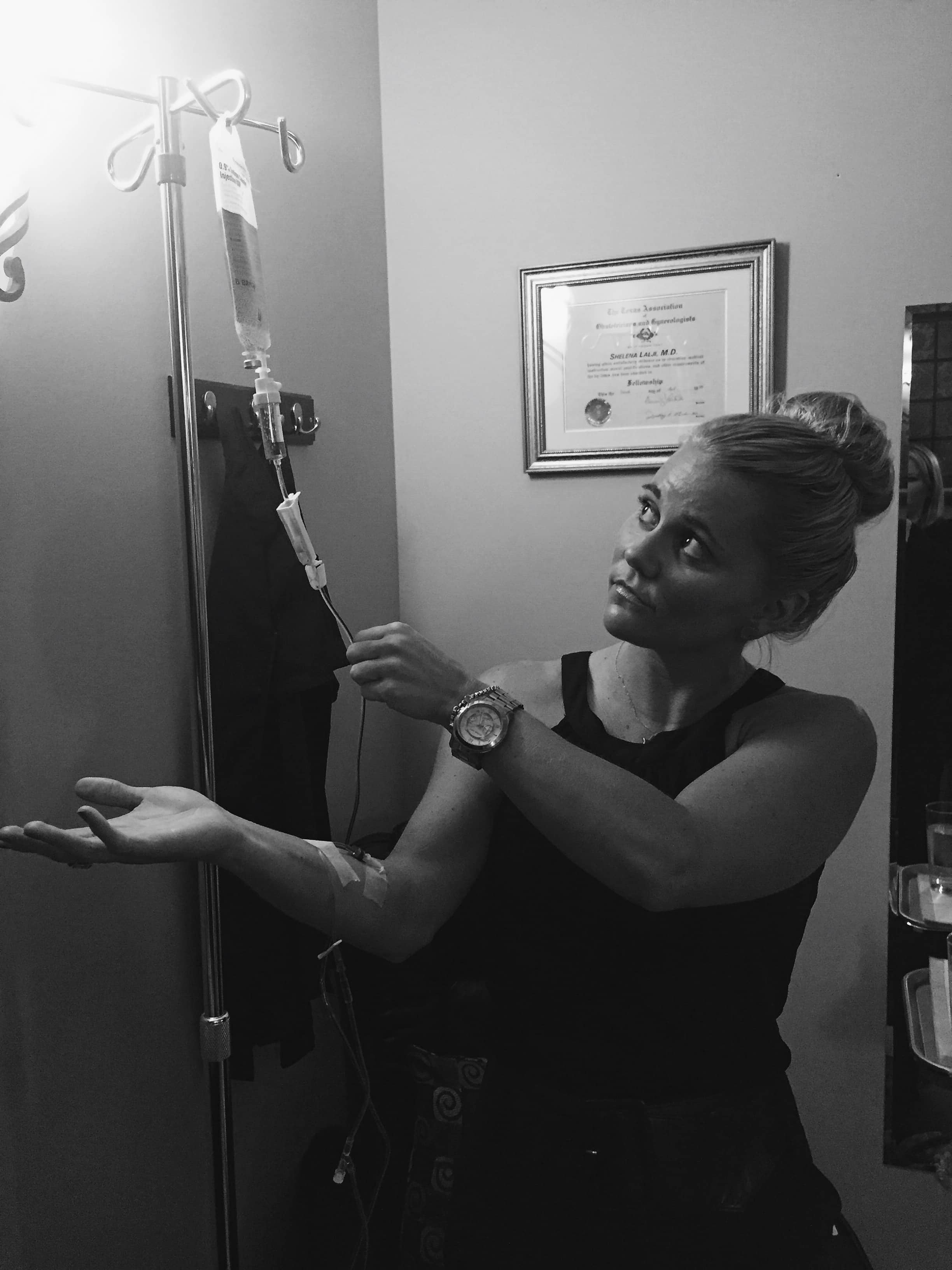 I recently visited Dr. Shel Wellness and Medical Spa located in Houston (Sugar Land), off Highway 6 and learned quite a few things about what we can and should be doing as women.
If you're fatigued, get irritated easily, have dry skin or a number of other issues, that stuff can easily be fixed.
Dr. Shel emphasizes a balanced life for her patients and takes a holistic approach. Before you think she's "one of those doctors" you often hear about, you're wrong. She is actually a board-certified OB/GYN, who started her own clinic after realizing many women were suffering from ailments (i.e. hormone levels) that could easily be treated. WITHOUT MEDICINE.
I took a tour of her facility (A+), met most of her staff (A++) and got two treatments.
The first was a Myers IV (pictured above), which allows our body to receive 100% of the nutrients by bypassing our digestive system. I noticed an immediate increase in activity, my allergies seemed to not bother me as much, and just overall had a bounce in my step. The main reason I chose this treatment is because of the increased fatigue I've been experiencing, and it really did help. (Click the link above to learn more about the Myers IV.)
The second treatment I opted for was the IPL Photofacial and Laser Genesis Skin Rejuvenation. I won't lie to you – I told them to take the word facial out of the description, because that conjures up relaxing sensations for me. Wrong.
These are noninvasive lasers that safely and effectively treat sun damage, fine lines, wrinkles, large pores, uneven skin texture, and more. There really is no prep or after work for you, except to stay out of the sun for a few days. I noticed after about three days that my freckles were much much lighter and my skin just felt an overall refreshness, just in time for summer. (Click the link above to learn more about the photofacial.)
Dr. Shel Wellness and Medical Spa doesn't take insurance, but many of the treatments can independently be sent in to your insurance and reimbursed that way. They also work with patient on packages and discounts, so be sure to give them a call and see what services or tests you may benefit from.
1437 Highway 6, Suite 100 | Sugar Land, TX 77478
281.313.7435 | info@drshel.com | www.drshel.com
http://theblondeside.com/wp-content/uploads/2015/06/IMG_4783.jpg
3264
2448
Jayme
http://theblondeside.com/wp-content/uploads/2018/06/1526998321020-300x192.png
Jayme
2015-06-01 12:45:17
2015-06-27 12:58:37
Dr. Shel - Wellness and Medical Spa