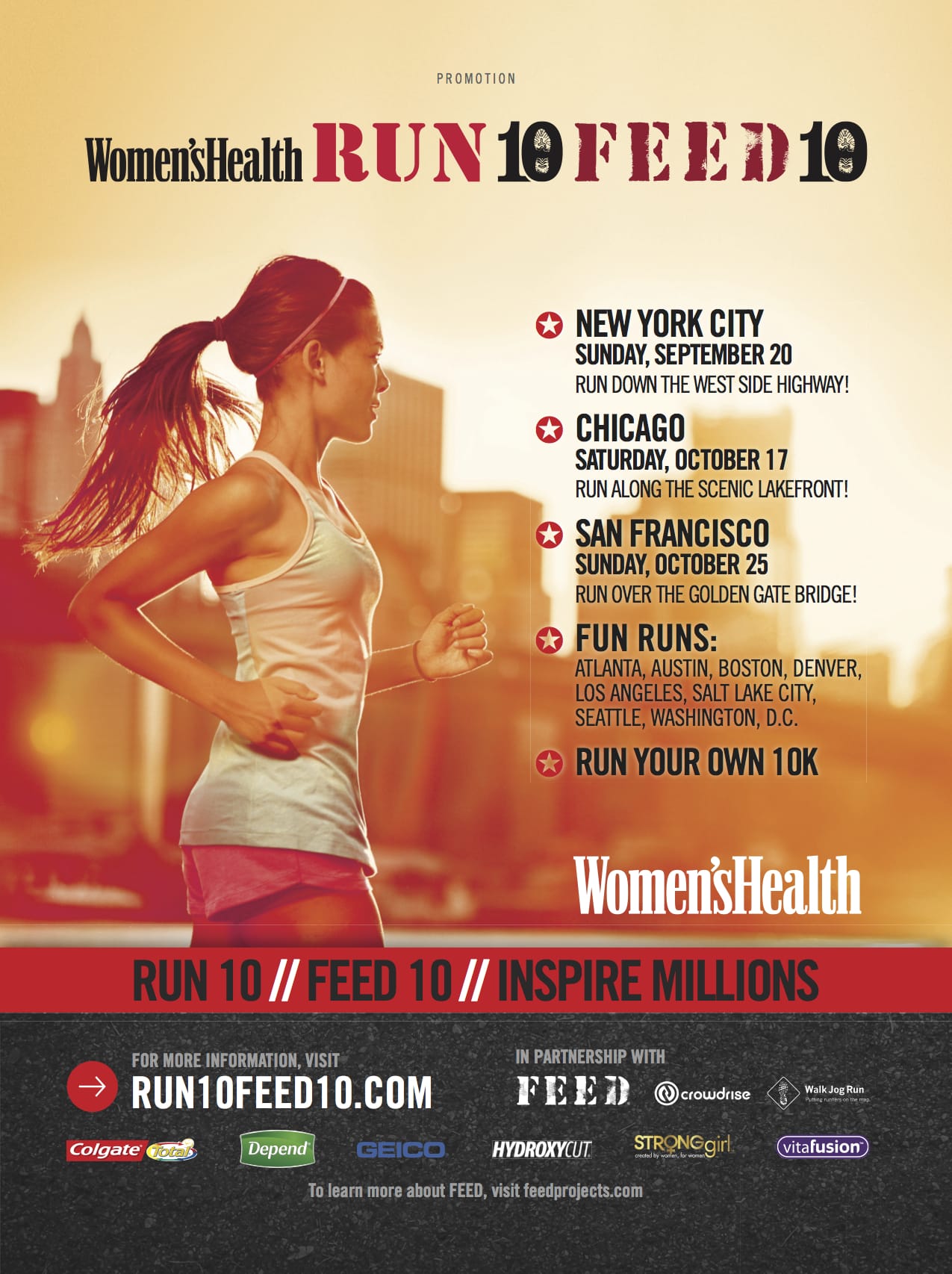 I am so excited to announce that for the FOURTH straight year, I've been selected as a Women's Health Action Hero.
The race series (10k), is a lot of fun and not competitive, so if you're a casual walker or a novice runner, don't sweat it!
The race series is really cool – aside from getting cool swag (like a limited edition FEED bag), each and every signup will provide TEN meals to hungry kids right here in our own neighborhoods.
– You'll get our 2015 limited-edition FEED bag! (the one all the celebs carry around!)
– A special FEED bracelet as a finisher prize!
– 10 issues of Women's Health mag for free (you can decline this option and get a $10 refund on your sign-up if you wish)
Atlanta Fun Run October 3, 2015, Team: The Blonde Side
Since there isn't a race in Houston this year, I have created a team (team name: The Blonde Side) for the Atlanta Fun Run on Saturday, October 3rd since we'll be there for our Texans Road Trip.
Sign up for the race here, and "join an existing team" and type in The Blonde Side. At the very end of checkout, use promo code: WHLAMM for $5 off. (Yes, we'll all go brunch afterwards!).
I am really trying to get a fun team for The Blonde Side's Atlanta race, but there are other races and my discount code (WHLAMM) still works, so please spread the word (see bottom of the post).
There is also a GREAT fundraising component to this event – if you want to donate something (even as little as $10) to the cause, you can go to my page and make it quick and easy.
This is a huge event for so many people, including me. I would very much appreciate each of your support on this event
Here are the other cities to sign up (be sure to use WHLAMM at checkout for $5 off):
Main Races:
New York City: 9/20
Chicago: 10/17
San Francisco: 10/25
Fun Runs:
Detroit: 9/19
Denver: 9/26
Boston: 9/26
Atlanta: 10/3
Seattle: 10/4
Washington DC: 10/10
Salt Lake: 10/10
Los Angeles: 10/11
Austin: 10/17
And if you don't live in one of these cities, run your very own 10k and still help out millions in need.
If you don't already follow The Blonde Side on FB, please do me a favor and LIKE it.
Happy training y'all!
http://theblondeside.com/wp-content/uploads/2015/07/R10F10.jpg
1706
1275
Jayme
http://theblondeside.com/wp-content/uploads/2018/06/1526998321020-300x192.png
Jayme
2015-07-07 10:44:14
2015-08-05 14:01:28
Run10Feed10 Race Series