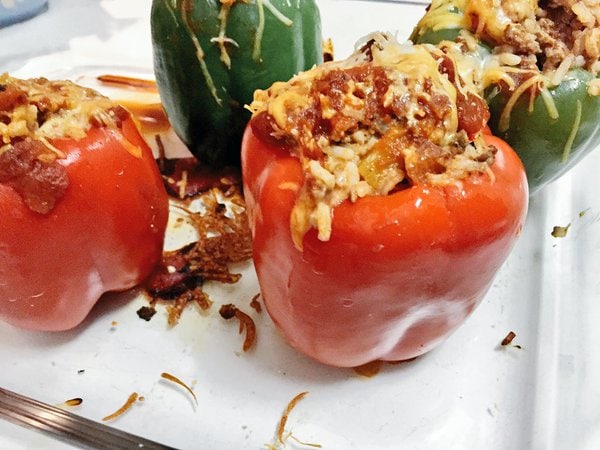 It's no secret, I'm no expert in the kitchen and it's also no secret that learning to cook (at least on some level above mac 'n cheese) is on the top of my list of things to bet better at.
Last night I tried a Stuffed Peppers recipe I found at Eating Well, and made a few modifications.
For starters, yes, I chose red and green peppers for Christmas colors, since it's that time of the year!
I used ground beef (98% lean) instead of turkey, because I eat turkey a lot.
I also added chopped and sautéed yellow peppers, chili tomatoes (to give it a little kick), and shredded cheese and used a smidgen of truffle oil while sautéing the onions. So basically, I took a fairly healthy recipe and undid all of that, but I have to admit – even I was pretty impressed with the outcome.
Next time, I will add something with more kick – maybe some hot sauce into the mixture before baking them. Somehow, I also ended up with twice as much "stuffing" to put in the peppers, even after filling all four, so I am running to the store to get more peppers for tonight. It's kind of considered leftovers, kind of a brand-new meal, right?
Also, to show just how much of a novice in the kitchen I am – this was my first time actually cooking rice. I always thought the "boil in a big" was how you made rice, so that was new. I also had never chopped an onion until last night. My tip – DON'T WEAR MASCARA WHEN CHOPPING ONIONS. It burns even more.
I'd love to hear your favorite recipes or websites or kitchen hacks – comment below and lets learn to cook together! 
http://theblondeside.com/wp-content/uploads/2015/12/CW4DYWgUAAEG_Xq.jpg
450
600
Jayme
http://theblondeside.com/wp-content/uploads/2018/06/1526998321020-300x192.png
Jayme
2015-12-23 13:24:15
2015-12-23 13:24:15
Stuffed Peppers: What's For Dinner