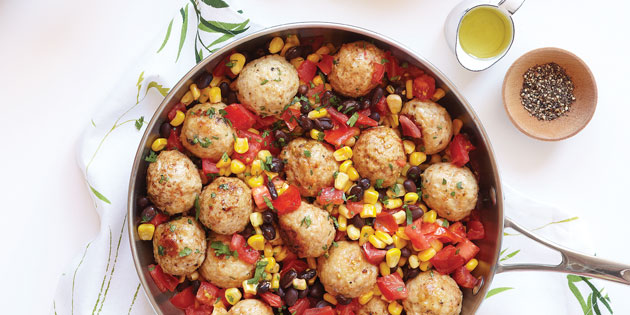 Relax. This is an easy one. Have I ever lied to you before, especially when it comes to acts in the kitchen?
I got this delicious Southwest Turkey Meatballs with Warm Corn and Black Bean Salsa recipe from Oxygen and it's one of my favorites now.
The whole thing took 20 minutes to make and I could easily pronounce each of the ingredients, not to mention, knew where to find them in the grocery store. I didn't use cumin (I have never tasted this, and don't feel the need to) and I can't stand cilantro – everything other than that was super easy and the recipe was simple to follow.
I will say it felt touch-and-go briefly because I didn't use a large enough skillet and I probably didn't drain the tomatoes and beans well, like they specified, but it turned out tasty and it is pretty healthy!
Here is the recipe straight from Oxygen Mag's website:
Hands-on time: 15 minutes | Total time: 20 minutes
To optimize the meatballs' flavor, create a caramelized crust by first searing them in the skillet until golden brown on all sides.
Ingredients
1 lb. extra-lean ground turkey breast
2 large egg whites
¼ cup whole-wheat bread crumbs
¼ tsp. sea salt
¼ tsp. fresh ground black pepper
2 tsp. olive oil
1 cup frozen corn
1 15-oz. can low-sodium black beans, drained and rinsed well
2 cups diced vine-ripened tomatoes
½ cup low-sodium chicken broth
1 Tbsp. fresh lime juice
1 tsp. ground cumin
¼ cup chopped fresh cilantro
Directions
1. In a large bowl, combine turkey, egg whites, bread crumbs, salt and pepper and mix well.
2. Shape into 16 meatballs, each about the size of a golf ball.
3. In a large skillet, heat oil over medium-high heat. Add meatballs and sear 3–5 minutes, turning frequently, until browned on all sides.
4. Add corn, beans, tomatoes, broth, lime juice and cumin and mix well. Reduce heat to medium, partially cover and cook 3–5 minutes until meatballs are cooked through.
5. Stir in cilantro and serve.
Nutrients per serving (4 meatballs and 1 cup bean-corn mixture): Calories: 320, Total Fat: 4.5 g, Saturated Fat: 0 g, Cholesterol: 55 mg, Sodium: 340 mg, Total Carbohydrates: 32 g, Dietary Fiber: 7 g, Sugars: 5 g, Protein: 37 g
Here is a link to some of their other "healthy recipes" on the site.
http://theblondeside.com/wp-content/uploads/2016/02/southwest-turkey-meatballs.jpg
315
630
Jayme
http://theblondeside.com/wp-content/uploads/2018/06/1526998321020-300x192.png
Jayme
2016-02-26 08:49:14
2016-02-23 13:56:14
Dinner: Southwest Turkey Meatballs with Warm Corn + Black Bean Salsa