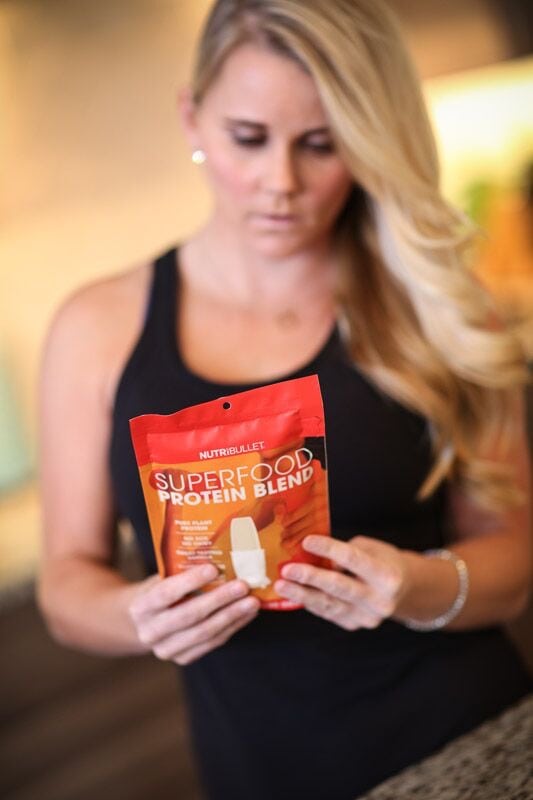 Mark this the first time I've ever been photographed and looked like a housewife. Perhaps it's because I am starting to live a more mature and responsible lifestyle (most of the time anyways), especially when it comes to health and wellness.
The year 2016 marked a "must learn to cook" effort for me and overall desire to lead a healthier lifestyle – simply being more aware of what I'm eating, ways to cut down on calories or just staying healthy. With all that, I've become obsessed with my NutriBullet, and for many good reasons.
For starters, just like you, I lead a busy life. I don't always have time to sit down with a fork and chomp on a fresh green salad – most of the time I don't have time to even sit down at all. So the convenience of the NutriBullet and being able to whip up a delicious smoothie has been crucial to keeping me fueled and staying on track.
Secondly, I'm not trying to be negative or pessimistic, but I don't think I'll ever be much of a genius in the kitchen. There's something exciting about throwing a bunch of random ingredients into my NutriBullet and seeing what I end up with. I won't lie – it's not always successful – something about an orange juice + peanut butter combination that did not please my palette.
Whether or not you actually own a NutriBullet, I'm just as obsessed with NutriLiving – the affiliated
website filled with recipes, tips on health and wellness and other goodness. It's such a huge and well-laid out resource (and free!).
For instance, the other day I noticed I had a huge bag of chia seeds leftover – from what, I have no idea. But aside from actually purchasing them, I didn't know why chia seeds were so good for you or recipes I could add them to so they didn't go to waste, so I simply typed in "chia seeds" in the search bar and came back with a ton of useful information and amazing recipes. The site is even so detailed, there is an easy to find tab titled "Infographics," which had four unique infographics on chia seeds.
Needless to say, I probably know more about chia seeds than anyone you know (like the tip of soaking them in water to create a gel that can replace eggs in some recipes).
Probably my favorite food/flavor combo ever in life has been banana + peanut butter, so I'm always playing around with new recipes including both of those.
What about you? What are your favorite flavor combos or smoothie recipes?
Photo courtesy Sunshine Winters
http://theblondeside.com/wp-content/uploads/2016/02/IMG_5275-1.jpg
800
533
Jayme
http://theblondeside.com/wp-content/uploads/2018/06/1526998321020-300x192.png
Jayme
2016-02-29 07:39:42
2016-02-23 13:46:11
NutriBullet // Kitchen Obsession