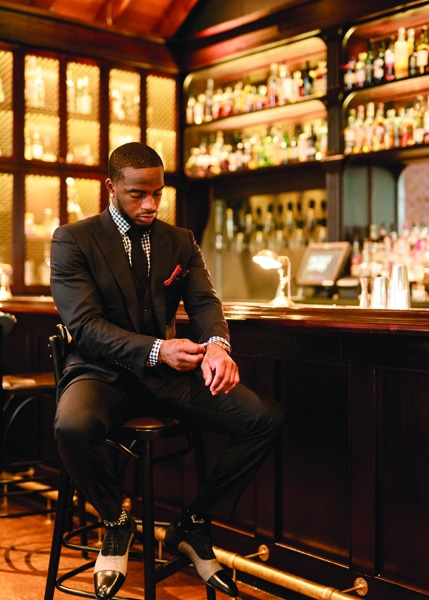 Kareem Jackson: Football, Fashion, and Now Family Man
If you live in Houston, odds are you're familiar with KAREEM JACKSON. Jackson is heading into his seventh season as a cornerback for the Houston Texans and he's not shy when it comes to his passion on the field or showcasing his impeccable sense of fashion. But recently, the Georgia native has added a new title to his world: father.
Jackson says there are a lot of "cool moments" that come with being a new dad. The coolest he says is the rush to get home to spend time with his daughter. "It's just amazing that every morning there's this little girl there and she looks so much like me. It just amazes me to see her every day – it's to the point where I can't wait to leave the stadium or get home to see her," he says.
One of the main things he wants to teach his daughter is exactly what his parents worked so hard to teach him: work ethic. "My parents instilled a great work ethic in me and hopefully I can do the same. I believe if you want something you have to go out and work for it. That's something I definitely want her to know growing up," Jackson says.
Jackson has also taken his love for fashion and his methodology of going after what he wants to the
next level with his brand new line, Fly Guy, starting out with athletic wear pieces. "I figured I can cater to the guys I'm around the most and hopefully progress into something bigger than just athletic gear. I had an opportunity to design some shirts and hats last year for the team, and they did really well in terms of sales in the Go Texan store. I just said this is my opportunity to run with it and that's what I did with Fly Guy," the cornerback explains.
The new dad admits he's very hands-on with the line, from start to finish, including trips to LA where he handpicked the fabrics and colors. "I like to put a lot of my attention on it during the off-season because once the season rolls around I just like to focus on the games."
"I want to be attached to every thread, everything that's being done," he says.
Outside of football and fashion, Jackson admits one of his biggest indulgences is travel and hints that next on his bucket list is either Tahiti or Bora Bora, potentially for his honeymoon with his fiancé Amber. Jackson says they like to reserve Fridays for date nights, which usually involves a movie (they are big fans of comedies) and a nice restaurant. He says it's their time to talk about the week and just be with each other. "I just kind of let her talk about whatever she wants to talk about, and try and listen," Jackson says. Very wise relationship advice, indeed.
WE ASKED JACKSON TO FILL IN THE BLANK: I wish more people in the world would think before they speak.
To see the original version of this story (or you can pick up the FREE copies all over Houston and touch and feel the real paper of this story!), click here. 
http://theblondeside.com/wp-content/uploads/2016/03/kareemjackson_march2015_local_maxb-60.jpg
600
429
Jayme
http://theblondeside.com/wp-content/uploads/2018/06/1526998321020-300x192.png
Jayme
2016-03-01 14:30:49
2016-03-01 14:30:49
Kareem: Football, Fashion and Now Family Man