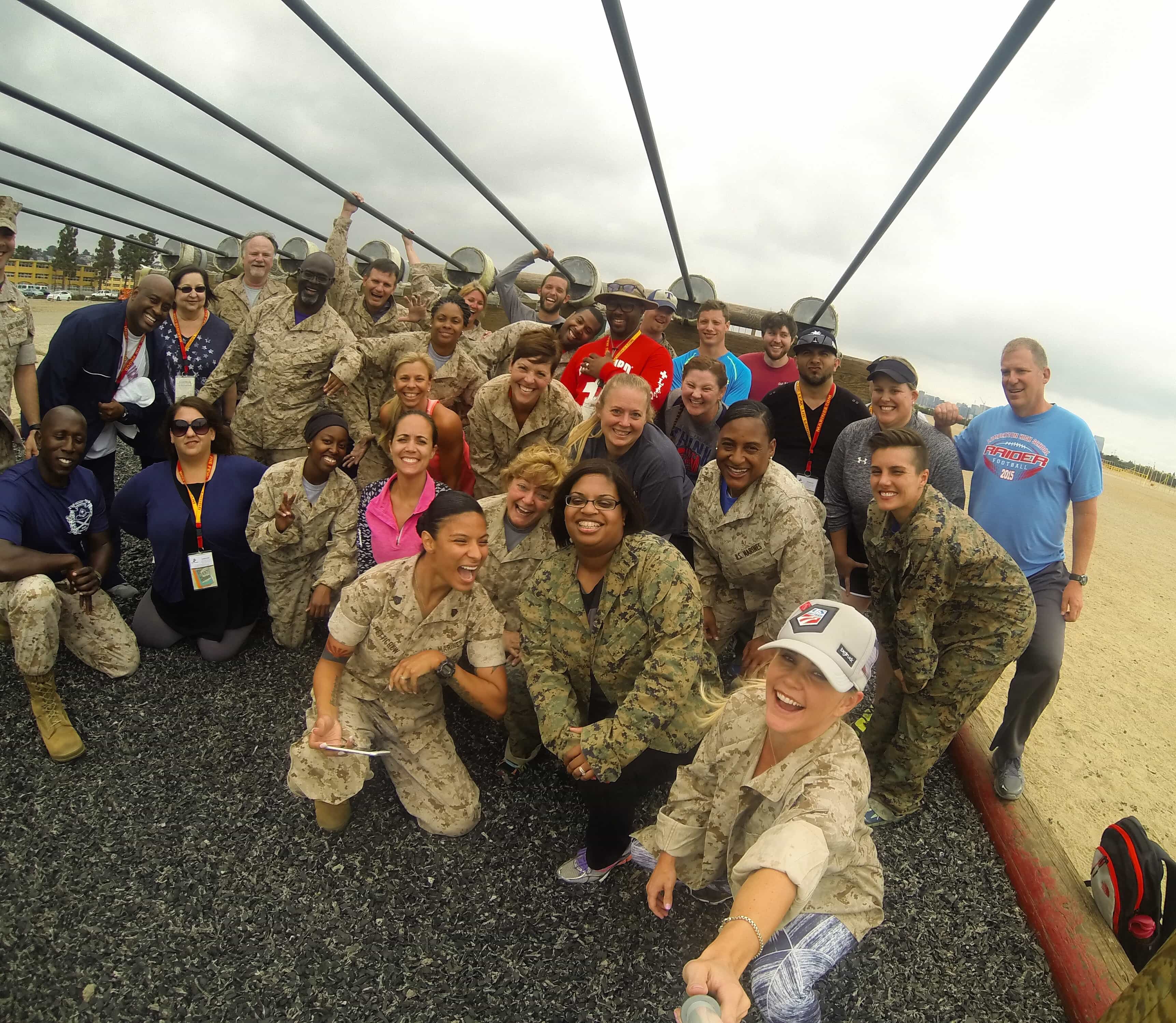 Last month I had one of the coolest experiences since I started this journey as a sports and travel writer – I was recruited for the Marines!
Well, sort of. They invited me along with a few other members of the media and some top educators from Houston to head to San Diego to experience what the new Marines (the ones recruited) experience upon arrival. What. An. Experience.
For starters, I love San Diego, I love our military and I love getting to know other professions (i.e. teachers). Little known fact: I have always considered (still do) becoming a teacher. More on that at a later date.
This Educators Workshop was a first-hand experience of everything the Marines go through – from the yellow footprints from first arriving, until the very end where these young men (we were only at the men's facilities) earn the title Marine. And boy do I mean earn.
Probably the coolest experience started at 3am. You're probably thinking 3am means some kind of party story, but it's not – it was my wakeup call. And it was TOTALLY worth it. Myself and two other members of the media got to witness the Crucible, which is the culmination of their 3-month bootcamp. This is where Recruits officially become Marines. Here is my YouTube video of the experience, but be warned you'll need tissues and the video won't nearly do it justice. If you know any Marines, ask them about this experience. I imagine it's one of the top moments of their lives.
I grew up in Norfolk, Virginia, right near a Naval Base. I'm not afraid to admit that I grew up with a somewhat negative connotation of the military. I always thought men and women went into the Military if they had no other options. They were complete screw ups, but oh wait, at least one of the Military branches is bound to take you.
I walked away from this experience with a completely renewed view of the Military. I'm sure there are still some jack-offs in the Military, but I never knew how many options existed for those who enlisted. In fact, I met three different people who had MY JOB (writer, social media, public relations) in the Marines. How neat is that? And guess what – guaranteed they make more money that I do and get better benefits! But they deserve it.
I am so thankful for this opportunity. I have truly always respected those in uniform and the families that have loved ones in service, but I now have a much higher respect for the fitness – both physically and mentally – that go into being a Marine. I wish I could rewind 15 years and see if I would be able to succeed in such an environment. I'm one tough cookie, but not completely certain I could handle it.
A big thank you to the Houston Marines for inviting me out for this experience and an even BIGGER THANK YOU to everyone who has ever served our great country. America is a scary place right now and my respect and admiration for those who fight for our freedom is stronger today.
http://theblondeside.com/wp-content/uploads/2016/07/IMG_9275.jpg
2998
3446
Jayme
http://theblondeside.com/wp-content/uploads/2018/06/1526998321020-300x192.png
Jayme
2016-07-10 17:25:51
2016-07-28 08:40:36
My Marine Experience