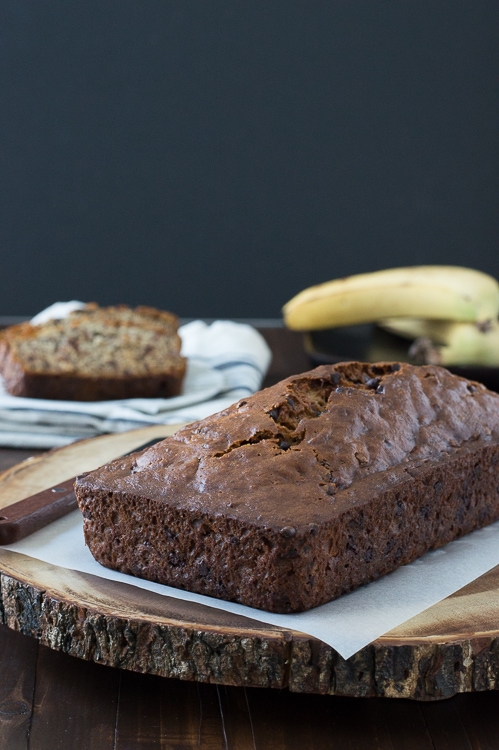 My sweet tooth is undeniable. It's sad, really. So I'm always on the hunt for new recipes that aren't crazy-awful for you.
I recently ran across this Easy Banana Chocolate Chip Bread recipe from the amazingly cute blog, The First Year and decided to try it last night.
Here is the recipe from that blog (I encourage you to click the link above as she gives tips for making them into muffins and has a ton of other great recipes that I can't wait to try!):
Ingredients:
3 ripe bananas, smashed (see below for tips using frozen bananas)
1/3 cup vegetable oil
1/2 cup sugar
1 egg

1 tsp vanilla
1 & 1/2 cups of flour

1 tsp baking soda
dash of salt

1/2 cup mini chocolate chips
Directions:
Preheat the oven to 350 degrees F and lightly spray a loaf pan with non-stick cooking spray.
Smash the bananas in a mixing bowl.
Add in the vegetable oil, stir with a spatula.
Mix in the sugar, egg, and vanilla. Stir to combine with a spatula.
Add in the flour, baking soda and salt, stir together with a spatula.
Lastly, mix in the chocolate chips.
Pour batter into the loaf pan and bake for 50-55 minutes or until a toothpick comes out clean.
Allow the bread to cool in the pan before slicing.
Oh, and lets talk about frozen bananas for a minute. My old roommate used to freeze bananas that were about to go bad. At one point in time we probably had 300 bananas in our freezer. In a super blonde moment, I tried to use one for some recipe and was so confused how a frozen banana could translate into a "ripe banana" as most recipes, like this one, call for.
So for those who don't understand frozen bananas, it really was quite simple. I took the frozen banana (I had two "fresh" ones to use for this recipe) and set it in the sink for about 20-30 minutes (as it will ooze and be kind of icky), then I peeled it and added that to the fresh bananas, and voila.
Be sure to follow my Pinterest Food & Drink Board.
Cooking and being more handy in the kitchen is all part of the "new me" living at the Millennium Kirby, and I'm lucky to be so close to multiple grocery stores to get all my baking needs in a jiffy. [SPONSORED]
http://theblondeside.com/wp-content/uploads/2016/10/Easy-Banana-Chocolate-Chip-Bread-1.jpg
750
499
Jayme
http://theblondeside.com/wp-content/uploads/2018/06/1526998321020-300x192.png
Jayme
2016-10-10 09:51:36
2016-10-11 11:36:54
Recipe: One Bowl Banana Chocolate Chip Bread