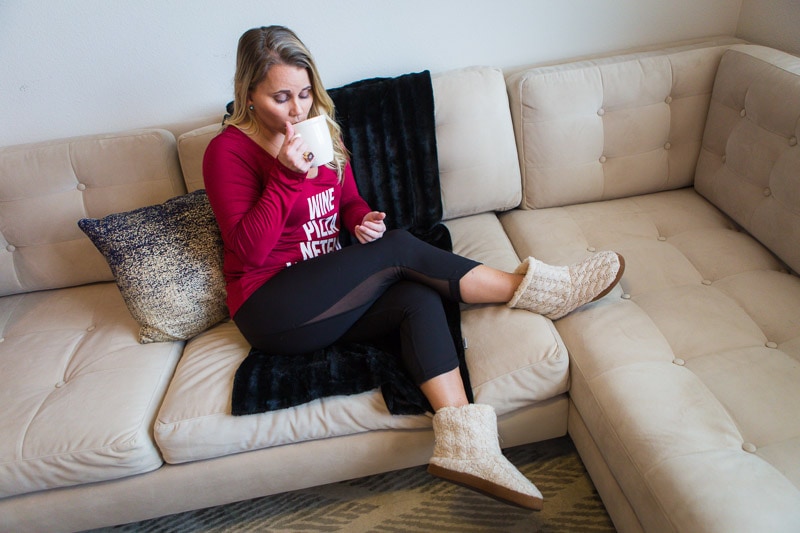 I have no shame in my game admitting that I can spend hours upon hours on the couch – even on a gorgeous Saturday afternoon – or worse – when I have free tickets to the Texans game across the street but my couch feels much more conducive to my day.
For starters, I have the most comfortable couch, EVER. And there's plenty of room for my boyfriend and my two dogs or just a ton of blankets and the remotes. Either scenario works for me. (Bonus – they even white-glove delivered my couch, so that part was easy too!)
So now that I've told you my dirty little secret about spending hours on the couch, let me share what usually fills my DVR (and remember, this is a no judgement zone).
Any and every episode of every city of the Real Housewives franchise. I know a lot of people "lose respect" for me because of some of my TV choices, but I'm totally OK with that. Life is too short to worry what other people are watching, amiright?
Still stuck on Bravo, Vanderpump Rules is a crazy obsession of mine.
WAGS – I'm partial to the original version, but I watch Miami too.
Of course, we record and rewatch all the Texans games – it's important for when I do guest TV and radio to keep up-to-date with what's going on (though it's usually the same story – our quarterback sucks and he has no o-line to protect him…).
Any law or criminal shows – like Law & Order SVU, Chicago PD, Chicago MD, Chicago Fire, Criminal Minds, etc. I pretty much watch them all.
Dateline – yes, this is probably my favorite. You know we're getting comfortable (or is it lazy?) in our relationship when we're totally cool making dinner at home and watching a new Dateline. Speaking of which – I can't wait until Friday already!
What about you – what's clogging up your DVR? I dished, now it's your turn!
Even though it's still "just an apartment," living at The Millennium Kirby really feels like home. I love spending time on my couch, watching TV and having friends over more than I have in a long time. [SPONSORED]
http://theblondeside.com/wp-content/uploads/2016/11/GQ1A4392.jpg
533
800
Jayme
http://theblondeside.com/wp-content/uploads/2018/06/1526998321020-300x192.png
Jayme
2016-12-12 09:11:14
2016-12-06 10:12:13
What's In Your DVR?