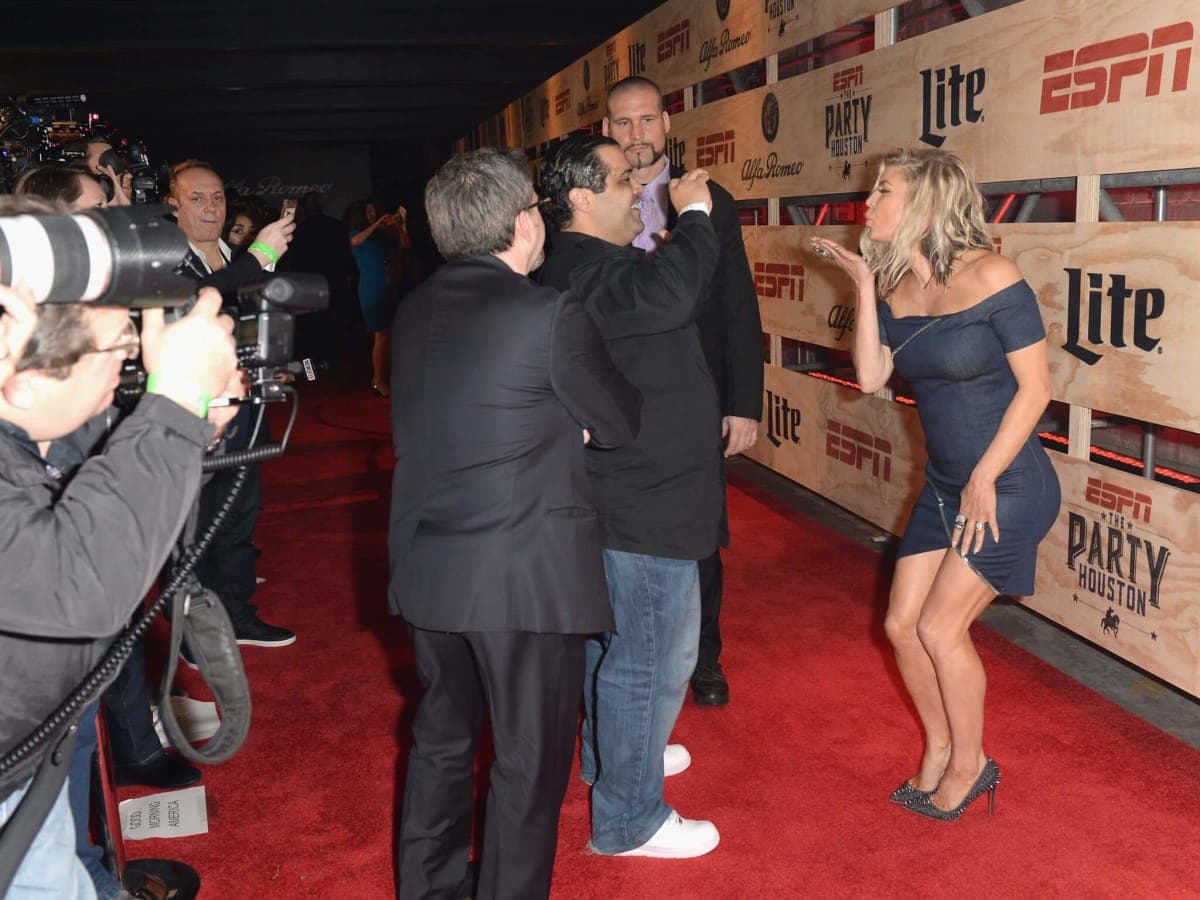 The 13th annual ESPN The Party hit Houston Friday night, which featured a lit-up performance by DJ Khaled as guests entered the tricked up warehouse, followed by the main set by eight-time Grammy Award-winning artist Fergie, who also made a splash on the red carpet.
With every square inch of the 65,000 square foot warehouse – inside and out – primed for the perfect photo opp, the VIP crowd had a ton to check out. The warehouse and its "construction chic" design were ESPN-branded with signs, posters, LED lights — even the restroom sign was designed with the ESPN font.
The building was split up with different areas for fans to sit, mingle and dance the night away with sponsors scattered throughout, like a heavily guarded Alfa Romeo sports car for fans to pose with and drool over. There were roped-off areas in the center of the room and another one upstairs to give VIPs a bird's eye view of the Houston crowd.
From the live performances on stage, the star-studded list of celebrities mingling about and most easily accessible, free drinks that came in ESPN-branded Yeticups (that you could keep!), to the brand new ESPN The Magazine's Super Bowl Preview Issue scattered about, fans were delighted every step of the way.
With tickets for sale on the secondary market for $375 and above, the crowd was dominated by men. The vibe was warehouse chic, and like typical Houston style, the dress code was as varied as one could possibly imagine.
Before the night's festivities began, some of the biggest names to grace Houston during Super Bowl week hit the fairly subdued red carpet. With so many parties and events going on, you could tell the celebs in attendance were either ready to party or exhausted. We had a chance to talk with some of the big names walking down the red carpet, and asked them what they loved about Houston (hint: food) and the Big Game and here's what they had to say:
"I think it's great for the City of Houston, having the Super Bowl here and giving people a chance to experience Texas. I love Houston." – Eric Dickerson, NFL Hall of Famer
"If DJ Khaled did the halftime Show, it'd be the biggest halftime show in history, because it would be DJ Khaled and Friends because I'd bring everybody out. Everybody. So whoever's in charge of the Halftime Show, if you want the biggest performance ever in history, call me." – DJ Khaled, award-winning recording artist and producer (as he Snapchatted his way down the festive red carpet)
"I haven't been to Houston other than for work, this is actually a really dope city. I'm having a good time and looking forward to a good game on Sunday. The people are really cool, the food is great and there haven't been any issues yet – you know what I mean, how it can get when you get a ton of celebrities in one place and a hometown crowd. Stuff can get messed up and it hasn't been that way. Everything's been smooth." – Marcedes Lewis, Jacksonville Jaguars
"When you bring in great weather, it makes everything great. The hospitality has been great – the people, the volunteers. It's been easy to navigate, which to me, makes a great Super Bowl. For all these people to be able to navigate and get from place to place, it's been great. I haven't seen as many cowboy hats and cowboy boots as I had expected, being here in Texas." – Kurt Warner, NFL Hall of Famer
"One thing I have loved about Houston this week is A) the hospitality, B) the food, and C) the food. I had gumbo at the Goode Seafood Company; it looks like a little train. Everyone is extremely nice; they are very welcoming." – Finesse Mitchell, Actor/Comedian
"There's a lot of energy here right now in this city. " – Charles Woodson, Former NFL, 9-time Pro Bowler
"Just being a Houstonian, the fact that Houston is on the grand stage, the biggest stage of all, and we are absolutely killing it. Have you heard any complaints thus far? No. No one is complaining about the potholes – they are having fun; everything is going the way things are supposed to be done. I think because of that, Houston is going to find a way to get another Super Bowl." – Chester Pitts, Original Texan
"The people have been great, but I've been working the whole time so I really haven't been out. I run by Houston all the time. I'm incredibly familiar with the city of Houston. The people have always been great to me. It's a gorgeous mosaic with people from all walks of life; it's a great town. I follow James Harden and the Rockets because he's a superstar." – Stephen A. Smith, ESPN
"The fans ride so hard – I love Rockets twitter. Shout out to Rockets twitter, they go hard. We wanna play spades with The Wilforks. They're a team; they're a unit." – Jemele Hill and Michael Smith, ESPN's new show SC6, debuting February 6
"The restaurants and food. We're down south so you get your gumbo, some southern food." – Donovan McNabb, Former NFL
"I'm a Tom Brady fan, but I think the Falcons are going to take it." – Dallas Keuchel, Houston Astros
"I think Houston's done a phenomenal job with the Super Bowl. There's a lot of fun events and the city is buzzing. I always say y'all – I'm from Oklahoma." – Rex Ryan, NFL Coach
When asked about her favorite Houston Twitter follow: "JJ Watt can be a little bit vanilla but I still think he seems like a good dude." – Sarah Spain, ESPN
"Houston is great, it's kind of a big town, everything is so spread out. I have seen a lot of cowboy boots. I saw a couple bulls at the Patriots welcoming party. I've seen a lot of things I've never seen before."-  Eli Apple, New York Giants
This article originally ran in the sports section of CultureMap Houston.
http://theblondeside.com/wp-content/uploads/2018/05/245562_original.jpg
900
1200
Jayme
http://theblondeside.com/wp-content/uploads/2018/06/1526998321020-300x192.png
Jayme
2017-02-05 11:13:17
2018-05-24 11:15:52
ESPN The Party: Houston Super Bowl