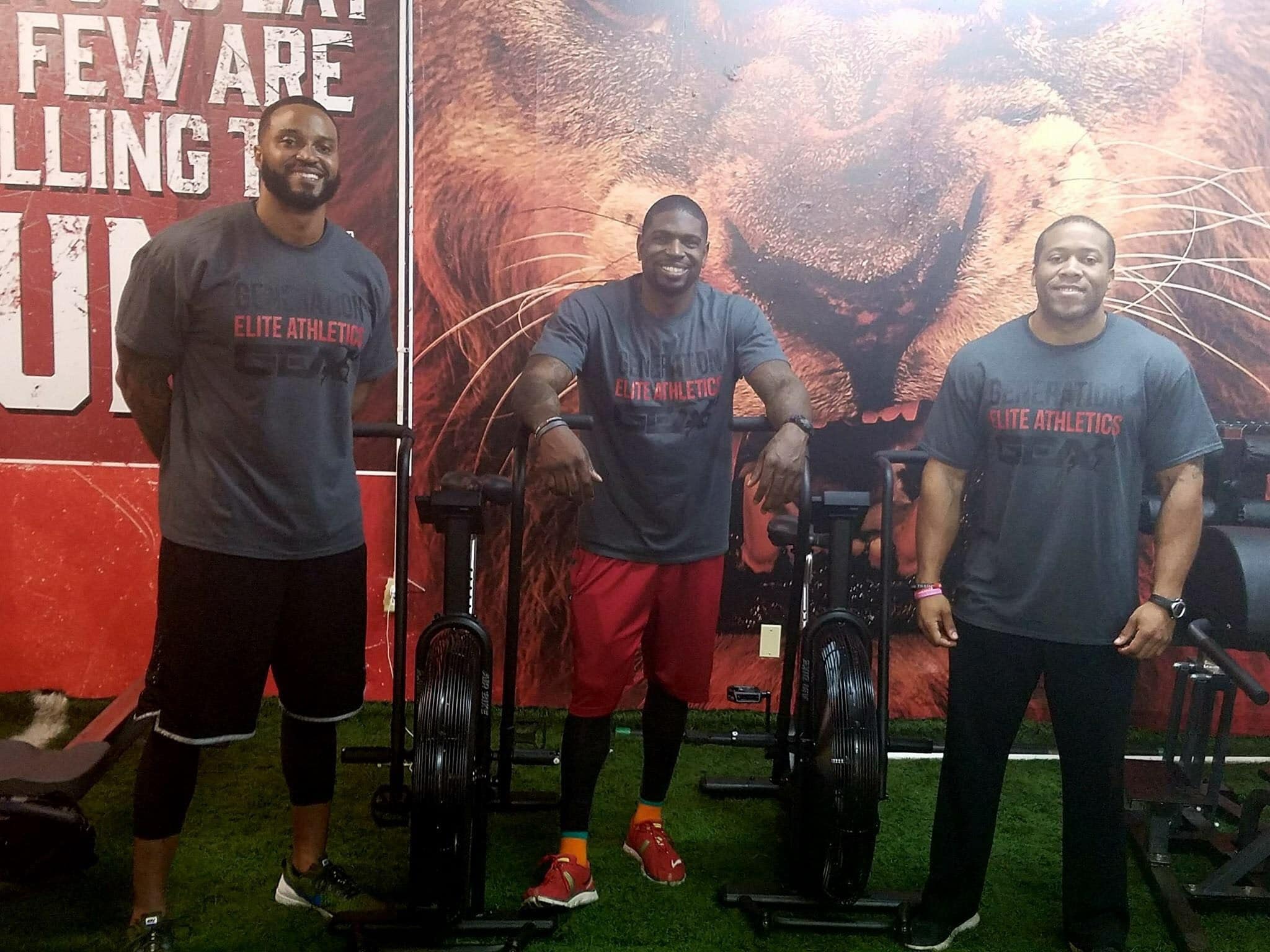 It seems every corner you turn, there is a new gym (or studio or box or whatever they are called these days) in Houston, but one of the latest (and greatest) I've found is MA1 Fitness Studio, located in the Memorial City area. (You can check them out via their FB page.)
I had the chance to speak with one of the gym-owners and trainers (and good friend of mine) Jonathan Holland, and his list of credentials are about as big as his biceps. (Seriously, both are impressive.)
Holland is a Retired NFL player for the Oakland Raiders, but he's also a health and wellness coach/trainer, NASM (National Academy of Sports Medicine) certified personal trainer, he is CPR certified, and is currently studying to receive his nutritionist certification. He's kind of an all around badass, and if I had to describe my perfect trainer, Holland would pretty much fit the bill.
Here's a look at The Blonde Side's exclusive interview with Holland: 
The Blonde Side: Does being a former NFL player scare off some clients (do you think you're all about meaty and hardcore work or are your clients pleasantly surprised?):
Jonathan Holland: I honestly think being a former NFL player has been one of the major benefits to my success thus far as a trainer. It actually tends to attract more potential clients rather than run them off. I think they see it as a plus to have a former professional athlete train them due to the versatility of different methods of training.
TBS: Do your consider your gym a "gym?" Some are not studios or crossfit, etc, what does yours fall under?
JH: It's definitely not a corporate styled gym, nor is it a crossfit or box as the crossfitters like to call it. I would describe our gym as a training facility for those who are looking to get serious about their overall health and wellness while training like an athlete.
TBS: Why did you decide to open up your own gym?
JH: It's always been a dream of mine to one day open up a gym so when the opportunity arose I hopped on it without hesitation! The opportunity presented itself while I was training at another location. The owner came to me and two of my best friends who were also trainers at the gym, with the idea of opening up another location in the Memorial City area. What's funny is that my business partners (Anthony James and Lamar Vaughn) and myself had already been thinking about our next move. So when the gym owner told us his vision and what he wanted to do, we automatically hopped on board. Not to take anything away from the trainers that we were working with at the previous gym, but we just had different visions. Our vision was to create an atmosphere where we could train and coach individuals with a more diverse and unique athletic training style no matter what their level of fitness experience would be. I think what sets us apart from other locations is that we treat everyone who walks through our door just like they're family. It's one thing to offer your services to people, but it means so much more when you can help to brighter up their day by doing the little things.
TBS: Do you personally have a mantra that you use to stay motivated?
JH: We have a sign that hangs up in the clients changing room that states: "I'm not telling you it's going to be easy, I'm telling you it's going to be worth it." I think that says a lot!
TBS: What type of clientele are you trying to attract?
JH (laughing): It's like my pastor used to say: "The doors of the church are open!!" The meaning is we welcome all to our gym family. Whether you're someone who has no experience in the fitness world but you're looking to get started, someone who may have stopped and needs to hit the restart button, someone who may have health issues and needs help towards getting better, or even if you're a former or current athletes!!
TBS: Do you offer any first-time free classes?
JH: First-time sessions are always free! We love seeing new faces walk through the door. We recently had our Saturday morning boot campers give us some feedback on the group session and they absolutely love it! "Sucka Free" Saturday boot camps go down each and every Saturday morning @9:30a.m.
As a late note: group training sessions are on Mondays and Wednesdays evening at 6p.m. Tuesdays and Thursday mornings at 6a.m. and as mentioned before on Saturday mornings at 9:30a.m.
http://theblondeside.com/wp-content/uploads/2017/03/IMG_6288.jpg
1536
2048
Jayme
http://theblondeside.com/wp-content/uploads/2018/06/1526998321020-300x192.png
Jayme
2017-03-28 12:14:07
2017-03-27 15:35:27
MA1 Fitness Studio, Q&A with former NFL Player Jonathan Holland