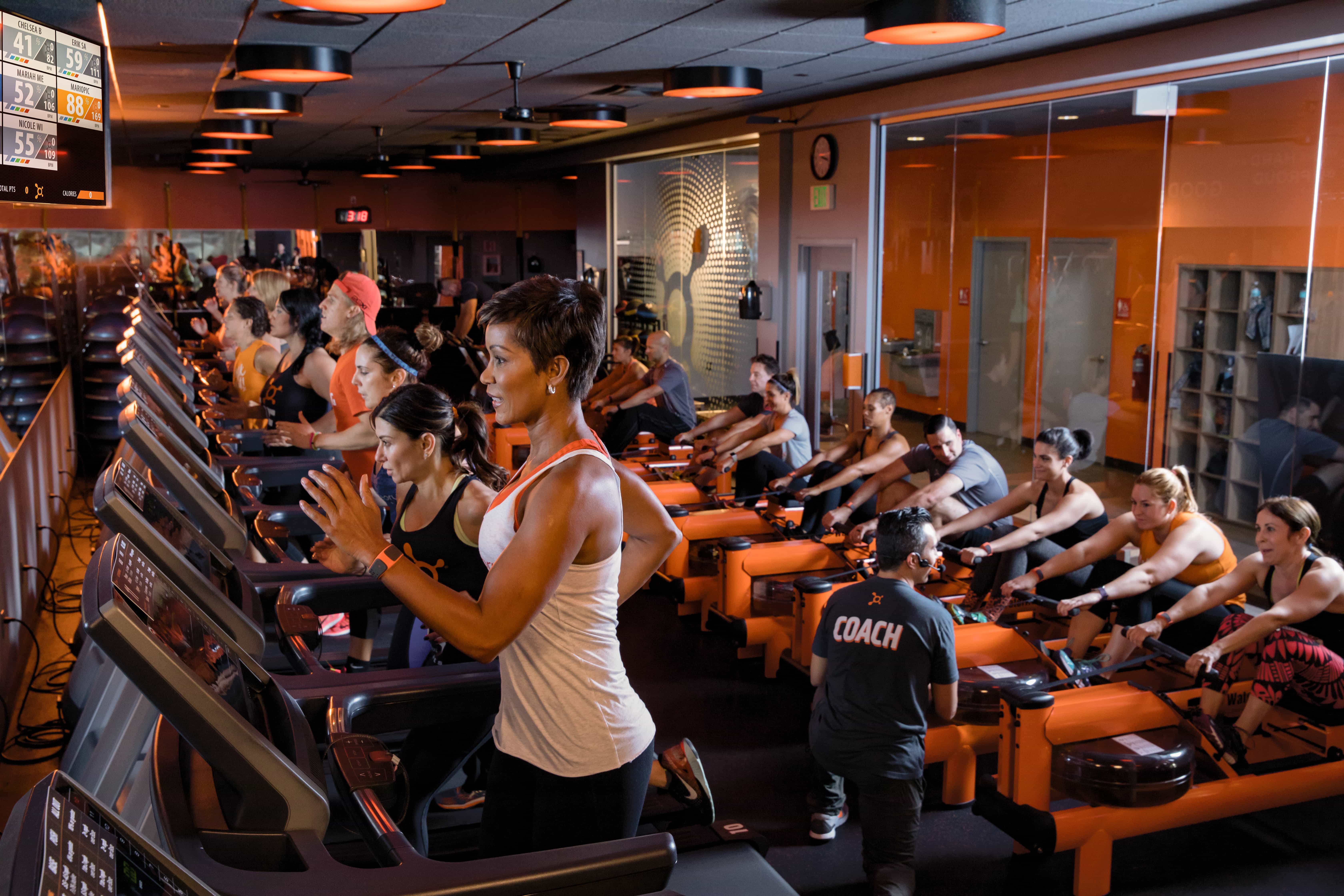 It feels good to be part of a gym again. Though I'm on the road a lot and forced to workout on my own (thanks to apps, motivation I've found online and some good tips from the coaches at OTF), it's nice to have contests and motivation inside the gym. It gives me that extra motivation that I need.
Orangetheory Fitness Houston recently kicked off their newest challenge – a weight loss challenge – on Monday that will last for 6 weeks (October 22).
The requirements are that each participant must work out at the same OTF studio for at least 3 times each week. Each participant weighed in at the beginning of the challenge, and OTF took "before" photos. There will be a mid-point weigh in at 3 weeks and a final weigh in at the end of the 6 weeks where OTF will take pictures of each participant again, providing "before" and "after" photos.
Orangetheory Fitness Houston Regional Head Trainer, Brenda Boyd said, "The Weight Loss Challenge is an excellent opportunity for members to really focus their efforts on losing weight in a healthy way. As coaches, we are here to encourage, motivate and help our members to achieve their goals and improve their overall health. Each time we offer a Weight Loss challenge, it's always amazing to see how far our members can go in just six weeks."
Plus, the male and female member at each studio with the highest percentage of body weight lost will each win $500! Not a bad deal.
Though I'm not participating in this challenge, it's easy as a client/member to see how it's motivating some of the members around me. I'm seeing them at more classes, I'm seeing them push their efforts past anything I've seen in the past 4-6 months, which I think is cool.
Their (Houston) city-wide goal is to have 1,000 members lose six pounds each, totaling 6,000 pounds lost, and to also impact our city's efforts to help those affected by Hurricane Harvey. Plus, the Orangetheory Fitness Houston owners will donate $1 for every pound lost to Houston Habitat for Humanity to help fund the organization's rebuilding efforts. I think that's just another bonus and motivator!
Have you ever participated in a weight loss challenge or any gym/workout related challenges in the past? Curious to hear what other ones are out there and what your thoughts are. Share any thoughts below – would love to hear them.
Read about my first class at OTF. 
And if you're in the Houston area and ever want to hit up one of the locations with me, let me know. If it's your first class, it's FREE – just mention my name when you sign up because I think I get cool stuff like bonus points and shirts and stuff!
http://theblondeside.com/wp-content/uploads/2017/09/OTF-Studio.jpg
4480
6720
Jayme
http://theblondeside.com/wp-content/uploads/2018/06/1526998321020-300x192.png
Jayme
2017-09-15 13:15:42
2017-09-18 13:19:10
Orangetheory Fitness Houston: Weight Loss Challenge