Tags
Related Posts
Share This
Lip Love (Thanks Dr. Roehl)
I have a confession: there are things about my body and image I don't love.
Now that we've gotten that dirty little secret out of the way, I'll tell you the one thing that's always bothered me: my lips. And now that the aging process is alive and well, my tiny lips have gotten even tinier!
According to doctors, our lips are a lot like our skin and affected the same way as we age – we start to lose collagen and that natural plumpness (if you had any to begin with) which results in thinning lips and sagging skin, among other things.
Relax, I'm not trying to go all Kylie Jenner on y'all, but when I posted on a previous Instagram story that I was visiting Dr. Kendall Roehl at Memorial Plastic Surgery for lip fillers, I got a lot of feedback.
It's funny because every guy (about 20) that commented said things like "No, don't do it!" or "you don't need those," or "don't be that girl!" and every woman that commented (about 10-15) said "I've been doing mine for years, I love it!" or "I can't believe you're announcing that – my boyfriend doesn't even know I get mine done!" and similar.
Here's the thing – getting lip fillers is simple and easy, and not super painful (though full disclosure: it's not comfortable by any means). From the second I got injections, I already had a little extra pep in my step, and just felt better. For some, that's wearing a new sweater or hitting the mall, for me it's a small change in my appearance. Once the swelling went down (maybe a day or two), I was rocking my favorite lipsticks and just had more confidence. Plus, it's an immediate change, which I loved.
If you're looking to get a similar procedure, here are my suggestions: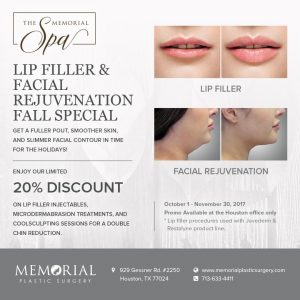 –       Go to a board-certified physician (Dr. Roehl is Board-Certified by the American Board of Plastic Surgery).
–       Go to someone with experience in what you're getting done. Don't be someone's Guinea Pig. Dr. Roehl has more than 15 years of experience, specializing in plastic and reconstructive surgery of the face, breast and body. When choosing a doctor, plastic surgery is similar to that of an orthopedic – you wouldn't necessarily get shoulder surgery by a doctor that specializes in ankles. It doesn't mean they aren't competent, but don't you want someone with expertise in that exact area?
–       Go to someone who listens to what you want. I repeated over and over that I wanted something natural, and Dr. Roehl and her staff listened. They weren't trying to push something unnatural on me and even consulted with me afterwards to make sure I was happy with my results.
–       If you have a history of cold sores (which no one likes to talk about, obvi), tell your doctor. They will likely prescribe something before you get your procedure so you don't have a breakout, which is common.
–       If you bruise easily, be sure to get Arnica (the office usually has it for less than $20 or any drugstore) to help with the bruising.
–       Go to your appointment/consultation with a photo of something you like. This will help show your doctor and his/her team the look you're going for. A key here – they'll also be able to tell you if what you want is realistic.
A message to the nay-saying men out there: I'd be willing to bet you've dated or kissed a girl that has had injections and you didn't even know it because again, I'll say, not everyone goes overboard with simple procedures like this. As I'd like to think in my taste and Dr. Roehl's work, a natural upgrade is all we were going for. (Read more when I wrote about lip injections before for Elite Daily.)
If you're interested, The Memorial Spa (the Houston location) is running 20% off lip filler injectables from now until November 30, 2017 along with a few other rejuvenation specials.