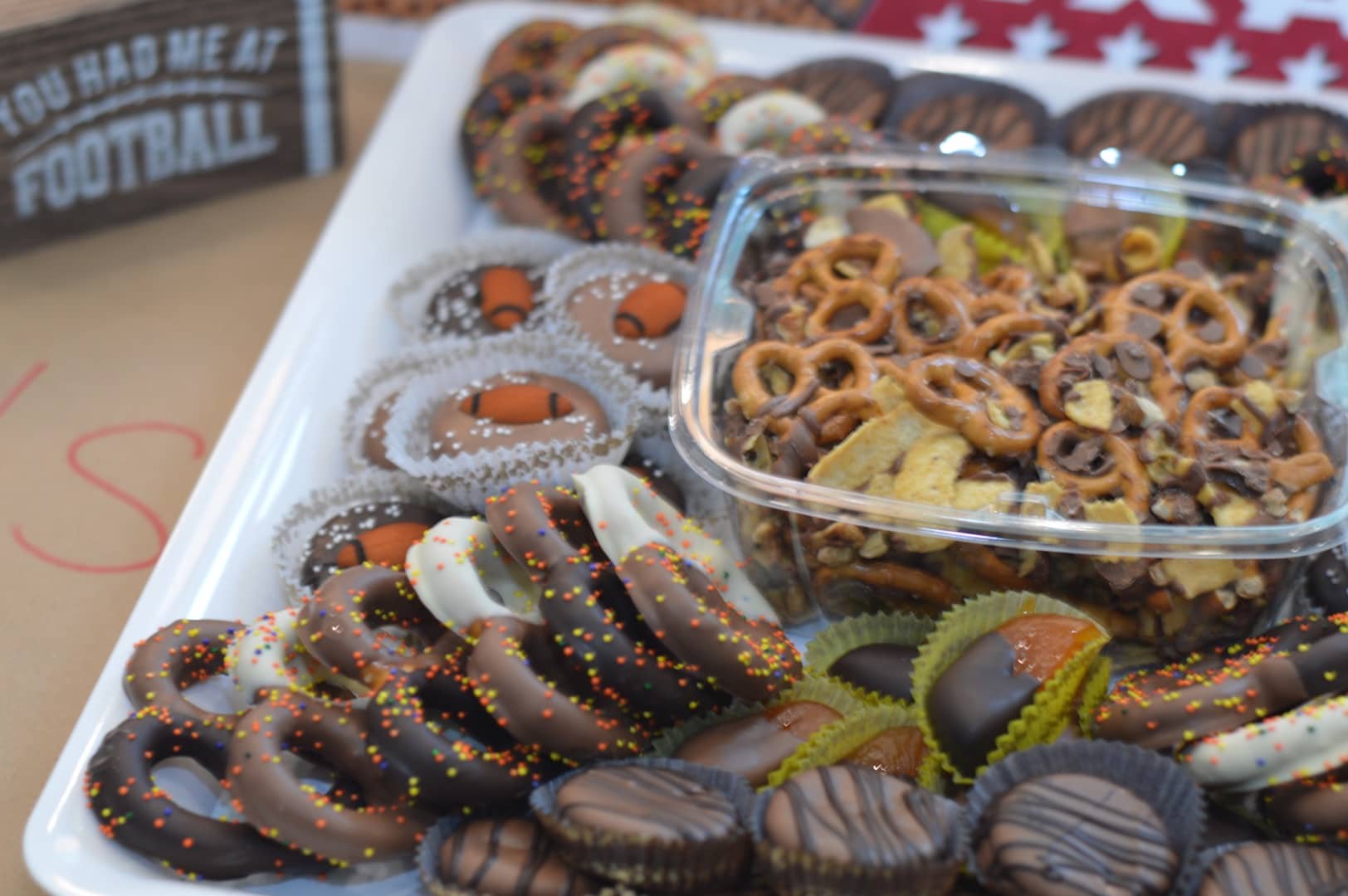 On Sunday I hosted a homegating party (for those not in the know, it's basically a tailgate at your home) for the Houston Texans vs. LA Rams game.
As much as I wish I had the Pinterest gene that so many others have, I just don't. I enjoy cooking and attending parties, but actually throwing one and somehow trying to pay attention to the game at the same time is pretty difficult. I have fun making a few recipes here and there, like this football-shaped cheese/Oreo dish (I didn't do as bad as I thought), but I definitely lucked out ordering a few snacks and dessert platters from The Chocolate Bar. Not only were they delicious and came on a party-ready platter, I didn't have to do anything other than place the order and pick them up!
These Smothered Oreos were definitely a fan-favorite (more so than the outcome of the game!) and I couldn't get enough. I've always been a huge fan (ok, more like obsessed) of Oreos (i.e. the football-shaped dessert above?), so for me, it's always a snack I have on hand for lonely Friday nights on the couch and at parties. Even if you're not the one hosting the actual party, you can step-up your "bring your favorite dish" game by bringing one of these dessert platters.
If you don't have the major sweet tooth I was cursed with, you should check out their Texas Frito Brittle that's the perfect amount of savory and sweet and an easy dish to bring to parties (especially with the holidays coming up).
I love supporting local businesses and The Chocolate Bar has been one of my favorites since I moved to Houston many years ago. There are two locations (one on West Alabama near River Oaks and the other in Rice Village).
Check out some of the styles and other game-day recipes over at NFL Fan Style. This season has been so fun so far (F-L-Y-E-A-G-L-E-S-F-L-Y!) and even better by being a Lifestyle Council Member for NFL Fan Style.
Shop some of the best NFL looks right now – tons of sales going on, so happy shopping!
Do you have a favorite party dish or local Houston business I need to check out? Comment below if so! 
http://theblondeside.com/wp-content/uploads/2017/11/IMG_4793.jpg
1080
1624
Jayme
http://theblondeside.com/wp-content/uploads/2018/06/1526998321020-300x192.png
Jayme
2017-11-15 10:28:29
2017-11-15 10:28:40
Homegating and The Chocolate Bar