Fitness
A former college athlete (some 12 years ago) and current fitness level go together like contestants on The Bachelor and wedding vows. In other words: they don't. This is why the fitness portion of The Blonde Side was created – fitness is not something I'm extremely "good" at, nor do I feel particularly jazzed each and every day to wake up at the butt crack of dawn and go for a 5-mile run with sweat dripping down my fake cleavage. But I do it anyways.
There's something about a chick who writes a sport's column that people automatically assume she (as in me) is physically fit with tight abs and glutes you want to stare at all day. So here's my shot at allowing you to keep me motivated.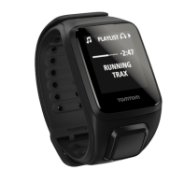 My running game has been forever changed thanks to my Spark Cardio+ Music GPS Fitness Watch from TomTom. With this new running buddy, you can train to the tune of 500 songs of your choice. And it stands to reason with the recent and sudden passing of music icon Prince, that I would run my heart out to some of his best tunes. Thanks to Billboard Magazine for listing out Prince's 40 Biggest Billboard Hits of all time. Here are a few features of this new fitness gadget: 24/7 activity tracking GPS tracking Multisport mode Built-in heart...
read more