Fitness
A former college athlete (some 12 years ago) and current fitness level go together like contestants on The Bachelor and wedding vows. In other words: they don't. This is why the fitness portion of The Blonde Side was created – fitness is not something I'm extremely "good" at, nor do I feel particularly jazzed each and every day to wake up at the butt crack of dawn and go for a 5-mile run with sweat dripping down my fake cleavage. But I do it anyways.
There's something about a chick who writes a sport's column that people automatically assume she (as in me) is physically fit with tight abs and glutes you want to stare at all day. So here's my shot at allowing you to keep me motivated.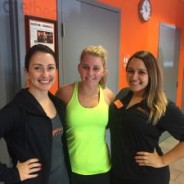 I'm not afraid to admit that I've fallen off the fitness wagon recently. In large part to my recent knee surgery (November) and in large part (and full disclosure) because I've gotten lazy and continued to use my surgery as an excuse, even after the doctor cleared me to workout again. (Anyone else ever been guilty of using an injury as an excuse?) I had heard the craze about Orangetheory Fitness (OTF) for quite some time, but recently decided to give one of their 11 Houston studios a chance. My past experience with heart rate monitors or...
read more