Fitness
A former college athlete (some 12 years ago) and current fitness level go together like contestants on The Bachelor and wedding vows. In other words: they don't. This is why the fitness portion of The Blonde Side was created – fitness is not something I'm extremely "good" at, nor do I feel particularly jazzed each and every day to wake up at the butt crack of dawn and go for a 5-mile run with sweat dripping down my fake cleavage. But I do it anyways.
There's something about a chick who writes a sport's column that people automatically assume she (as in me) is physically fit with tight abs and glutes you want to stare at all day. So here's my shot at allowing you to keep me motivated.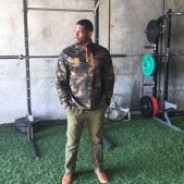 It seems every corner you turn, there is a new gym (or studio or box or whatever they are called these days) in Houston, but one of the latest (and greatest) I've found is MA1 Fitness Studio, located in the Memorial City area. (You can check them out via their FB page.) I had the chance to speak with one of the gym-owners and trainers (and good friend of mine) Jonathan Holland, and his list of credentials are about as big as his biceps. (Seriously, both are impressive.) Holland is a Retired NFL player for the Oakland Raiders, but...
read more