Fitness
A former college athlete (some 12 years ago) and current fitness level go together like contestants on The Bachelor and wedding vows. In other words: they don't. This is why the fitness portion of The Blonde Side was created – fitness is not something I'm extremely "good" at, nor do I feel particularly jazzed each and every day to wake up at the butt crack of dawn and go for a 5-mile run with sweat dripping down my fake cleavage. But I do it anyways.
There's something about a chick who writes a sport's column that people automatically assume she (as in me) is physically fit with tight abs and glutes you want to stare at all day. So here's my shot at allowing you to keep me motivated.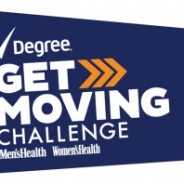 July 1st is right around the corner and it marks the kick off to the Degree Get Moving Challenge with Women's Health and Men's Health. Although bikini season is already upon us (yikes?), who doesn't need a six-week fitness challenge to keep us going? Chris Powell, Celebrity Trainer and Transformation Pro will be leading the challenges. You can enter the challenge (it's free) either as a bonus form of motivation or if you're hardcore like me, for a chance to be named the Ultimate Challenger and WIN a...
read more