Fitness
A former college athlete (some 12 years ago) and current fitness level go together like contestants on The Bachelor and wedding vows. In other words: they don't. This is why the fitness portion of The Blonde Side was created – fitness is not something I'm extremely "good" at, nor do I feel particularly jazzed each and every day to wake up at the butt crack of dawn and go for a 5-mile run with sweat dripping down my fake cleavage. But I do it anyways.
There's something about a chick who writes a sport's column that people automatically assume she (as in me) is physically fit with tight abs and glutes you want to stare at all day. So here's my shot at allowing you to keep me motivated.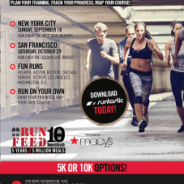 I am so pumped (and slightly nervous) to be planning a 5k with Women's Health Magazine and Runtastic, but I'm ready to meet this task head-on. The 5k is still in the planning stages, but here's what I can tell you: I NEED SIGNUPS! Also, I've got the date nailed down and I promise it will be a casual FUN RUN. No crazy times – your dogs and your strollers and your friends who hate running are ALL invited. This is my fifth year being selected as a Women's Health Action Hero and something I am incredibly proud...
read more