Fitness
A former college athlete (some 12 years ago) and current fitness level go together like contestants on The Bachelor and wedding vows. In other words: they don't. This is why the fitness portion of The Blonde Side was created – fitness is not something I'm extremely "good" at, nor do I feel particularly jazzed each and every day to wake up at the butt crack of dawn and go for a 5-mile run with sweat dripping down my fake cleavage. But I do it anyways.
There's something about a chick who writes a sport's column that people automatically assume she (as in me) is physically fit with tight abs and glutes you want to stare at all day. So here's my shot at allowing you to keep me motivated.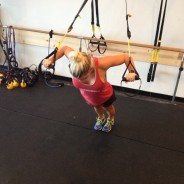 If you follow me on social media, it's no secret I've been busting my rump to get back in shape. I've been going to Sculpt Fitness anywhere from 4-6 days/week and I'm seeing great results, thanks to their instructors that literally make me think I will drown in my own sweat. Recently I received a MIO Alpha watch to use during my workouts. I've never really gotten into the whole heart rate thing, mostly because I thought it involved math and all these crazy wires and velcro straps and all that seemed like nonsense...
read more