Fitness
A former college athlete (some 12 years ago) and current fitness level go together like contestants on The Bachelor and wedding vows. In other words: they don't. This is why the fitness portion of The Blonde Side was created – fitness is not something I'm extremely "good" at, nor do I feel particularly jazzed each and every day to wake up at the butt crack of dawn and go for a 5-mile run with sweat dripping down my fake cleavage. But I do it anyways.
There's something about a chick who writes a sport's column that people automatically assume she (as in me) is physically fit with tight abs and glutes you want to stare at all day. So here's my shot at allowing you to keep me motivated.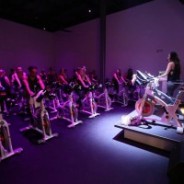 Our first-ever fitness-related event took place Sunday at RYDE and we had a blast! Check out our FB photos, courtesy of Sunshine Winters Photography. We had 30 Houston women join us for a fun sweat-sesh in River Oaks – some first-time riders (who did amazing!), some veteran riders, and even a friend WHO JUST HAD A BABY FOUR WEEKS AGO (I won't mention your name Brittney). Before I thank our sponsors and ask for your input on upcoming events, I wanted to share with you something that RYDE does that I think is amazing. Before signing...
read more