Fitness
A former college athlete (some 12 years ago) and current fitness level go together like contestants on The Bachelor and wedding vows. In other words: they don't. This is why the fitness portion of The Blonde Side was created – fitness is not something I'm extremely "good" at, nor do I feel particularly jazzed each and every day to wake up at the butt crack of dawn and go for a 5-mile run with sweat dripping down my fake cleavage. But I do it anyways.
There's something about a chick who writes a sport's column that people automatically assume she (as in me) is physically fit with tight abs and glutes you want to stare at all day. So here's my shot at allowing you to keep me motivated.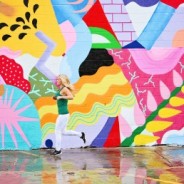 When you're committed to running or training for a race, the rain (and other outdoor elements like snow – something we aren't used to here in Texas) can be a nuisance and easy deterrence. Um, it's rainy. I can skip today. Who's said that before? [Raises hand.] My solution? Find a good Pandora station to jam to (mine is still Lionel Richie believe it or not), get some great scenery (like this great art wall in EADO), and just take off. Running has quite a few crazy misconceptions. Like you have to belong to a...
read more